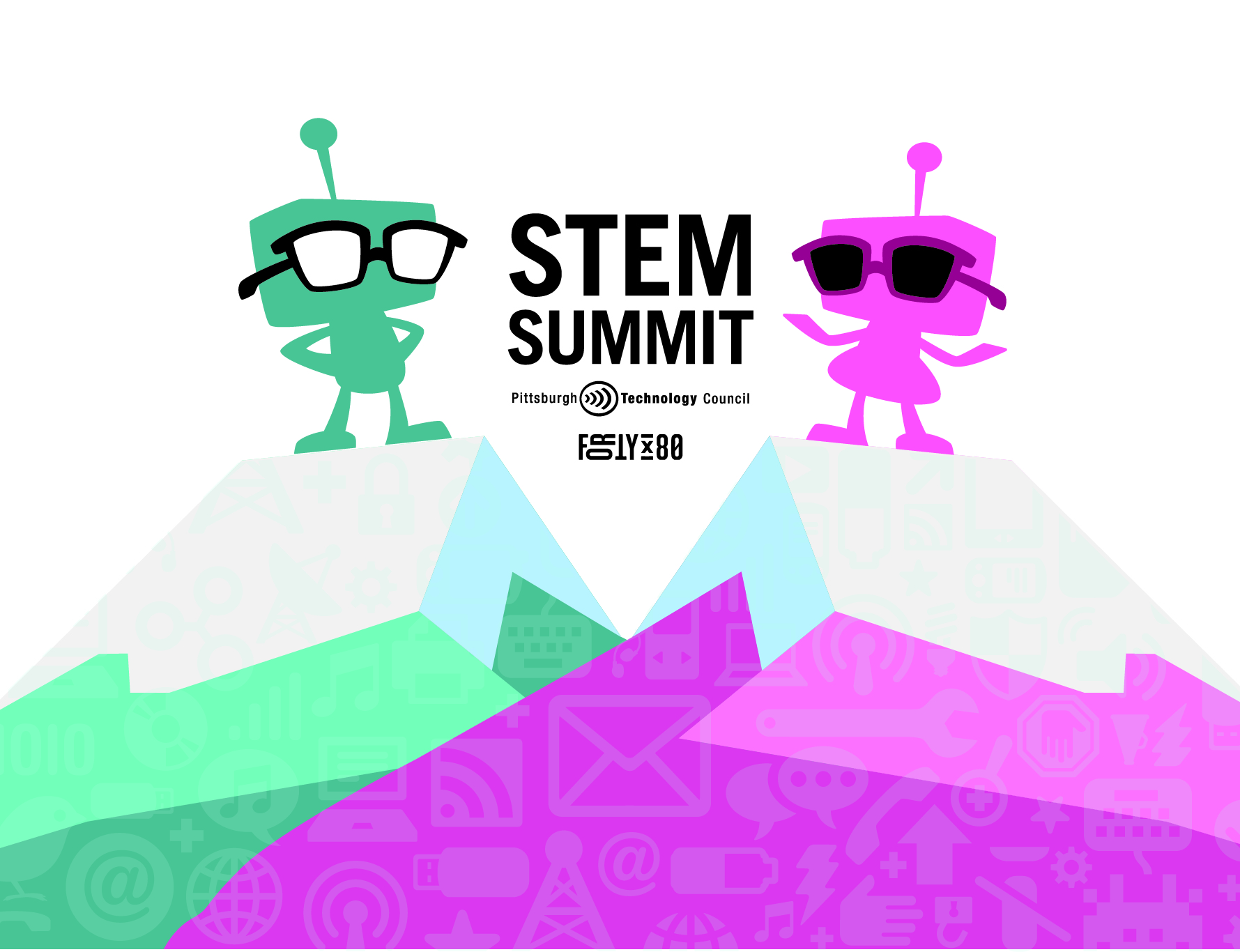 Virtual STEM Summit: Talking Tech
AGENDA | REGISTRATION | SCHEDULE
SPEAKER BIOS
This seven-day, virtual event begins Thursday, May 28th, 2020 and continues through Friday, June 5th, 2020 with each day showcasing a 35-40 minute interactive session with a different leader in the STEM industry along with student panelists from participating districts.

Join us in an interactive, innovative, one-of-a-kind event while we feature big names in the world of tech and a diverse array of science, technology, engineering and math related careers that are available in southwestern Pennsylvania.

In this virtual model, students will begin by gaining access to seven different remarkable experiences with leaders in the STEM industry. And to add to the engagement and excitement, the students will have the unique opportunity to serve as student hosts, participate through interactive question and answer, and embark on adventures into the workings of the industry.

SPEAKER SCHEDULE:
May 27 | STEM Summit Kickoff
May 28 | Google and X, the Moonshot Factory, Adekunle Adedayo (Ade), Partner Technology Manager and Jessica Trybus, Firestarter of Moonshots
May 29 | Duolingo, Luis Von Ahn, Co-Founder and CEO
June 1 | University of Pittsburgh School of Medicine, Louis D. Falo, Jr, MD, PhD, Chairman of the Department of Dermatology (Vaccines)
June 2 | Facebook Reality Labs-Pittsburgh, Chuck Hoover, General Manager
June 3 | Allegheny Health Network, Bonnie Patek, DO, Internal Medicine Specialist
June 4 | BNY Mellon, Saurabh Singh, Senior Specialist Information Security Analyst and Dave Silvester, Chief Operating Officer for Clearing, Markets & Issuer Services Technology
June 5 | Uber Advanced Technologies Center, Julie Derence, Software Engineer

DID YOU MISS A SPEAKER? View the recording online.
WHO SHOULD ATTEND?
• K-12 educators, administrators and guidance counselors
• Elementary students, middle school students and high school students
• College/University educators, students, administrators and career counselors
• Business Leaders - Future Employers

TECH TALK INTRO
The webinar will begin with an introduction of the company and speaker being featured on the daily Tech Talk.

STUDENT PANELISTS
Student hosts from participating school districts will ask:
• What was your professional pathway? (including formal training, education, prior experiences)
• What other roles and professions work within the company?
• What do you love about their job?
• What is your greatest professional accomplishment?
• If a student was interested in this career, what advice would you have for them?

STUDENT POLLING
Speaker will toss a question out to the students for them to answer using polling 3-4 times throughout the talk. This will include yes/no, true/false, and multiple choice.
WHEN: May 28 to 29 and June 1 to 5
TIME: 1:00 PM to 1:45 PM
WHERE: Via Zoom
SPEAKER BIOS:
Adekunle Adedayo (Ade), Partner Technology Manager, Google
Adekunle Adedayo is a partner technology manager (PTM) at Google, where he provides end-to-end technical and operations support for Google Search partners. This includes influencing product strategy, developing scalable product / tools, providing technical implementation services and ongoing partner management. He is originally from Nigeria where he earned his Bachelor's degree in information systems and management. After his bachelor degree program, Adekunle worked in the Nigeria tech industry for ~3 years, during which he worked as a web developer at a startup company, freelanced, and worked on a number of startup initiatives. Adekunle earned his Master's degree in information systems and management at the Heinz College, Carnegie Mellon University. Following his graduation from CMU, Adekunle worked at IBM for two years as a solution consultant for IBM Watson, where he worked with clients to deploy solutions tailored to their business needs.

Jessica Trybus, Firestarter of Moonshots, x, the Moonshot Factory
Jessica Trybus is an entrepreneur passionate about envisioning interactive experiences that change lives, employing innovative technologies as solutions. Jessi is currently "Firestarter of Moonshots" at X, The Moonshot Factory (formerly Google[x]). Jessi also founded Simcoach Games, a Carnegie Mellon spin off which has delivered hundreds of games as learning, safety, and workplace training solutions since 2005. Jessi also served as faculty and Professor of the Practice at Carnegie Mellon University's Entertainment Technology Center from 2004-2018, her efforts dedicated to spotlighting innovation, entrepreneurship, and partnership at the University. In 2015, Jessi was appointed by Governor Wolf to the Pennsylvania Workforce Investment Board, and served as Board Member and Secretary of Partner4Work from 2013-2019. Jessi is a founding member of Remake Learning, an incredible social network driving equitable and 21st century education and workforce development in Pennsylvania and beyond. Jessi is also on the board of The Beckwith Institute, an organization associated with UPMC that is dedicated to improving clinical outcomes through innovation. Jessi received her bachelor's at Cornell University (majors in English and Theatre) and her graduate degree at Carnegie Mellon University (entertainment+interactive technology).

Luis Von Ahn, Co-Founder and CEO, Duolingo
Luis von Ahn was born and raised in Guatemala, where he saw firsthand that high-quality educational opportunities were limited to those with money. In particular, learning English has long been a necessary means for getting out of poverty, yet it was expensive and unattainable for most people. Inspired to fix this, von Ahn co-founded Duolingo in 2011 to make language education free and accessible to everyone, and it has grown to become the most popular language-learning platform worldwide. Both of his parents worked as physicians, and von Ahn had a strong interest in science and computers throughout his childhood. Although he did not set out to become an entrepreneur, it eventually turned out to be a successful career path for him: von Ahn sold two companies to Google while still in his 20s before starting Duolingo.

Chuck Hoover, General Manager, Facebook Reality Labs-Pittsburgh
Chuck is the General Manager of Facebook Reality Labs, Pittsburgh, a team of the most preeminent research scientists, software engineers, and program managers in the world. The Pittsburgh Facebook team is developing social VR and AR through bleeding-edge computer vision and machine learning. All with the aim of connecting billions of people across vast distances to fulfill Facebook's mission - bringing people closer together.
Prior to joining Facebook, Chuck started his career in technology and entertainment in Palo Alto, where he was a Producer at Electronic Arts for the Sims 2 games. Later he joined Pittsburgh based Schell Games, one of the largest independent game developers in the world. As the Chief Production Officer of the studio, he managed relationships with numerous clients such as Disney, Google, Microsoft, Electronic Arts, Sony, Nintendo, News Corp, Lego, and Universal Studios. For 11 years, Chuck supervised the production of all studio projects, building a team of world-class producers and setting the tone for the production style and development logistics of the studio.
Chuck graduated from Virginia Tech magna cum laude with a degree in Architecture and Design. Post-graduation he utilized his degree as an adjunct course instructor teaching 3D modeling and leading the design and production of the Virginia Tech Solar Decathlon house. His love of managing complex projects and growing teams lead him to the Entertainment Technology Center at Carnegie Mellon University, where he received his Masters of Entertainment Technology.
In addition to his current role at Facebook, Chuck is Adjunct Facility at Carnegie Mellon University. He developed and instructs the "Production and Leadership" course at CMU's Entertainment Technology Center graduate program, allowing him to work with the tech and creative leaders of tomorrow.

Bonnie Patek, DO, Internal Medicine Specialist, Allegheny Health Network
After graduating from the GI Fellowship Program at AGH this month, Dr. Bonnie Patek will be joining a large private practice group in the Lehigh Valley area. She will be practicing general gastroenterology with a focus on IBD and hepatology and an interest in womens health. She will be working with the medical residents and GI fellows of Lehigh Valley Health Network so she will continue with teaching.
Saurabh Singh, Senior Specialist Information Security Analyst, BNY Mellon
Saurabh Singh has been with BNY Mellon since 2016. He currently works in the Information Security Division as a Senior Specialist Information Security Analyst, where he works to protect the security of critical applications in the BNY Mellon ecosystem and sets security standards for the enterprise. Saurabh is an experienced Application Security Evangelist with expertise in DevSecOps, Web Application Security Assessment, Threat Modeling and Secure Coding. He holds a Bachelor of Science degree in Information Technology from the University of Washington and certification in Information Assurance. He is also a Certified Ethical Hacker (CEH) through the EC-Council. Beyond his day-to-day role, Saurabh is an active contributor to BNY Mellon's Employee Resource Groups, IMPACT, for multi-cultural employees, and the Women in Technology group, to promote a more diverse and inclusive environment in the STEM industry.

Julie Derence, Software Engineer, Uber Advanced Technologies Center
Julie Derence is a Staff Software Engineer at Uber Advanced Technologies Center in Pittsburgh, PA.
Julie has been in the software engineering world for over 15 years working in a variety of technology areas. She has developed front end interfaces for military weapons programs, deployed in-line inspection equipment for glass manufacturing plants and programmed core interfaces within robots.
Julie spent nine years with National Robotics Engineering Center (NREC) and Carnegie Mellon University to develop core infrastructure used in Robotic applications. Her main focus was integration development for a fleet of Autonomous Haul Trucks in open pit mines. The Haul Trucks navigate the mine roads without human intervention and operate within the same area populated with manned vehicles and human personnel. This technology reduces the hazards associated with mining and raises production levels.
With Uber, Julie is developing key infrastructure software to enhance automotive safety, intelligent traffic mapping, user experience, and autonomy technology. She is passionate about helping shape the future of mobility.
Julie graduated from Bucknell University with a Bachelor of Science in Computer Science Engineering. She resides in Pittsburgh, Pennsylvania with her husband and two sons. She is constantly striving to perfect her work life balance between raising her boys and pursuing a career in the fast paced engineering world. She actively participates in the Society of Women Engineers events, co-leads the Uber ATG Women Employee Resource Group, and encourages all women to continue to pursue science and technology careers.
More Bio's Coming Soon!
AGENDA:
1:00 PM | Tech Talk/Speaker Introduction
1:10 PM | Speaker(s) Questions & Answer
1:25 PM | Presentation/Tour
1:35 PM | Question & Answer
COST: FREE

REGISTRATION IS NOW CLOSED.
DID YOU MISS A SPEAKER? View the recording online.
Sponsorship Opportunities Available! Contact Ashley Steckel for more information.
Have Questions? Please contact Taylor Bombalski.