Fortify Your Breakfast.
Held about 8 times a year since 1984, Breakfast Briefings are a staple in the diets of Pittsburgh professionals. The morning events present visionaries whose work sets the standards for best business practices around the corner and around the world.
If you know a CEO who's interested in speaking at an upcoming Breakfast Briefing, contact Allison Kaharick.
To sponsor an upcoming Breakfast Briefing, contact Ashley Steckel.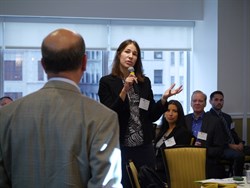 Past Breakfast Briefing Speakers
Our Breakfast Briefing series has featured a tremendous who's who list of world renowned thought and business leaders.
Previous speakers include:
Robert S. Wetherbee, President & CEO, ATI
David Burritt, President & CEO, U.S. Steel
William Peduto, Mayor, City of Pittsburgh
Chuck Hoover, General Manager, Facebook Reality Labs
David Morehouse, President & CEO, Pittsburgh Penguins
Eric Meyhofer, Head of Advanced Technologies Group, Uber
Cynthia Hundorfean, Chief Executive Officer, President, Allegheny Health Network
Robert White, MD, FAAFP, Chief Medical Information Officer, Allegheny Health Network
Katharine Eagan Kelleman, Chief Executive Officer, Port Authority of Allegheny County
Nish Vartanian, President & Chief Executive Officer, MSA - The Safety Company
Farnam Jahanian, President and Henry L. Hillman President's Chair, Carnegie Mellon University
Richard J. Harshman, Chairman, President and Chief Executive Officer, Allegheny Technologies Incorporated (ATI)
Jerry MacCleary, Chief Executive Officer, Covestro North America
Joel T. Trammell, President and CEO of Black Box Corporation
David Bonvenuto, President and CEO of Oberg Industries Inc.
Rob Cochran, President & CEO, #1 Cochran Automotive
Mark Hurd, CEO, Oracle
Dr. Antonis Papadourakis, President and CEO, LANXESS Corporation
John S. Stanik, CEO, Ampco-Pittsburgh
Ajei Gopal, President & CEO, ANSYS
C. Talbot Heppenstall, President, UPMC Enterprises
Brian Heery, CEO, Mitsubishi Electric Power Products
Kurt Bergman, President and CEO, Michael Baker International
Michael McGarry, President and CFO, PPG
Ron De Feo, President and CEO, Kennametal
Joe Sheetz, President and CEO, Sheetz Inc.
Heather Bresch, CEO, Mylan
Ellen McLean, President & CEO, Port Authority
Steven T. Schlotterbeck, President, EQT Corporation
Howard Hanna's Executive Team
John Bares, Director, Uber Advanced Technology Center
Raymond Betler, President & CEO, Wabtec Corporation
Richard Hudic, Executive Director, Allegheny Regional Asset District
John W. Paul, CEO & President, Allegheny Health Network
The Heinz Endowments
Howard Smith, Lead Recruiter, Google Pittsburgh
Chancellor Gallagher, Pitt
David Holmberg, Highmark
Rob Daley, CEO, 4Moms
Leroy Ball, Koppers
Mike Archbolf, CEO, GNC
Mario Longhi, President and CEO, United States Steel
Charles Bunch, Chairman and CEO, PPG Industries
Richard Harshman, Chairman, President and CEO, ATI
Diane Holder, President and CEO, UPMC Health Plan
Dr. Subra Suresh, President, Carnegie Mellon University
Patrick Gallagher, Chancellor, University of Pittsburgh
Jeremy Kubica and Kamal Nigam, Co-Directors, Google Pittsburgh
David Holmberg, President and CEO, Highmark
Flemming Bjoernslev, President and CEO, LANXESS Corp.
Kathleen Brandt, President, CSX Transportation