Interested in showing your PTC Member event on this page? Contact Taylor Bombalski with your event information.
---
Systems Adoption in an Agile Age: Panel Discussion with Experts from the Field
January 28, 2021 | 1:00PM ET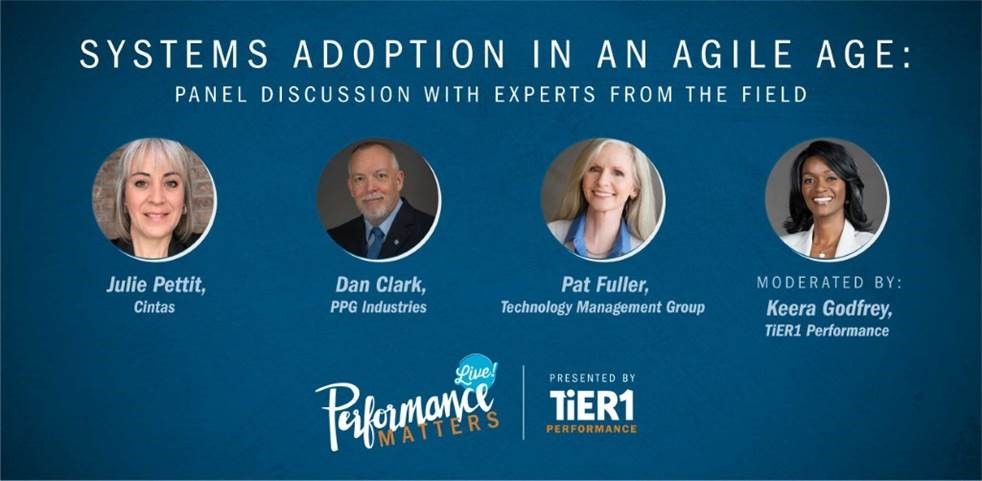 Join uson Thursday, January 28 at 1:00 pm ETfor our upcoming webinar,Systems Adoption in An Agile Age. Our panel - Julie Pettit (Cintas), Dan Clark (PPG), and Pat Fuller (Technology Management Group) - will share rich real-world experiences that illustrate why business success is tied more than ever to successful technology adoption.

Panelists will discuss how to:
• Drive motivation to use new systems
• Influence behavior change
• Support users after Go-Live
• Sustain long-term adoption
• And more

Register Here
---
Schneider Downs Webinar: Inside Web Application Penetration Testing

Thursday, February 11 | 11am – Noon ET
Web application penetration testing continues to be one of the most critical components of any information security program. Join members of the Schneider Downs cybersecurity team on February 11, 2021 for a deep-dive into the world of web application penetration testing.
Topics include differentiating web application penetration testing from other assessment services, our approach to web application penetration testing engagements, the most common web application vulnerabilities and understanding web application penetration testing final reports.

Register Here: https://www.schneiderdowns.com/inside-web-application-penetration-testing
---
University of Pittsburgh's Spring Career Fair
For more information:
February 18: Liberal Arts, Sciences & Business: Noon - 4 p.m. (EST)
February 24: Engineering: Noon - 4 p.m. (EST)
February 26: Computing and Information: Noon - 4 p.m. (EST)
---
PMCentersUSA & Katz Virtual Training Classes 2021

Project Management Overview – Feb. 17-18, 2021 | 14 PDUs |8:30 a.m. – 5 p.m. | This 14-hour course provides an extensive look at the fundamentals of project management. This course starts with an overview of project management key definitions, knowledge areas, project life cycle models, and project processes. Best practices initiating a project will be discussed including, the importance of meeting business objectives and identifying all project stakeholders. The case study provides attendees with practice preparing key project documents such as; project charter, stakeholder register, work breakdown structure, project schedule, risk register, and communications plan.
PMI PMP Exam Prep – Feb. 22-26, March 1-5, 2021 |35 PDUs | Virtual Online Sessions from 8:30 a.m. – 12 p.m. | This 35-hour course, created by the Project Management Institute (PMI), is designed to prepare the exam candidate to take the updated Project Management Professional (PMP)® certification exam being offered as of January 2, 2021. This revised exam material focuses on situational project management and the principles and philosophy of the profession. It is designed to focus the existing Project Management knowledge of the candidate and prepare them for the content they will encounter on the PMP® exam.
Introduction to Agile – March 10-11, 2021 | 14 PDUs | 8:30 a.m. – 5 p.m. | This 2-day course covers the concepts, principles, and structure of Agile development. This course explains what Agile is, the Agile Manifesto, and the cultural shift from a command and control structure to a collaborative leadership. The 3 primary roles of Product Owner, Scrum Master, and Team Members on an Agile project are reviewed along with the differences between a traditional and Agile team and the 5 levels of Agile planning are explained. Other Agile methods are reviewed including Extreme Programming, Kanban, Lean, Dynamic Systems Development Method, and Feature Driven Development.
Agile Product Owner – March 17, 2021 | 7 PDUs | 8:30 a.m. – 5 p.m. | The Agile Product Owner course examines the vital role of product owner on an agile project. The product owner is the senior representative of the business, and the agile project will not succeed unless the product owner fulfills the role and responsibilities. This 1-day course will provide attendees with the knowledge needed to serve as an effective product owner on an agile project.
Project Scope and Quality Management – March 24-25, 2021 | 14 PDUs | 8:30 a.m. – 5 p.m. | This 2-day course covers proven techniques for the management of scope and quality on projects. The importance of project requirements, types of requirements, and techniques for determining and prioritizing requirements will be discussed. This course will also cover the importance of integrating the project management process and activities on a project. The use of a project charter to launch a project and the elements of the project management plan will be explained.
Project Schedule and Cost Management – April 7-8, 2021 | 14 PDUs | 8:30 a.m. – 5 p.m. | This 2-day course covers how to decompose the Work Breakdown Structure into activities, along with methods for estimating resource requirements and tasks duration. Attendees will learn how to sequence project tasks to develop the project networks diagram and conduct critical path method analysis to determine the project completion date and critical path. This course will also cover resource planning, estimating techniques and the steps for project budget development.
3-Day Business Analysis Training – April 14-16, 2021 | 21 PDUs, 21 CDUs | 8:30 a.m. – 5 p.m. | The course will cover the types of project requirements and key business analysis processes. Effective techniques for eliciting and analyzing requirements will be discussed. Course topics also include writing good requirements, managing changes to requirements, communicating requirements, and tracing scope back to requirements. Implementing the solution, including organizational readiness, defect handling, and benefits achievement will also be covered. This course will prepare you to immediately start implementing business analysis best practices on projects.
Project Risk and Procurement Management – April 21-22, 2021 | 14 PDUs | 8:30 a.m. – 5 p.m. | This intensive two-day course encompasses the fundamentals and best practices of risk and contract/procurement management for projects. Effective techniques for identifying, analyzing and planning risk responses will be discussed. Contract terminology, selection criteria, key elements of a contract and best practices for successfully negotiating with vendors will be reviewed. This course has numerous exercises so attendees can practice applying the course concepts to an actual project.
Management of Resources, Stakeholders & Communications – May 5-6, 2021 | 14 PDUs | 8:30 a.m. – 5 p.m. | This course encompasses the best practices for organizing, managing, and communicating with the project team and stakeholders. The 2-day course reviews the processes for Resource, Stakeholder and Communications Management from the PMBOK® Guide Sixth Edition, including inputs, key tools and techniques, and outputs. Estimating, acquiring and managing project resources will be discussed, including use of a team charter, motivation and conflict resolution techniques, and methods for developing a high-performance team. Effective techniques for identifying and analyzing project stakeholders will be reviewed, along with how to manage stakeholder expectations.