Why Apprenti?
Fortyx80 intends to bridge the gap between this untapped pool of talent and employers' need for a highly skilled workforce through establishment of Apprenti PGH – Pittsburgh's IT apprenticeship program. This initiative is designed to eliminate the barriers commonly faced by tech interested individuals from underrepresented groups as well as give employers access to a wider, more diverse talent base.
The pathway to an IT career typically begins by earning a college degree or attending an IT bootcamp that results in industry recognized credentials. For many underrepresented populations, the financial and time commitment of these programs is extremely prohibitive. A typical 12–14-week bootcamp program in the Pittsburgh region costs about $15,500. While some offer partial scholarships or delayed payment terms, these costs are simply impossible for many otherwise worthy candidates. In addition, uncertainty around seeking and gaining employment once training is over is another barrier that can keep talented and interested individuals from pursuing these options.
Apprenti PGH completely eliminates these barriers by covering all costs for participants and matching them with an employer partner from the outset. For the entirety of the program, the participants are both earning and learning. A stiped defrays costs during the initial bootcamp training, and they receive 60% of the pay associated with their job role during on-the-job training. Essential technology is provided and wrap around services (transportation, child-care) are also provided on an as needed basis.
Apprenti Model

Training Providers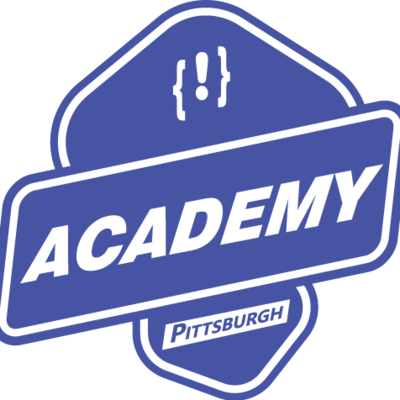 Why Pittsburgh?
Pittsburgh, once a center for the production of steel, iron and glass, has rapidly emerged as a center of innovation in tech careers. As Pittsburgh has gained tech momentum it has seen a rise in high-tech business services becoming a vibrant hub for artificial intelligence, robotics, machine learning and biomedical companies-eager to attract talent. We look to build that talent pipeline through the time-tested model of apprenticeship.
Just as Pittsburgh sits at the intersection of its three rivers, Apprenti PGH is a non-traditional solution that works to set goals at the intersection of both talent demand and talent supply. Our mission of workforce development is driven by the demand of our employer partners and then pivots to being supply focused. There is an ever-growing demand among the region's tech industry for an agile and skilled workforce that can fill mid and entry-level job occupations. At the same time, there are non-traditional job seekers who have the aptitude to succeed in tech careers but, due to lack of lack of awareness, accessibility, and training, have been unable to pursue IT career pathways.
Apprenti PGH will enable members of underrepresented groups to have a chance to take part in and benefit from the high-paying wages of our region's growth in the tech industry.
We actively recruit individuals with an interest in tech, regardless of educational or professional background. Our efforts are focused on underrepresented groups, including women, people of color, veterans, people with disabilities, and displaced workers-but all are welcome to apply.
Becoming part of Apprenti PGH requires no experience in the field of tech, just an interest in innovation, aptitude, and grit. We are excited to launch our first cohorts in software analyst occupations. Take the first step towards becoming part of the Pittsburgh's tech talent pool by applying to become an apprentice.
A Smart City
In the year 2019, the 9,883 technology firms in Pittsburgh employed 314,138 individuals and account for nearly 24.4% percent of the area's overall workforce.
The $25.2 billion annual payroll of technology and related companies represents more than 34.8% of the region's total wages. And most importantly, these opportunities are continuing to grow rapidly.
Today, tech jobs represent 3.9% of the labor market with 2,400 new jobs in engineering and 3,900 in systems design. The average wage for a tech worker in Pittsburgh is $83,100.
To support the continued success and growth of this key industry, and to create more inclusive pathways for everyone to participate in this growing field, Fortyx80 in partnership with the Pittsburgh Technology Council is honored to deliever Apprenti PGH.
As part of Apprenti PGH's employer driven model, we appreciate the opportunity to connect directly with employers interested in filling their open roles through our train and retain model of apprenticeship. We strive to build a strong, diverse pipeline of candidates interested inpursuing a career in tech at one of our innovative hiring partners in Pittsburgh. Reach out to Tarelle Irwin at Tirwin@fortyx80.org to learn more about how to leverage apprenticeship in your company or organization.
Thank you to our Financial Supporters!