By Todd Miller
5G is the fifth generation of wireless communication technology. The rollout is just beginning nationwide, and its availability in Pittsburgh and the surrounding area is limited as of early 2020. Through the placement of small cells – backpack-sized boxes housing cellular signal transmission equipment – users in academic, business, health care, manufacturing and technology environments, as well as consumers, will be able to download content more than twice as fast as they can today.
In the Pittsburgh region, DQE is providing the fiber-optic transport required for delivering small cell service to supplement its 365,000 fiber miles that currently serve more than 2,000 buildings and nearly 120 office parks.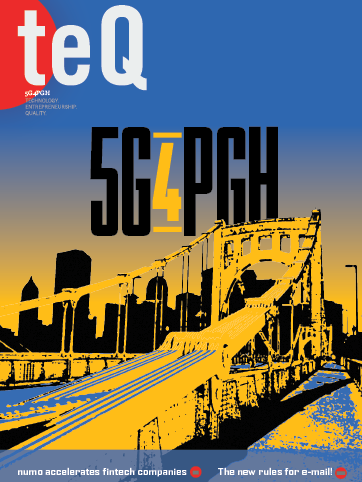 "The small cells transmit and receive millimeter wave signals which are weaker than traditional signals and can reflect off surfaces such as building walls and can even be absorbed by rain," says Shawn Blanner, DQE's Director of Construction.
"DQE is ready to support wireless carriers and end users with 5G technology deployment because it is a natural extension of our business," Blanner continues. "We will review any opportunity to build new locations for the 5G technology needs of our customers." In fact, over the past two years, DQE has "overbuilt" its network in anticipation of growing demand for 5G service.
With this emerging technology, latency – the lag time between data transfer following a user's request for content – will be one-tenth of what it is now. Put another way, you'll be able to download online content six to 10 times faster than you've been able to since the introduction of Long Term Evolution (LTE, or 4G) technology, which ushered in the era of mobile internet a decade ago.
To refresh your memory, 3G brought us mobile data in the early 2000s, 2G introduced digital voice and text messaging in the early 1990s and 1G – the type of phone service that many of us used in the 1980s – featured analog, stationary, voice-only phones.
According to David Weissmann, a spokesman for Verizon, "5G will potentially be able to handle more than 2.5 million connected devices per square mile." The significance of that technological advancement is that as people replace household items with smart devices that connect to the internet, also known as the Internet of Things (IoT), network capacity will be stretched to a point where it could be difficult to obtain information or operate devices optimally without access to 5G networks.
By using 5G technology, companies can improve productivity and innovate at unprecedented levels. "5G is designed to power new experiences for wireless customers, from gaming and entertainment services to IoT and business applications," says Durga Satapathy, PhD, Director of Technology Innovation & Architecture at Sprint and a Carnegie Mellon University alumnus based in the Washington, DC area. "5G is a platform for innovation that will create new opportunities for growth across a wide range of industries such as health care, manufacturing, technology, agriculture, transportation and hospitality. Without question, 5G will change the user experience, and will change the way business does business."
Gradual Transition
Because 5G phones are expensive (about $1,300) compared to their 4G counterparts, wireless carriers are prepared to transition to 5G in a way that's manageable for consumers. For instance, Sprint is using advanced radios at its macro cell sites that offer split-mode capabilities for simultaneously delivering LTE and 5G services.
As with any technology, as its use becomes more widespread, the cost of adopting the technology will decrease so that within a year or two, 5G phones will be priced comparably to the LTE devices we currently use.
A set of studies conducted by the professional services firm Accenture in 2017-18 states that if 5G technology fulfills its potential in the Pittsburgh region, it will be responsible for creating about 2,800 jobs over the next five years and contributing more than $450 million to the region's gross domestic product during that period. That figure excludes cellphone carriers' projected investments of nearly $250 million to create a network of small cells that makes it easier than ever to obtain and work with, or enjoy, online content.
The studies also estimate that the wireless industry's contribution to Pennsylvania's gross domestic product over the next half-decade will be about $16 billion and will create more than 100,000 jobs.
Although, all cellphone carriers expect to offer 5G capabilities in Pittsburgh within the next year, AT&T and the new T-Mobile are the only carriers so far that are currently offering 5G services to customers in Greater Pittsburgh. Crown Castle, a Houston-based provider of telecommunications equipment, has been working with wireless carriers to install small cells on streetlamp poles, traffic light poles and on other existing infrastructure as much as possible.
"Our goal is to use as much existing infrastructure as possible," says Mike Smith, Crown Castle's Vice President and General Manager, Small Cells, Central Area. "Our small cells are typically installed on existing right of way infrastructure such as streetlights or utility poles. When no suitable utility poles are available, or if the municipality restricts the use of existing poles, we may need to install our own poles. In such cases, we comply with all lawful local regulations governing such installations and work with the municipality to design a mutually acceptable installation."
Crown Castle has been working closely with municipalities across Pennsylvania, including Pittsburgh, Erie, State College and Allentown, to make certain its installations blend in with local aesthetics and are as inconspicuous as possible.
Although, cellphone carriers are committed to using existing infrastructure as much as possible, they are open to the possibility of building new infrastructure to accommodate small cells if such action means the difference between a community or region having 5G service and remaining "stuck" with 4G.
Obstacle Course
As is often the case with the introduction of new or upgraded technologies, there is resistance to implementation. In the case of 5G, resistance comes in two forms: lack of capital resources among cellphone carriers or an unwillingness to deploy capital quickly enough to meet consumer demand for lower latency and political hurdles, particularly at the state and local levels.
When it comes to financing, Sprint's Satapathy points out that the expense of implementing 5G on a robust nationwide network is a key reason why the company has been pursuing a merger with T-Mobile, which is in its final steps to completion.
The Politics
With its approval of the September Order in 2018, the FCC has done its part by reforming the permitting process for the placement of small cells, the physical building blocks of 5G. The order allows municipalities to charge reasonable fees, review small cell applications within a reasonable time frame and apply reasonable aesthetic considerations to small cell designs to ensure that small cells don't adversely affect the attractiveness of cityscapes and landscapes.
The biggest challenge to implementation of 5G technology in Pennsylvania is that the state lacks infrastructure, as well as a legislative and regulatory framework to deploy small cells, which are the backbone of 5G networks.
As Crown Castle's Smith puts it, "Winning the race to 5G is largely dependent on our federal, state and local government leaders prioritizing next generation communications infrastructure deployment today so that the U.S. remains the innovation leader tomorrow."
House Bill 1400, which calls for measures that are already law elsewhere, sets standards for deployment fees, provides a streamlined permitting process and creates an environment for enabling the placement of small cells on existing or new infrastructure, has been under consideration by the House Consumer Affairs Committee since State Rep. Frank Farry of Montgomery County, in the Philadelphia suburbs, introduced it last summer.
To date, 29 other states, including neighboring Ohio and West Virginia, have passed laws related to the deployment of small cells. If Pennsylvania's General Assembly delays passage of HB 1400, it could put the Commonwealth at a competitive disadvantage because businesses will find it easier to deal with one set of rules in Ohio, West Virginia and elsewhere rather than with multiple rules in Pennsylvania.
According to David Kerr, President of AT&T Pennsylvania, "Small cell deployment is complicated by the fact that there are 130 municipalities in Allegheny County, and more than 2,500 municipalities statewide. Each one has its own processes and rules for installing this modern communications equipment. The bill would establish a more uniform, predictable process that can help speed up investment in this critical communications infrastructure."
Kerr added that although local officials retain authority in several areas, the bill would create more uniformity and predictability for companies planning to invest in Pennsylvania.
Should HB 1400 remain stuck in committee or otherwise fail to become law, it would not be the first time that Pennsylvania would have hindered its ability to move forward because of political considerations. This time, however, the consequences could have longer-lasting adverse effects than previous failures in Harrisburg have had because of 5G technology's potentially transformative effect on our way of life.
Safe Alternative
Regardless of the political battles that may occur, the safety of 5G is an unfounded concern. CTIA, the wireless industry's trade association (ctia.org), has created resources for anyone who wants to learn about wireless technology.
Adds Sprint's Satapathy, "Exposure to radio frequency energy from small cells that has some people concerned is comparable to exposure from baby monitors, Wi-Fi routers and Bluetooth devices."
Unlike the past, when Pittsburgh trailed the rest of the country in many ways, the region is well-positioned to take advantage of 5G technology if it chooses to do so. Wireless carriers have signaled their interest in bringing 5G to the region because of its market potential, and cities that have welcomed the technology have benefited from quicker deployments and increased investment.
If Pittsburgh's business and academic communities readily adopt 5G, their support will continue to strengthen the region's position as a center of technological innovation, medical excellence and world-class education, and of being one of the country's best places to live.
Editor's Note:
As TEQ went to press on April 1, 2020, T-Mobile US Inc. announced it has officially completed its merger with Sprint Corporation to create the New T-Mobile.