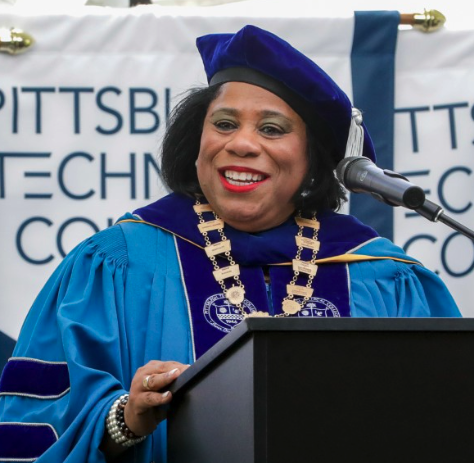 Pittsburgh Technical College (PTC) officially installed Dr. Alicia B. Harvey-Smith as its fourth President/CEO on its 185-acre Oakdale campus on Friday, June 17.
The installation marked a historic day at PTC, as Dr. Harvey-Smith became the first African American President in the college's 75-year history, the first PTC President to ever be inaugurated and the first President to lead PTC as a non Employee Stock Ownership Plan (ESOP) and non-profit. Dr. Harvey-Smith was first appointed to the position in July 2019, but due to events pertaining to the COVID-19 pandemic, her public installation came nearly three years into her transformational tenure.
"I am honored and humbled to lead Pittsburgh Technical College forward as we begin to write the college's next chapter," said Dr. Harvey-Smith. "To be able to celebrate our achievements with so many distinguished guests in government and higher education, friends and family and the entire PTC community means so much to me and I'm proud to lead the college forward."
The event featured remarks from a number of distinguished guests including City of Pittsburgh Mayor Ed Gainey and Senator Devlin Robinson. Additional salutations and support of service were provided by Bill Flanagan, Our Region's Business – Allegheny Conference; Quintin Bullock DDS, President, Community College of Allegheny County and Roger Davis Ed.D., President, Community College of Beaver County. Dr. Jermaine Ford, President, Florence-Darlington Technical College and Vincent Mumford, Ed.D., Dean of Graduate Studies at West Liberty University, also provided congratulatory remarks.
PTC has undergone a remarkable transformation over its 75-year history, moving from its downtown location to its 185-acre campus, officially changing its previous name of "Pittsburgh Technical Institute," shifting to a non-profit institution and more. Just in the last three years alone under Dr. Harvey-Smith's leadership, PTC went from never receiving a single dollar for grant funding, to earning a National Science Foundation (NSF) grant in excess of $1 million.
The college has also developed a Diversity, Equity & Inclusion initiative to make education accessible for all. PTC's progress under Dr. Harvey-Smith's leadership has been recognized, as PTC earned the Pittsburgh Technology Council's Tech 50 Innovator of the Year Award, with Dr. Harvey-Smith earning the distinction of 2021 CEO of the Year.
Dr. Harvey-Smith is also setting the course for PTC's future with the college's new five-year Strategic Plan. Along with Dr. Harvey-Smith, a Strategic Planning Taskforce composed of 70 individuals inclusive of all PTC departments developed six strategic directions to move PTC forward in areas such as expanding access, enabling success and skills for the future, elevating public and private partnerships and more.
The Public Installation ceremony highlighted PTC's inauguration week events. A Faculty and Staff Professional Achievement reception took place on June 14, with a 'Crafternoon' event held the following day. A student event sponsored by the Rainbow Alliance, Crafternoon allowed students to participate in a variety of fun crafting activities on campus.
The week also featured a Presidential Collegiate Luncheon with keynote speaker Yvonne Cook, President of the Highmark Foundation and Highmark Vice President of Community & Health Initiatives. The luncheon was followed by the inaugural Alumni Wall of Honor unveiling and reception, where distinguished PTC alumni were awarded plaques commemorating their accomplishments and contributions to the community.
The week of events concluded with the Presidential Inauguration Scholarship Gala at the Carnegie Music Hall on the evening of June 17. Every ticket purchased went toward helping PTC students gain scholarships to help pursue higher education.
Dr. Harvey-Smith brings 30 years of experience to PTC having worked as the Executive Vice Chancellor of Lone Star College in Houston, one of the largest community college systems in the country, as well as the President/CEO of River Valley Community College in Claremont, N.H.