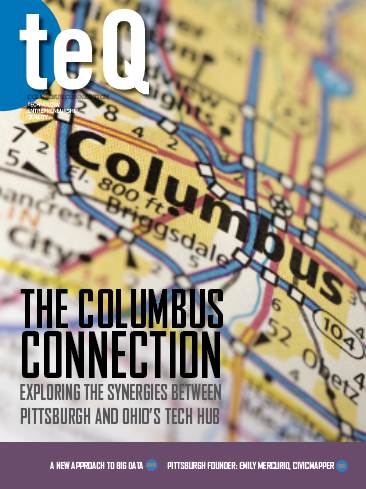 When it comes to collaboration between companies and organizations in Ohio and Pennsylvania, things haven't always gone as planned. That's because the Midwest/Northeast cultural divide, sports rivalries and old jokes rooted in perceptions rather than facts have stood in the way of cooperation.
Fortunately, times are changing. Over the past year, members of the tech communities in Columbus and Pittsburgh have demonstrated an interest in working with each other. The Tech Council has begun to facilitate many of those interactions through workshops, seminars and other kinds of programming.
"Columbus and Pittsburgh have many things in common, which makes partnerships between companies in the two regions attractive," says Ben Blanquera, Vice President of Client Success and Experience with Covail, a technology firm that provides large organizations with enterprise level solutions and products related to artificial intelligence (AI), automation and cyber security.
He points to the similarity of both regions' assets being conducive to collaboration. Those attributes include having universities and colleges that generate ideas for businesses and educate skilled workers to run those companies. Blanquera also believes that the diversity of industries in both regions is advantageous to their long-term futures.
"Our organization is an excellent example of what can happen when companies work together," says Blanquera, whose company, Covail (formerly the Columbus Collaboratory) born from the aspiration of several large companies, including Battelle, Cardinal Health, Huntington Bank, L Brands, Nationwide Insurance, American Electric Power and OhioHealth.
Those companies provided $40 million in seed money over a five-year period to explore ways for meeting common challenges related to AI, automation and cyber security at a fraction of the cost and time of developing solutions individually.
Says Blanquera, "These types of partnerships can be replicated among companies in the same region, or in different regions, if there's a willingness to do so."
Connections between the Columbus and Pittsburgh tech communities can build on CIO forums that have been occurring for years and in which Blanquera has participated. "I've made some valuable contacts and gained tremendous insights at those meetings, and I foresee additional cooperation strengthening the vitality of both regions."
A Super-Regional Approach

Mark Meier, T-Mobile's Regional Sales Leader for the Columbus metropolitan area echoes Blanquera's belief in potential synergies between the tech communities in Central Ohio and Western Pennsylvania. He believes that the Columbus-Pittsburgh corridor has the potential to become a "super-region" much like Silicon Valley and the Boston-Southern New Hampshire corridor.
"Both regions have strong universities and colleges that create a skilled workforce," says Meier, whose territory included the Pittsburgh region before last year's merger between T-Mobile and Sprint. "The key is for businesses to coordinate efforts that provide opportunities for keeping local technology talent in the region so people don't feel the need to go to Silicon Valley. If tech sector leaders in Columbus and Pittsburgh can work together and create those jobs, more people will stay."
Meier also cited "hidden gems" in the Columbus and Pittsburgh housing markets as a magnet for keeping or attracting tech workers. "There are so many amazing neighborhoods where people can own homes for a reasonable cost compared to other parts of the country, and tech sector employers need to team up with industry associations (like the Tech Council) to spread that message in area universities and colleges."
With the pandemic likely to make remote work a permanent workplace feature, Meier sees that trend as being beneficial to Columbus and Pittsburgh. "Because both cities offer a high quality of life and have an affordable cost of living, people who work for companies outside of those areas may want to live in Columbus or Pittsburgh and work remotely."
Meier also sees potential for both regions to replicate a partnership that T-Mobile established with Curiosity Lab at Peachtree Corners and Georgia Tech University in Atlanta to keep local tech talent from moving away. The collaboration includes creation of a new incubator program in suburban Peachtree Corners, GA, that is tailoring 5G technology – fifth-generation technology standard for broadband cellular networks – to health care, automotive and general business and industrial applications.
"5G brings new opportunities from near real-time responses to the ability to connect almost anything to help enterprises solve business challenges and bring new innovations to market," says Allan Samson, T-Mobile's Senior Vice President for Business.
Derek Hahn, Vice President of Sales at Expedient, who resides in Columbus, echoes many of the sentiments and observations of both Samson and Meier at T-Mobile.
Headquartered in Pittsburgh, Expedient has a national cloud and data center footprint, with services ranging from cloud and managed services that include virtualization, cloud computing, DRaaS, security and compliance, managed backups, colocation and more.
"The last five years have seen tremendous growth in the Columbus area," says Hahn. "It's essentially become our second headquarters!"
Hahn says that Columbus has a very different attitude compared to many of its neighbors, noting that businesses are quick to adopt new technologies and innovation. Columbus's massive insurance and banking presences are driving more growth, especially as they look to adopt more hybrid and multi-cloud work environments post COVID-19.
Hahn and Rob Philips, Market Vice President at Expedient's Pittsburgh office, both say the two markets are always learning from one another. Philips notes that Columbus learns from Pittsburgh's deep roots in the market and Pittsburgh takes a cue from Columbus' fast growth and nimble approach to the market.
"We can really learn from each other," says Philips. "One thing that our cities have in common is that they are both very successful markets and tech is booming."
C-Level Support
According to Tom Harris, Senior Vice President of the Columbus sector of CGI, a large IT and business consulting services firm that employs more than 70,000 people worldwide and has an office in Downtown Pittsburgh, "One of the area's greatest assets is the willingness of top and senior management in the most prominent companies to meet with people who want advice. There's a genuine desire to help each other out because it helps the region move forward."
Adds Harris, "It could be beneficial for the Columbus Chamber (of Commerce) and the Tech Council to build upon that generosity of spirit by creating opportunities for members to network and share ideas related to growing and managing businesses when change is occurring fast because of the pandemic and technology."
That vision for collaboration dovetails with The Columbus Way, a term derived from a Harvard Business School case study on the region's exceptional ability to partner across the public, private, academic and non-profit sectors to get things done, much like in Pittsburgh.
One of those areas of cooperation that Harris identifies is workforce development. As an avid Blue Jackets fan who still laments his team's playoff losses to the Penguins, Harris contends that "we need to get people on the sidelines into the game, especially people from non-traditional backgrounds. Many people may not have had formal education beyond high school, and we should be training them for entry level jobs that can lead to careers that help companies grow."
Roads to Progress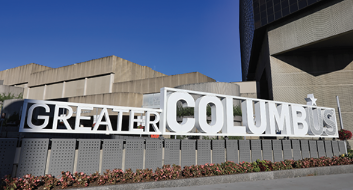 The awarding of a Smart City Challenge grant five years ago from the U.S. Department of Transportation validated The Columbus Way when the city beat out more than 70 applicants competing for the funding.
The $40 million award, plus $10 million in matching funds from Vulcan, Inc., a philanthropic organization established by the late Paul Allen, one of Microsoft's co-founders, is allowing the business, academic and government sectors to collaborate on transportation projects that reduce the number of cars on the road while:
• Improving people's quality of life
• Promoting economic growth
• Improving people's access to jobs that offer growth potential
• Promoting sustainability
Also on the transportation front, if the hyperloop materializes, a maglev (magnetic levitation) high-speed rail transportation line through which a vacuum tube train would move at more than 750 mph would connect Pittsburgh, Columbus and Chicago. Columbus and Pittsburgh would then become suburbs of one another, separated by a 20-minute train ride.
As Covail's Blanquera puts it, "It would take me as long to get from Columbus to Pittsburgh as it does to drive from my home to my office."
According to a study conducted by the Mid-Ohio Regional Planning Commission and released last spring, hyperloop could bring significant economic benefits to Columbus and Pittsburgh over a 30-year period. Those gains include:
• 9 billion cars shifted to hyperloop passengers
• 4 million tons of reduced CO2 emissions (over $126 million in emissions savings)
• Elimination of 450 million commercial truck vehicle hours traveled
• $300 billion in economic benefits, with nearly
$19 billion in direct transportation benefits
The study also projects that, over the next several decades, the Columbus region's population will increase by 20% while Pittsburgh's will increase by 10%. During that same period, Columbus is set to experience employment growth of more than 15% while Pittsburgh will have 12% growth.
As T-Mobile's Meier observes, "If tech sector leaders in Columbus and Pittsburgh pay attention to the numbers and commit to working as effectively with each other as they have with local, national and international partners, another technology super-region could be on the horizon."
Sharing a Major Financial Institution
With headquarters in Columbus and a growing presence in Pittsburgh, Huntington Bank provides the capital and services businesses need to scale.
"Pittsburgh and Columbus truly share an innovation ecosystem that is very symbiotic," said Susie Shipley, President of Huntington Bank, Western PA and Ohio Valley. "Both regions are growing and are fueled by talent, which is strengthened by the thriving universities, strong public/private partnerships and excellent health care in both cities."
With more than 6,000 employees in Columbus and 500 in Pittsburgh, and thousands across several other states, Huntington
provides personal, business, private, commercial and insurance services.
Shipley says she is proud to live in Pittsburgh for many reasons, including our long history in technology and innovation. She goes on to say that she's equally proud to work for a company that is people-first, digitally powered.
While they have a robust physical presence, Huntington's technology allowed them to provide uninterrupted service to its customers during the past year when more than 70% of the workforce was operating remotely and safely from home.
Throughout the pandemic, Huntington has monitored changes in consumer behavior which includes an expected increase in online activity, especially through their Hub tools and their mobile app.
"Simple transactions are increasingly moving online," Shipley said, "That's why we are continuing to invest in technology, and developing more tools and products that will help our customers rebuild their financial lives and plan for the future."
Shipley says that Huntington realized the economic impact that the pandemic was having on customers and they wanted to help. Their digital teams went into acceleration mode to launch Money Scout, an automated tool that uses predictive technology to examine spending habits, income and upcoming expenses to find money customers are not using in their checking then move it to savings, automatically.
"Stress related to money and finances is a clear reflection of the challenges many people are having during these difficult times," Shipley said. "We're doubling down on creating solutions to make it easier for customers to save and build confidence knowing they can achieve any goal, big or small. Money Scout is another tool in Huntington's digital toolbox to help give our customers confidence in improving their financial health."
As a top SBA lender, Huntington has a unique focus and commitment to small business.
"We are a purpose-driven bank," says Shipley. "We look for ways to connect to the community."
Huntington has committed to a new five-year, $20 billion Community Plan that will help boost economic opportunity for people, small businesses, and communities throughout its seven-state footprint. The plan is targeted to provide more access to capital, affordable housing and community lending.
The Huntington Lift Local Business Program has committed a $25 million loan option with longer terms, overdraft fee relief and waived fees so that all business owners from all walks of life, backgrounds, ethnicities and experiences can succeed in their industry.
Knowing that small business and innovation are the backbone of both Pittsburgh and Columbus's tech ecosystems, Shipley says Huntington has committed to invest $150 million over three years in its own technology platforms to provide its customers with the most advanced tools to manage their finances. This, in turn, is driving growth across Huntington's IT and cybersecurity teams which are located both in Pittsburgh and Columbus.
"We are accelerating out of COVID," said Shipley. "We are investing more in technology to better help our clients use the latest digital and mobile innovations."
Columbus Quick Take
Technology operations in Columbus and its surrounding region span industries such as retail, finance and headquarter operations.
Matt McQuade, Managing Director, Business Development at One Columbus, notes Columbus and its suburbs have substantial roots in tech that continue to grow deeper and broader.
One Columbus works with local and state partners to serve as the business location resource for companies across 11 counties that make up the Columbus region.
Examples of Columbus's tech chops range from Battelle Memorial Institute, the world's largest non-profit contract research organization to Sarepta, the world's leader in gene therapy to homegrown unicorns like Root and CoverMyMeds, which are changing the face of the insurtech industry.
Google, Amazon Web Services and Facebook have collectively invested billions in their data center campuses in the Columbus region. JPMorgan Chase employs more than 20,000 people in the Columbus region, including more than 5,000 tech workers that build apps and digital tools for Chase online banking.
From venture capital investors and accelerators to mentoring opportunities and unique co-working environments, the Columbus region's collaborative spirit also spurs a growing start-up community. McQuade says Drive Capital's entrance into Columbus in 2012 has accelerated new company creation.
Anchored by The Ohio State University, the Columbus region's colleges and universities supply a steady pipeline of young talent, especially in high-demand fields such as engineering and computer science.