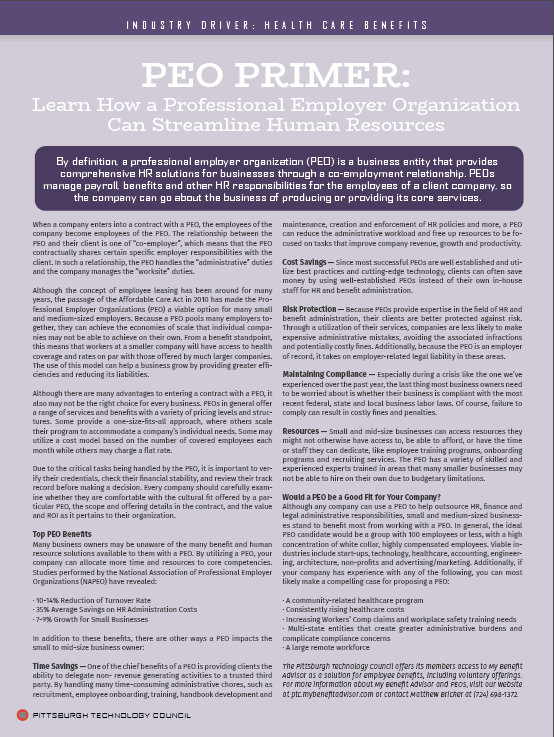 By definition, a professional employer organization (PEO) is a business entity that provides comprehensive HR solutions for businesses through a co-employment relationship. PEOs manage payroll, benefits and other HR responsibilities for the employees of a client company, so the company can go about the business of producing or providing its core services.
When a company enters into a contract with a PEO, the employees of the company become employees of the PEO. The relationship between the PEO and their client is one of "co-employer", which means that the PEO contractually shares certain specific employer responsibilities with the client. In such a relationship, the PEO handles the "administrative" duties and the company manages the "worksite" duties.
Although the concept of employee leasing has been around for many years, the passage of the Affordable Care Act in 2010 has made the Professional Employer Organizations (PEO) a viable option for many small and medium-sized employers. Because a PEO pools many employers together, they can achieve the economies of scale that individual companies may not be able to achieve on their own. From a benefit standpoint, this means that workers at a smaller company will have access to health coverage and rates on par with those offered by much larger companies. The use of this model can help a business grow by providing greater efficiencies and reducing its liabilities.
Although there are many advantages to entering a contract with a PEO, it also may not be the right choice for every business. PEOs in general offer a range of services and benefits with a variety of pricing levels and structures. Some provide a one-size-fits-all approach, where others scale their program to accommodate a company's individual needs. Some may utilize a cost model based on the number of covered employees each month while others may charge a flat rate.
Due to the critical tasks being handled by the PEO, it is important to verify their credentials, check their financial stability, and review their track record before making a decision. Every company should carefully examine whether they are comfortable with the cultural fit offered by a particular PEO, the scope and offering details in the contract, and the value and ROI as it pertains to their organization.
Top PEO Benefits
Many business owners may be unaware of the many benefit and human resource solutions available to them with a PEO. By utilizing a PEO, your company can allocate more time and resources to core competencies. Studies performed by the National Association of Professional Employer Organizations (NAPEO) have revealed:
· 10-14% Reduction of Turnover Rate
· 35% Average Savings on HR Administration Costs
· 7-9% Growth for Small Businesses
In addition to these benefits, there are other ways a PEO impacts the small to mid-size business owner:
Time Savings — One of the chief benefits of a PEO is providing clients the ability to delegate non- revenue generating activities to a trusted third party. By handling many time-consuming administrative chores, such as recruitment, employee onboarding, training, handbook development and maintenance, creation and enforcement of HR policies and more, a PEO can reduce the administrative workload and free up resources to be focused on tasks that improve company revenue, growth and productivity.
Cost Savings — Since most successful PEOs are well established and utilize best practices and cutting-edge technology, clients can often save money by using well-established PEOs instead of their own in-house staff for HR and benefit administration.
Risk Protection — Because PEOs provide expertise in the field of HR and benefit administration, their clients are better protected against risk. Through a utilization of their services, companies are less likely to make expensive administrative mistakes, avoiding the associated infractions and potentially costly fines. Additionally, because the PEO is an employer of record, it takes on employer-related legal liability in these areas.
Maintaining Compliance — Especially during a crisis like the one we've experienced over the past year, the last thing most business owners need to be worried about is whether their business is compliant with the most recent federal, state and local business labor laws. Of course, failure to comply can result in costly fines and penalties.
Resources — Small and mid-size businesses can access resources they might not otherwise have access to, be able to afford, or have the time or staff they can dedicate, like employee training programs, onboarding programs and recruiting services. The PEO has a variety of skilled and experienced experts trained in areas that many smaller businesses may not be able to hire on their own due to budgetary limitations.
Would a PEO be a Good Fit for Your Company?
Although any company can use a PEO to help outsource HR, finance and legal administrative responsibilities, small and medium-sized businesses stand to benefit most from working with a PEO. In general, the ideal PEO candidate would be a group with 100 employees or less, with a high concentration of white collar, highly compensated employees. Viable industries include start-ups, technology, healthcare, accounting, engineering, architecture, non-profits and advertising/marketing. Additionally, if your company has experience with any of the following, you can most likely make a compelling case for proposing a PEO:
· A community-related healthcare program
· Consistently rising healthcare costs
· Increasing Workers' Comp claims and workplace safety training needs
· Multi-state entities that create greater administrative burdens and complicate compliance concerns
· A large remote workforce
The Pittsburgh Technology Council offers its members access to My Benefit Advisor as a solution for employee benefits, including voluntary offerings. For more information about My Benefit Advisor and PEOs, visit our website at ptc.mybenefitadvisor.com or contact Matthew Bricker at (724) 698-1372.