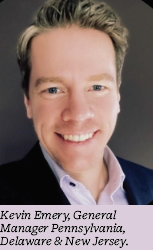 Lumen brings a bold new vision to lead enterprises through the challenges of the 4th Industrial Revolution – a time when smart, connective devices are everywhere. Success today hinges on the ability to effectively acquire data, understand what it means, and quickly deliver actions to be competitive.
A technology company in Pittsburgh, CenturyLink rebranded itself as Lumen to demonstrate a bold new vision for enterprises in the digital era. The name Lumen honors its global fiber network foundation. But more importantly it signifies its aspiration to be "The Platform for Amazing Things." Lumen delivers the critical technologies that allow its customers to take advantage of emerging applications, driven by data, and do inspiring things.
"Lumen is much more than a new brand, it is a promise to deliver an exceptional customer experience for networking, cloud, security and communication and collaboration solutions that will power business applications," said Kevin Emery, Lumen General Manager. "We are in a place where technology is powered by huge amounts of data, and this is completely changing how we live and work. Now is really the time for our company to move our enterprise brand to one that reflects this shift."
OnRAMP wanted to learn and sat down with Emery (at a distance of course!) to learn more.
OnRAMP: Give us more details on your platform and how it has been engineered for Industry 4.0 technology.
Emery: As one of the fastest, most secure platforms for next-generation applications and data, Lumen stands poised to deliver an exceptional customer experience across industries and enable the 4th Industrial Revolution.
We're completely transforming our services and the way we do business through digital delivery of our services. Lumen represents a fundamental shift and focus that CenturyLink has spent years building in software and decades building in infrastructure. All the services we provide now and the ones we will provide in the future will be virtualized through automation. Our platform is how we will deliver those in a much more integrated and efficient manner.
The Lumen Platform leverages a powerful combination of extensive assets, including our adaptive global network infrastructure, edge cloud capabilities, connected security, and communication and collaboration solutions. The Lumen Platform gives our enterprise customers the flexibility, security and the speed to power the applications of today and emerging applications of the future. It marks a deliberate strategy to bring together all of Lumen's assets, IP, financial investments and human capital to help solve the technological challenges faced by organizations today and support the high-bandwidth, low-latency needs of modern apps and the businesses that rely on them.
The platform is a north star for delivering our services and also gives us a roadmap for continuing to invest in edge compute services so we can connect customers to edge to cloud. The platform lets us weave together multiple innovative technologies, allowing our enterprise customers to deliver amazing digital experiences, including smart cities, retail and industrial robotics, real-time virtual collaboration and automated factories.
• Adaptive Networking: Lumen provides hybrid network solutions built to quickly respond to customers' ever-changing data and application needs.
• Edge Cloud & IT Agility: Lumen enhances application experiences by delivering low-latency, high-performance data access and by moving data and workloads closer to where customers need them.
• Connected Security: Lumen offers global threat intelligence, network-based security controls and deep security expertise to help customers protect their data and applications against constantly evolving threats.
• Communications & Collaboration: Lumen's communication and collaboration solutions make it easy for people to stay connected, productive and engaged wherever they are located.

OnRAMP: At the end of the day, it comes down to people. How does your platform empower people?
Emery: The 4th Industrial Revolution is redefining everyday experiences across every industry, and our partners are more critical now than ever before.
Lumen is guided by the belief that technology unlocks humanity's boundless potential for innovation and improvement surrounding the way we live and work. We are continually innovating to bring our customers the solutions they need to drive amazing outcomes. Our purpose is to "further human progress through technology." Our goal is to deliver the world's best customer experience through our "Platform for Amazing Things," combining networking, cloud, security and collaboration solutions that power businesses, communities and government.
This proactive, strategic realignment is designed to meet rapidly evolving needs and it enables us to be laser focused on helping customers realize the benefits of 4th Industrial Revolution. As this transformational shift accelerates, we look forward to working with enterprise customers across the globe to enable an exceptional customer experience for businesses everywhere.
At Lumen, we hold ourselves accountable for helping our customers reach their goals and the Platform for Amazing Things provides focus and direction with organizational simplicity to achieve strategic objectives.
OnRAMP: Can you tell us a little more about Lumen in the Pittsburgh region? What do you believe are the interesting opportunities here?
Emery: With deep roots within the Pittsburgh area, Lumen comes from a strong foundation built from Qwest, Global Crossing, Level 3, CenturyLink, Savvis and several other strategic acquisitions. We have a significant footprint in the region. Lumen is excited to support Pittsburgh-based enterprises as they transform in the 4th Industrial Revolution. With robust capabilities to help companies acquire, act and analyze their data, Lumen is enabling leading organizations that are changing the fabric in how they do business in the modern age.
Any media inquiries can be addressed to news.media@lumen.com or kerry.zimmer@lumen.com tel: 509-622-2803.
Read the entire issue of OnRamp Magazine: