When Dr. Matthew Johnson-Roberson left Carnegie Mellon University with a bachelor's degree in computer science in 2005, he never dreamed that he would return 17 years later as the new Director of the Robotics Institute.
Johnson-Roberson will be the Robotics Institute's sixth director following Professor Srinivasa Narasimhan, who served as an interim director since 2019, when Martial Hebert left his post as head of the institute to become Dean of SCS.
After graduating from CMU, Johnson-Roberson earned his Ph.D. at the University of Sydney. He completed a post-doctoral fellowship at the KTH Royal Institute of Technology's Centre for Autonomous Systems in Stockholm and a research fellowship at the University of Sydney's Australian Centre for Field Robotics. Johnson-Roberson joined the faculty at UM in 2013 and taught courses related to underwater vehicle design and autonomy, computer vision and self-driving cars.
"Matt's expansive background and expertise equip him well to lead the development of robotic systems across RI and SCS," Hebert said. "The Robotics Institute, the School of Computer Science and the entire Carnegie Mellon community are thrilled to welcome Matt back to campus and excited to work with him."
CMU Founders University Research Professor and robotics pioneer Dr. Red Whittaker called Johnson-Roberson a "technological adventurer" and said the enthusiasm and determination with which he devoted himself to his projects impressed him.
We wanted to learn more about Johnson-Roberson and his plans to build on the strong foundations of the Robotics Institute.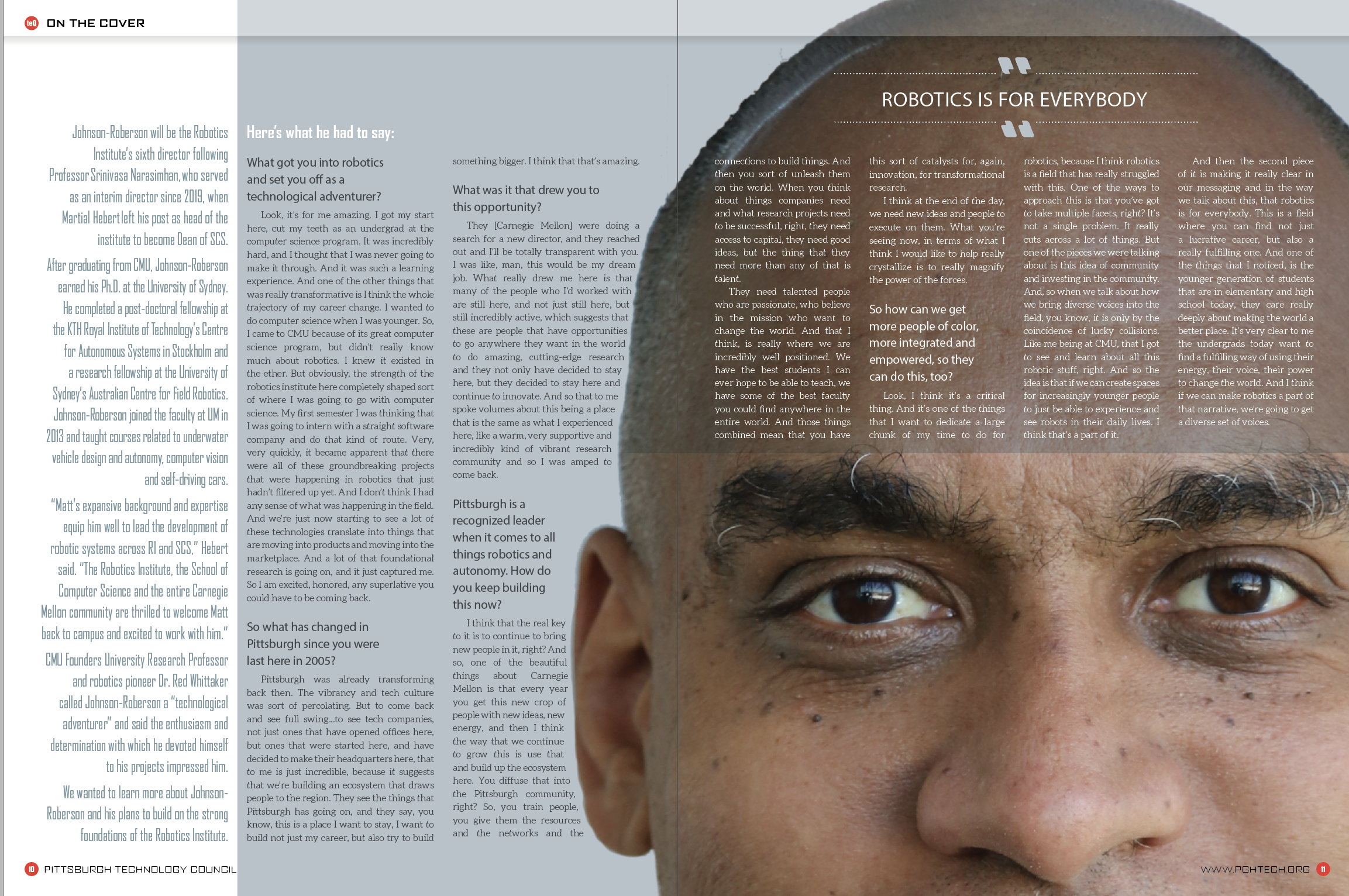 Here's What He Had Say:
What got you into robotics and set you off as a technological adventurer?
Look, it's for me amazing. I got my start here, cut my teeth as an undergrad at the computer science program. It was incredibly hard, and I thought that I was never going to make it through. And it was such a learning experience. And one of the other things that was really transformative is I think the whole trajectory of my career change. I wanted to do computer science when I was younger. So, I came to CMU because of its great computer science program, but didn't really know much about robotics. I knew it existed in the ether. But obviously, the strength of the robotics institute here completely shaped sort of where I was going to go with computer science. My first semester I was thinking that I was going to intern with a straight software company and do that kind of route. Very, very quickly, it became apparent that there were all of these groundbreaking projects that were happening in robotics that just hadn't filtered up yet. And I don't think I had any sense of what was happening in the field. And we're just now starting to see a lot of these technologies translate into things that are moving into products and moving into the marketplace. And a lot of that foundational research is going on, and it just captured me. So I am excited, honored, any superlative you could have to be coming back.
So what has changed in Pittsburgh since you were last here in 2005?
Pittsburgh was already transforming back then. The vibrancy and tech culture was sort of percolating. But to come back and see full swing...to see tech companies, not just ones that have opened offices here, but ones that were started here, and have decided to make their headquarters here, that to me is just incredible, because it suggests that we're building an ecosystem that draws people to the region. They see the things that Pittsburgh has going on, and they say, you know, this is a place I want to stay, I want to build not just my career, but also try to build something bigger. I think that that's amazing.
What was it that drew you to this opportunity?
They [Carnegie Mellon] were doing a search for a new director, and they reached out and I'll be totally transparent with you. I was like, man, this would be my dream job. What really drew me here is that many of the people who I'd worked with are still here, and not just still here, but still incredibly active, which suggests that these are people that have opportunities to go anywhere they want in the world to do amazing, cutting-edge research and they not only have decided to stay here, but they decided to stay here and continue to innovate. And so that to me spoke volumes about this being a place that is the same as what I experienced here, like a warm, very supportive and incredibly kind of vibrant research community and so I was amped to come back.
Pittsburgh is a recognized leader when it comes to all things robotics and autonomy. How do you keep building this now?
I think that the real key to it is to continue to bring new people in it, right? And so, one of the beautiful things about Carnegie Mellon is that every year you get this new crop of people with new ideas, new energy, and then I think the way that we continue to grow this is use that and build up the ecosystem here. You diffuse that into the Pittsburgh community, right? So, you train people, you give them the resources and the networks and the connections to build things. And then you sort of unleash them on the world. When you think about things companies need and what research projects need to be successful, right, they need access to capital, they need good ideas, but the thing that they need more than any of that is talent.
They need talented people who are passionate, who believe in the mission who want to change the world. And that I think, is really where we are incredibly well positioned. We have the best students I can ever hope to be able to teach, we have some of the best faculty you could find anywhere in the entire world. And those things combined mean that you have this sort of catalysts for, again, innovation, for transformational research.
I think at the end of the day, we need new ideas and people to execute on them. What you're seeing now, in terms of what I think I would like to help really crystallize is to really magnify the power of the forces.
So how can we get more people of color, more integrated and empowered, so they can do this, too?
Look, I think it's a critical thing. And it's one of the things that I want to dedicate a large chunk of my time to do for robotics, because I think robotics is a field that has really struggled with this. One of the ways to approach this is that you've got to take multiple facets, right? It's not a single problem. It really cuts across a lot of things. But one of the pieces we were talking about is this idea of community and investing in the community. And, so when we talk about how we bring diverse voices into the field, you know, it is only by the coincidence of lucky collisions. Like me being at CMU, that I got to see and learn about all this robotic stuff, right. And so the idea is that if we can create spaces for increasingly younger people to just be able to experience and see robots in their daily lives. I think that's a part of it.
And then the second piece of it is making it really clear in our messaging and in the way we talk about this, that robotics is for everybody. This is a field where you can find not just a lucrative career, but also a really fulfilling one. And one of the things that I noticed, is the younger generation of students that are in elementary and high school today, they care really deeply about making the world a better place. It's very clear to me the undergrads today want to find a fulfilling way of using their energy, their voice, their power to change the world. And I think if we can make robotics a part of that narrative, we're going to get a diverse set of voices.