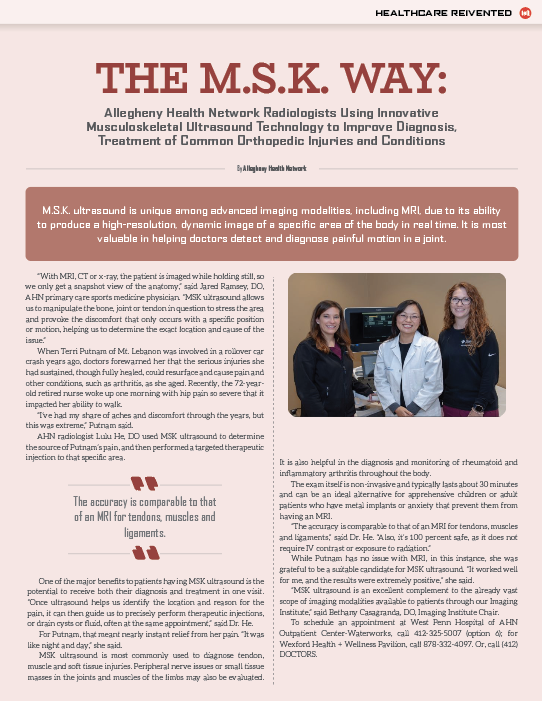 M.S.K. ultrasound is unique among advanced imaging modalities, including MRI, due to its ability to produce a high-resolution, dynamic image of a specific area of the body in real time. It is most valuable in helping doctors detect and diagnose painful motion in a joint.
"With MRI, CT or x-ray, the patient is imaged while holding still, so we only get a snapshot view of the anatomy," said Jared Ramsey, DO, AHN primary care sports medicine physician. "MSK ultrasound allows us to manipulate the bone, joint or tendon in question to stress the area and provoke the discomfort that only occurs with a specific position or motion, helping us to determine the exact location and cause of the issue."
When Terri Putnam of Mt. Lebanon was involved in a rollover car crash years ago, doctors forewarned her that the serious injuries she had sustained, though fully healed, could resurface and cause pain and other conditions, such as arthritis, as she aged. Recently, the 72-year-old retired nurse woke up one morning with hip pain so severe that it impacted her ability to walk.
"I've had my share of aches and discomfort through the years, but this was extreme," Putnam said.
AHN radiologist Lulu He, DO used MSK ultrasound to determine the source of Putnam's pain, and then performed a targeted therapeutic injection to that specific area.
One of the major benefits to patients having MSK ultrasound is the potential to receive both their diagnosis and treatment in one visit. "Once ultrasound helps us identify the location and reason for the pain, it can then guide us to precisely perform therapeutic injections, or drain cysts or fluid, often at the same appointment," said Dr. He.
For Putnam, that meant nearly instant relief from her pain. "It was like night and day," she said.
MSK ultrasound is most commonly used to diagnose tendon, muscle and soft tissue injuries. Peripheral nerve issues or small tissue masses in the joints and muscles of the limbs may also be evaluated. It is also helpful in the diagnosis and monitoring of rheumatoid and inflammatory arthritis throughout the body.
The exam itself is non-invasive and typically lasts about 30 minutes and can be an ideal alternative for apprehensive children or adult patients who have metal implants or anxiety that prevent them from having an MRI.
"The accuracy is comparable to that of an MRI for tendons, muscles and ligaments," said Dr. He. "Also, it's 100 percent safe, as it does not require IV contrast or exposure to radiation."
While Putnam has no issue with MRI, in this instance, she was grateful to be a suitable candidate for MSK ultrasound. "It worked well for me, and the results were extremely positive," she said.
"MSK ultrasound is an excellent complement to the already vast scope of imaging modalities available to patients through our Imaging Institute," said Bethany Casagranda, DO, Imaging Institute Chair.
To schedule an appointment at West Penn Hospital of AHN Outpatient Center-Waterworks, call 412-325-5007 (option 6); for Wexford Health + Wellness Pavilion, call 878-332-4097. Or, call (412) DOCTORS.