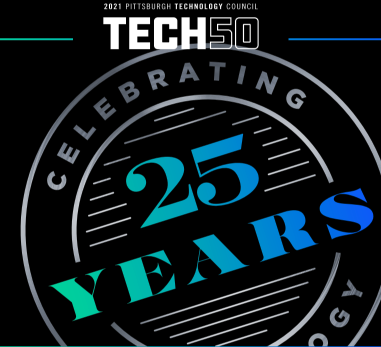 The Pittsburgh Technology Council celebrated the 25th annual Tech 50 Awards on Nov. 10, 2021 to honor the fastest growing and most innovative technology companies, service providers and CEOS in the Pittsburgh region.
This is the Tech Council's annual opportunity for members to connect with the region's top companies in the following categories: AI/ML/Robotics, Consumer, Life Sciences, Manufacturing, Medtech/Health IT, Non-Profit/Education/Community, Solutions Provider - Innovative Tech, Solutions Provider - Services, Start-up Company, and CEO of the Year!
"It's pretty amazing that the Tech Council has been celebrating the accomplishments of our tech companies large and small for a quarter of a century," said Tech Council President and CEO Audrey Russo. "Having the event in person after Covid forced a virtual Tech 50 last year, made it even more special. To see the excitement and feel the energy of the winners and finalists is simply amazing."
Here's a look at this year's winners and finalists:
Innovator of the Year: Life Sciences
CytoAgents
CytoAgents is a privately held, clinical-stage biotechnology company focused on the development of innovative pharmaceutical products for the treatment of life-threatening symptoms associated with Cytokine Release Syndrome (CRS), an overreaction of the immune system causing systemic inflammation. Their mission is to develop a broadly accessible treatment for multiple indications of high unmet need, including oncology CAR T-cell therapy, COVID-19, and respiratory epidemics. They are committed to developing first-in-class, best-in-class products that meet a major medical need now and into the future.
Finalists: Ariel Precision Medicine, NeuEsse, Tobbi Dynavox
Innovator of the Year: Manufacturing – The Kurt J. Lesker III Award for Excellence
MSA Safety Inc.
MSA, the global leader in sophisticated safety products and technology, is fully committed to protecting the health and safety of workers worldwide. They've developed thousands of products, own hundreds of patents, and have a global reach into the millions to keep in motion their mission that began over 100 years ago. Since 1914, MSA has grown to include more than 5,200 employees across the world, protecting workers in over 140 countries against hazardous or life-threatening situations. MSA's comprehensive safety products integrate a combination of electronics, mechanical systems, advanced materials, and new technologies with applications in a broad range of markets.
Finalists: Eaton, Intervala, Pitmoss, PPG, Safe Space Technologies
CEO of the Year
Pittsburgh Technical College: Dr. Alicia B. Harvey-Smith, President & CEO
As President and CEO of Pittsburgh Technical College (PTC) since 2019, Dr. Alicia B. Harvey-Smith has executed tremendous strides in increasing the college's exposure to the public, government officials, business leaders, community partners, and numerous other constituents in a manner that had not before been initiated by a leader in this position. As the college's first President since becoming a non-profit organization, her guidance has opened new doors for PTC to the community, access to funding, and enrollment opportunities.
Finalists: CytoAgents: Teresa Whalen; Deeplocal: Nathan Martin; Ethical Intruder: David Kane; GrayMatter: James Gillespie; Idelic: Nick Bartel; NextLink Labs: Jordan Saunders; NuMoola: James Haluszczak Rivers Agile: Ben Wilson
Innovator of the Year: AI/ML/Robotics
Aurora
Founded in 2017 by experts in the self-driving industry, Aurora is on a mission to deliver the benefits of self-driving technology safely, quickly, and broadly. To move both people and goods, Aurora is building the Aurora Driver, a platform that brings together software, hardware, and data services to autonomously operate passenger vehicles, light commercial vehicles, and heavy-duty trucks. Aurora's talented and diverse 1,600-person team is focused on creating a transformative business for the long-term. Headquartered in Pittsburgh and with offices throughout the city, Aurora has more employees in Pittsburgh than in any other location.
Finalists: Gecko Robotics, Idelic, Locomation, Motional, Roadbotics
Innovator of the Year: Consumer
Tech Elevator
Tech Elevator is an intensive educational provider helping individuals and companies acquire in-demand technology skills for the modern workforce. Through their 14-week, full-time, in-person coding bootcamps, Tech Elevator teaches students with a variety of backgrounds to become software developers while helping them build necessary career readiness skills and career connections through the Pathway Program™ to land a meaningful job.
Finalists: BlastPoint, Brand Holdings, Digital Dream Labs, NuMoola
Innovator of the Year: Medtech/Health IT
TeleTracking Technologies, Inc.
For every hour a patient waits for care, they face objectively worse outcomes—during the COVID-19 pandemic, this is more relevant than ever. TeleTracking believes it is unacceptable that patients can't access the care they need—when they need it—due to operating inefficiencies and unnecessary cost barriers. Their mission is to ensure no one waits for the care they need. For three decades, TeleTracking has pioneered the management of patients from admission through discharge and, most recently, has led the development of NASA-like health system command centers that provide critical, real-time information, and transparency across all hospitals.

Finalists: ConnectiveRx, Data Ideology, Rimsys
Innovator of the Year: Start-up Company
Seiso LLC
Seiso is an information security consulting company focused on creating simple, effective security programs designed to evolve and mature within organizations over time. Seiso delivers cloud, enterprise, and application security solutions; builds and operates security programs for the most challenging, fast moving, and heavily regulated environments; and provides expert guidance and advice. Seiso's approach focuses on harmony with the business, ensuring that security does not hinder organizational goals, and that its partners are able to make informed, risk-based decisions.
Finalists: Confirmed LLC, ERIN, HIKE2 LLC, My BFF Social, NextLinkLabs
Innovator of the Year: Non-Profit/Education/Community
Pittsburgh Technical College
Pittsburgh Technical College (PTC) celebrates 75 years as a leading regional educator preparing students for professional success. Degree-seeking students experience internships, clinical rotations, or employer-partnered capstone projects before graduation, resulting in a high, five-year in-field placement rate of 93%.* A private, non-profit, and regionally accredited institution, PTC's hallmark is academic excellence supporting each student's professional and personal journey. The education combines theory with applied-learning, and state-of-the-art curriculum is advised by the region's top employers.
Finalists: 412 FoodRescue, Advanced Robotics for Manufacturing, Carnegie Science Center, Commonwealth Charter Academy and Schell Games
Innovator of the Year: Solutions Provider – Innovative Tech
Optimus Technologies
Optimus Technologies is a green tech company based in Pittsburgh. Optimus manufactures the Vector System, an advanced fuel system technology that enables medium- and heavy-duty vehicles to operate on 100% biodiesel, regardless of ambient temperature, cutting carbon emissions between 75-100%. The Vector System integrates into existing operations to facilitate a seamless transition to low-carbon fuels. At Optimus Technologies, their goal is to help fleets reduce operating costs, eliminate carbon emissions, and meet long-term sustainability targets in a cost-effective way.
Finalists: Aspinity, Deeplocal, GrayMatter, Hamiltonian Systems, Meter Feeder
Innovator of the Year: Solutions Provider – Services
Rivers Agile
Rivers Agile is a technology consulting company that has built an excellent reputation for technical innovation, superior engineering, and a regular cadence for building and deploying software solutions to the market. Since 2008, Rivers Agile has fulfilled the need for first-rate Quality Assurance services in Pittsburgh and has matured into an end-to-end software solutions provider. Whether defining new software or refining an existing application or website, they work with clients throughout the entire product lifecycle to help them achieve their strategic vision. Based in North Shore, Rivers Agile's highly skilled team works with recently funded startups through Fortune 50 clients.

Finalists: Aspirant, CAI, RiverPoint Technology, SDLC, The Machine, Tier1 Performance