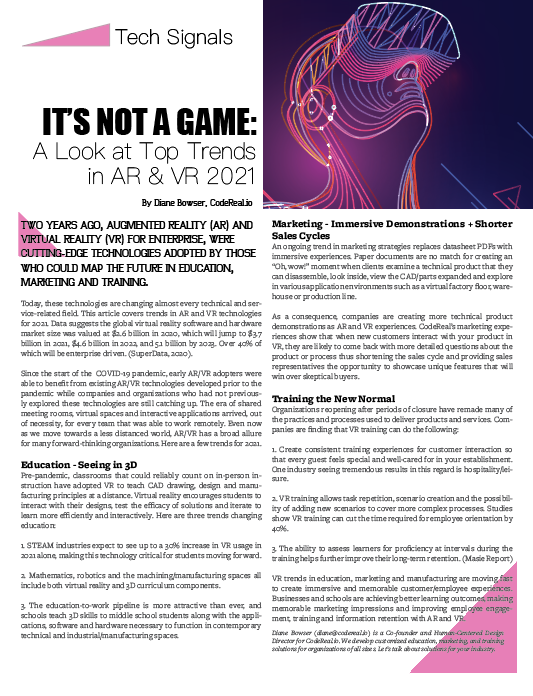 Two years ago, augmented reality (AR) and virtual reality (VR) for enterprise, were cutting-edge technologies adopted by those who could map the future in education, marketing and training.
Today, these technologies are changing almost every technical and service-related field. This article covers trends in AR and VR technologies for 2021. Data suggests the global virtual reality software and hardware market size was valued at $2.6 billion in 2020, which will jump to $3.7 billion in 2021, $4.6 billion in 2022, and 5.1 billion by 2023. Over 40% of which will be enterprise driven. (SuperData, 2020).
Since the start of the COVID-19 pandemic, early AR/VR adopters were able to benefit from existing AR/VR technologies developed prior to the pandemic while companies and organizations who had not previously explored these technologies are still catching up. The era of shared meeting rooms, virtual spaces and interactive applications arrived, out of necessity, for every team that was able to work remotely. Even now as we move towards a less distanced world, AR/VR has a broad allure for many forward-thinking organizations. Here are a few trends for 2021.
Education - Seeing in 3D
Pre-pandemic, classrooms that could reliably count on in-person instruction have adopted VR to teach CAD drawing, design and manufacturing principles at a distance. Virtual reality encourages students to interact with their designs, test the efficacy of solutions and iterate to learn more efficiently and interactively. Here are three trends changing education:
1. STEAM industries expect to see up to a 30% increase in VR usage in 2021 alone, making this technology critical for students moving forward.
2. Mathematics, robotics and the machining/manufacturing spaces all include both virtual reality and 3D curriculum components.
3. The education-to-work pipeline is more attractive than ever, and schools teach 3D skills to middle school students along with the applications, software and hardware necessary to function in contemporary technical and industrial/manufacturing spaces.
Marketing - Immersive Demonstrations + Shorter Sales Cycles
An ongoing trend in marketing strategies replaces datasheet PDFs with immersive experiences. Paper documents are no match for creating an "Oh, wow!" moment when clients examine a technical product that they can disassemble, look inside, view the CAD/parts expanded and explore in various application environments such as a virtual factory floor, warehouse or production line.
As a consequence, companies are creating more technical product demonstrations as AR and VR experiences. CodeReal's marketing experiences show that when new customers interact with your product in VR, they are likely to come back with more detailed questions about the product or process thus shortening the sales cycle and providing sales representatives the opportunity to showcase unique features that will win over skeptical buyers.
Training the New Normal
Organizations reopening after periods of closure have remade many of the practices and processes used to deliver products and services. Companies are finding that VR training can do the following:
1. Create consistent training experiences for customer interaction so that every guest feels special and well-cared for in your establishment. One industry seeing tremendous results in this regard is hospitality/leisure.
2. VR training allows task repetition, scenario creation and the possibility of adding new scenarios to cover more complex processes. Studies show VR training can cut the time required for employee orientation by 40%.
3. The ability to assess learners for proficiency at intervals during the training helps further improve their long-term retention. (Masie Report)
VR trends in education, marketing and manufacturing are moving fast to create immersive and memorable customer/employee experiences. Businesses and schools are achieving better learning outcomes, making memorable marketing impressions and improving employee engagement, training and information retention with AR and VR.
Diane Bowser (diane@codereal.io) is a Co-founder and Human-Centered Design Director for CodeReal.io. We develop customized education, marketing, and training solutions for organizations of all sizes. Let's talk about solutions for your industry.