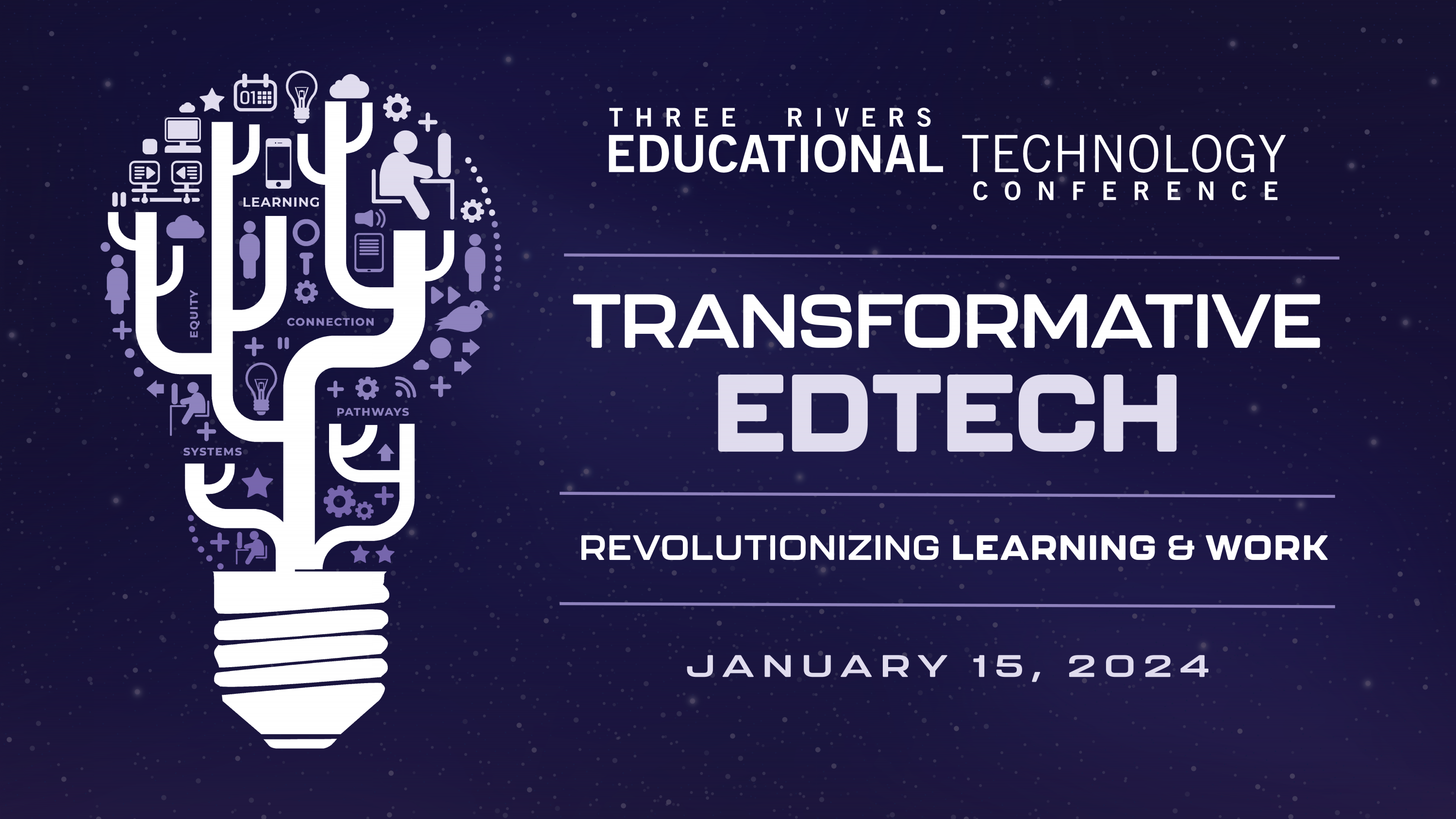 Submit: Presentation, Workshop or Poster Session
Nominate: Innovation in Education Award
Three Rivers Educational Technology Conference (TRETC) is an exciting professional development opportunity to advance the integration of educational technology for teachers, K-12 administrators, industry experts, and higher education decision makers in South Western PA.
TRETC 2024 Theme: Transformative EdTech
Students are the future of our workforce. Through the integration of educational technology, students have before them the opportunity to experience the pathway to "what is next" while in the classroom. These pathways, using new and equitable learning models, lead to networks that design strong foundation and momentum in future careers.
Evening Innovation in Education Award & Networking Event
Date: January 14, 2024
Time: 4:30 PM - 6:30 PM
Location: TBA
Featuring:
Networking
Industry Experience
Out-of-School Time Organization Showcase
Network and Explore
TRETC 2024 Conference
Date: January 15, 2024
Time: 9:00 AM-3:30 PM
Location: South Fayette High School | McDonald, PA 15057
Featuring:
• 3+ Feature Speakers
• 12 Topic Tracks- AI, EdTech Tools at Work & Play, Data and Privacy, Assessment, Inclusion and Accessibility, Social Emotional Learning, World of Work, Esports, Space Education, Robotics, MakerSpace, and Emerging Tech
• 4 Formats-listen & learn, create & explore, connect & engage
• Student showcase
• Student pitch competition
• E-sport competition
• Superintendent Panel Discussion
• EdTech Leaders Panel Discussion
• Innovation in Education Awards
• Vendors/Exhibitors featuring Emerging EdTech
• Innovation Zone
*The Act 48 hours will be administered at the end of the event.
---
Cost
• Early Bird (before 11/10/23) General Admission | $75
• General Admission | $85
• Presenters | Free of Charge
• Principals and Superintendents | Free of Charge
• Students | $35 (Valid Student ID Required)
• Preservice Teacher | $35 | Mentor teachers bring preservice teachers for free
• Group Discounts (10+ teachers) | Email mcolf@pghtech.org
*Administrators bring one staff member for free upon registration.

---
Contact Information
For questions, please contact Marie Pelloni, Sr. Director of Talent & Workforce Development Initiatives, at mpelloni@pghtech.org