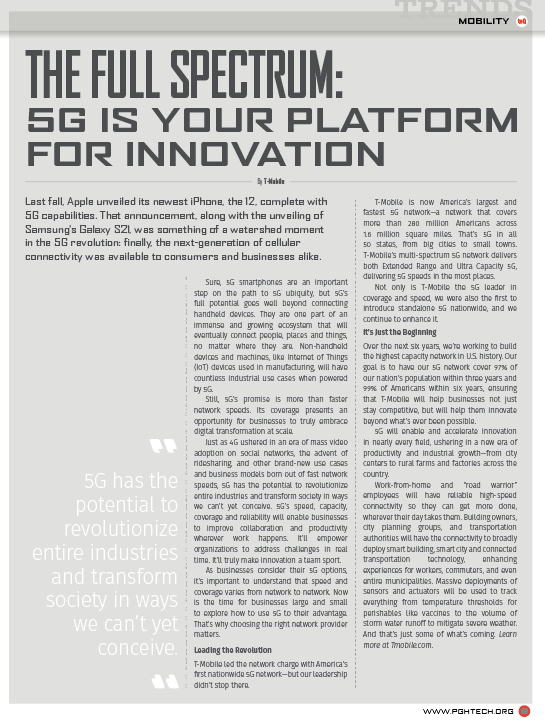 Last fall, Apple unveiled its newest iPhone, the 12, complete with 5G capabilities. That announcement, along with the unveiling of Samsung's Galaxy S21, was something of a watershed moment in the 5G revolution: finally, the next-generation of cellular connectivity was available to consumers and businesses alike.
Sure, 5G smartphones are an important step on the path to 5G ubiquity, but 5G's full potential goes well beyond connecting handheld devices. They are one part of an immense and growing ecosystem that will eventually connect people, places and things, no matter where they are. Non-handheld devices and machines, like Internet of Things (IoT) devices used in manufacturing, will have countless industrial use cases when powered by 5G.
Still, 5G's promise is more than faster network speeds. Its coverage presents an opportunity for businesses to truly embrace digital transformation at scale.
Just as 4G ushered in an era of mass video adoption on social networks, the advent of ridesharing, and other brand-new use cases and business models born out of fast network speeds, 5G has the potential to revolutionize entire industries and transform society in ways we can't yet conceive. 5G's speed, capacity, coverage and reliability will enable businesses to improve collaboration and productivity wherever work happens. It'll empower organizations to address challenges in real time. It'll truly make innovation a team sport.
As businesses consider their 5G options, it's important to understand that speed and coverage varies from network to network. Now is the time for businesses large and small to explore how to use 5G to their advantage. That's why choosing the right network provider matters.
Leading the Revolution
T-Mobile led the network charge with America's first nationwide 5G network—but our leadership didn't stop there.
T-Mobile is now America's largest and fastest 5G network—a network that covers more than 280 million Americans across 1.6 million square miles. That's 5G in all 50 states, from big cities to small towns.
T-Mobile's multi-spectrum 5G network delivers both Extended Range and Ultra Capacity 5G, delivering 5G speeds in the most places.
Not only is T-Mobile the 5G leader in coverage and speed, we were also the first to introduce standalone 5G nationwide, and we continue to enhance it.
It's Just the Beginning
Over the next six years, we're working to build the highest capacity network in U.S. history. Our goal is to have our 5G network cover 97% of our nation's population within three years and 99% of Americans within six years, ensuring that T-Mobile will help businesses not just stay competitive, but will help them innovate beyond what's ever been possible.
5G will enable and accelerate innovation in nearly every field, ushering in a new era of productivity and industrial growth—from city centers to rural farms and factories across the country.
Work-from-home and "road warrior" employees will have reliable high-speed connectivity so they can get more done, wherever their day takes them. Building owners, city planning groups, and transportation authorities will have the connectivity to broadly deploy smart building, smart city and connected transportation technology, enhancing experiences for workers, commuters, and even entire municipalities. Massive deployments of sensors and actuators will be used to track everything from temperature thresholds for perishables like vaccines to the volume of storm water runoff to mitigate severe weather. And that's just some of what's coming. Learn more at Tmobile.com.