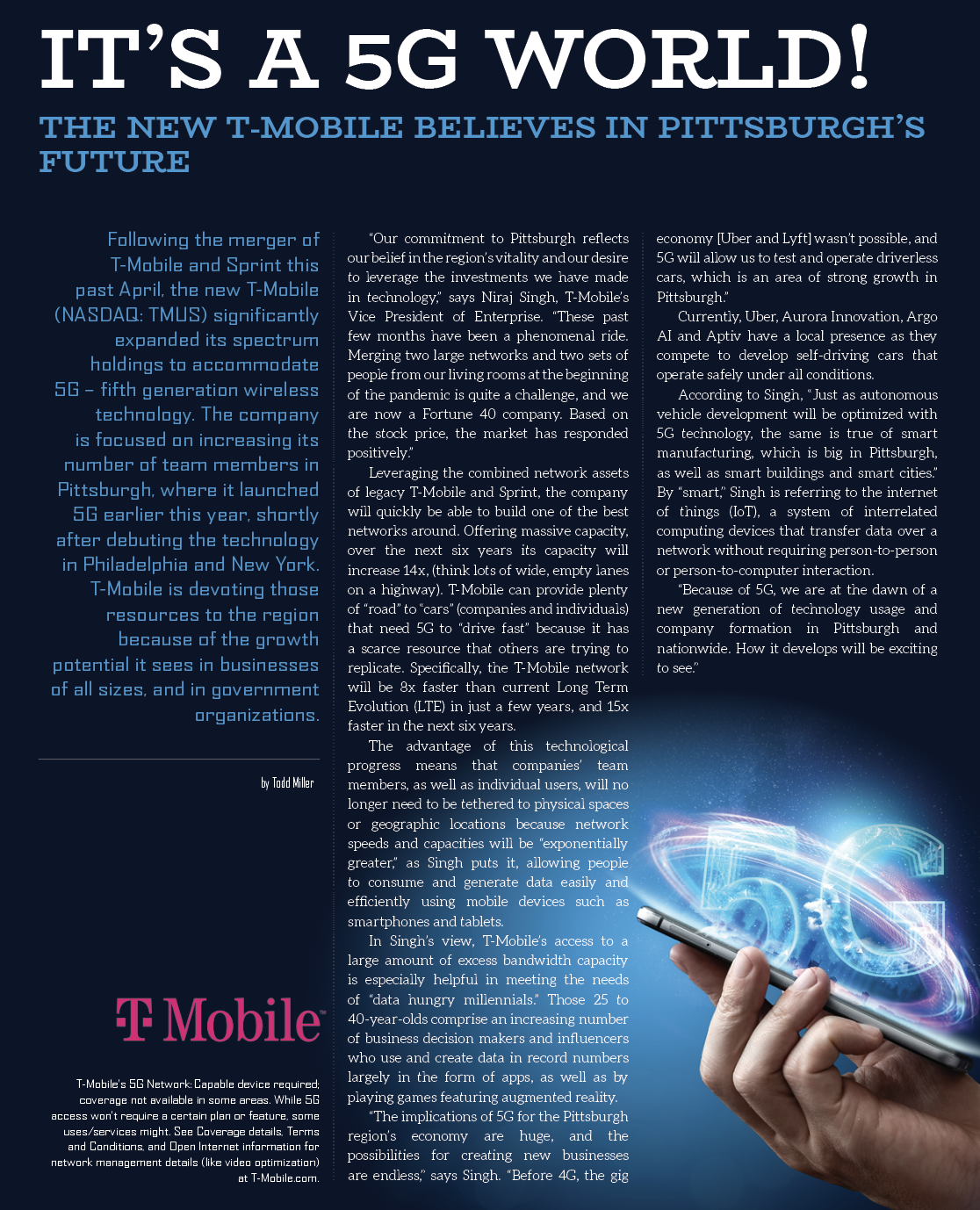 Following the merger of T-Mobile and Sprint this past April, the new T-Mobile (NASDAQ: TMUS) significantly expanded its spectrum holdings to accommodate 5G – fifth generation wireless technology. The company is focused on increasing its number of team members in Pittsburgh, where it launched 5G earlier this year, shortly after debuting the technology in Philadelphia and New York. T-Mobile is devoting those resources to the region because of the growth potential it sees in businesses of all sizes, and in government organizations.
"Our commitment to Pittsburgh reflects our belief in the region's vitality and our desire to leverage the investments we have made in technology," says Niraj Singh, T-Mobile's Vice President of Enterprise. "These past few months have been a phenomenal ride. Merging two large networks and two sets of people from our living rooms at the beginning of the pandemic is quite a challenge, and we are now a Fortune 40 company. Based on the stock price, the market has responded positively."
Leveraging the combined network assets of legacy T-Mobile and Sprint, the company will quickly be able to build one of the best networks around. Offering massive capacity, over the next six years its capacity will increase 14x, (think lots of wide, empty lanes on a highway). T-Mobile can provide plenty of "road" to "cars" (companies and individuals) that need 5G to "drive fast" because it has a scarce resource that others are trying to replicate. Specifically, the T-Mobile network will be 8x faster than current Long Term Evolution (LTE) in just a few years, and 15x faster in the next six years.
The advantage of this technological progress means that companies' team members, as well as individual users, will no longer need to be tethered to physical spaces or geographic locations because network speeds and capacities will be "exponentially greater," as Singh puts it, allowing people to consume and generate data easily and efficiently using mobile devices such as smartphones and tablets.
In Singh's view, T-Mobile's access to a large amount of excess bandwidth capacity is especially helpful in meeting the needs of "data hungry millennials." Those 25 to 40-year-olds comprise an increasing number of business decision makers and influencers who use and create data in record numbers largely in the form of apps, as well as by playing games featuring augmented reality.
"The implications of 5G for the Pittsburgh region's economy are huge, and the possibilities for creating new businesses are endless," says Singh. "Before 4G, the gig economy [Uber and Lyft] wasn't possible, and 5G will allow us to test and operate driverless cars, which is an area of strong growth in Pittsburgh."
Currently, Uber, Aurora Innovation, Argo AI and Aptiv have a local presence as they compete to develop self-driving cars that operate safely under all conditions.
According to Singh, "Just as autonomous vehicle development will be optimized with 5G technology, the same is true of smart manufacturing, which is big in Pittsburgh, as well as smart buildings and smart cities." By "smart," Singh is referring to the internet of things (IoT), a system of interrelated computing devices that transfer data over a network without requiring person-to-person or person-to-computer interaction.
"Because of 5G, we are at the dawn of a new generation of technology usage and company formation in Pittsburgh and nationwide. How it develops will be exciting to see."
Read the entire issue of TEQ here: