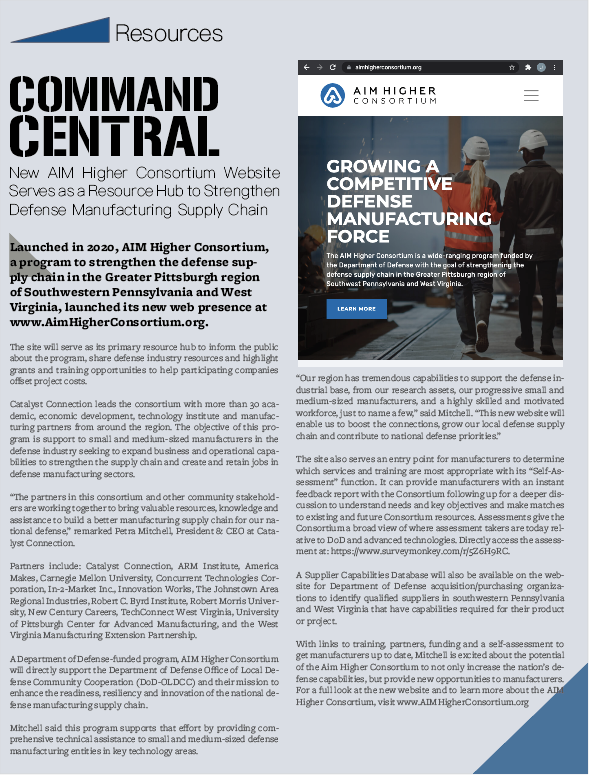 Launched in 2020, AIM Higher Consortium, a program to strengthen the defense supply chain in the Greater Pittsburgh region of Southwestern Pennsylvania and West Virginia, launched its new web presence at www.AimHigherConsortium.org.
The site will serve as its primary resource hub to inform the public about the program, share defense industry resources and highlight grants and training opportunities to help participating companies offset project costs.
Catalyst Connection leads the consortium with more than 30 academic, economic development, technology institute and manufacturing partners from around the region. The objective of this program is support to small and medium-sized manufacturers in the defense industry seeking to expand business and operational capabilities to strengthen the supply chain and create and retain jobs in defense manufacturing sectors.
"The partners in this consortium and other community stakeholders are working together to bring valuable resources, knowledge and assistance to build a better manufacturing supply chain for our national defense," remarked Petra Mitchell, President & CEO at Catalyst Connection.
Partners include: Catalyst Connection, ARM Institute, America Makes, Carnegie Mellon University, Concurrent Technologies Corporation, In-2-Market Inc., Innovation Works, The Johnstown Area Regional Industries, Robert C. Byrd Institute, Robert Morris University, New Century Careers, TechConnect West Virginia, University of Pittsburgh Center for Advanced Manufacturing, and the West Virginia Manufacturing Extension Partnership.
A Department of Defense-funded program, AIM Higher Consortium will directly support the Department of Defense Office of Local Defense Community Cooperation (DoD-OLDCC) and their mission to enhance the readiness, resiliency and innovation of the national defense manufacturing supply chain.
Mitchell said this program supports that effort by providing comprehensive technical assistance to small and medium-sized defense manufacturing entities in key technology areas.
"Our region has tremendous capabilities to support the defense industrial base, from our research assets, our progressive small and medium-sized manufacturers, and a highly skilled and motivated workforce, just to name a few," said Mitchell. "This new website will enable us to boost the connections, grow our local defense supply chain and contribute to national defense priorities."
The site also serves an entry point for manufacturers to determine which services and training are most appropriate with its "Self-Assessment" function. It can provide manufacturers with an instant feedback report with the Consortium following up for a deeper discussion to understand needs and key objectives and make matches to existing and future Consortium resources. Assessments give the Consortium a broad view of where assessment takers are today relative to DoD and advanced technologies. Directly access the assessment at: https://www.surveymonkey.com/r/5Z6H9RC.
A Supplier Capabilities Database will also be available on the website for Department of Defense acquisition/purchasing organizations to identify qualified suppliers in southwestern Pennsylvania and West Virginia that have capabilities required for their product or project.
With links to training, partners, funding and a self-assessment to get manufacturers up to date, Mitchell is excited about the potential of the Aim Higher Consortium to not only increase the nation's defense capabilities, but provide new opportunities to manufacturers.
For a full look at the new website and to learn more about the AIM Higher Consortium, visit www.AIMHigherConsortium.org