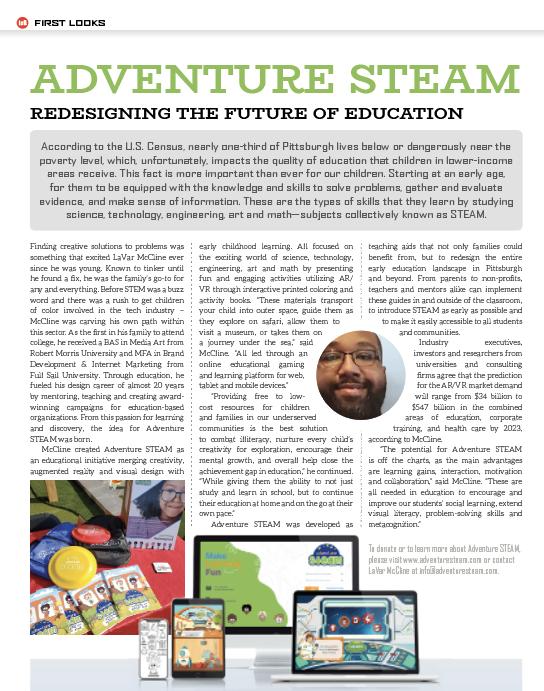 According to the U.S. Census, nearly one-third of Pittsburgh lives below or dangerously near the poverty level, which, unfortunately, impacts the quality of education that children in lower-income areas receive. This fact is more important than ever for our children. Starting at an early age, for them to be equipped with the knowledge and skills to solve problems, gather and evaluate evidence, and make sense of information. These are the types of skills that they learn by studying science, technology, engineering, art and math—subjects collectively known as STEAM.
Finding creative solutions to problems was something that excited LaVar McCline ever since he was young. Known to tinker until he found a fix, he was the family's go-to for any and everything. Before STEM was a buzz word and there was a rush to get children of color involved in the tech industry – McCline was carving his own path within this sector. As the first in his family to attend college, he received a BAS in Media Art from Robert Morris University and MFA in Brand Development & Internet Marketing from Full Sail University. Through education, he fueled his design career of almost 20 years by mentoring, teaching and creating award-winning campaigns for education-based organizations. From this passion for learning and discovery, the idea for Adventure STEAM was born.
"The potential for Adventure STEAM is off the charts, as the main advantages are learning gains, interaction, motivation and collaboration," said McCline. "These are all needed in education to encourage and improve our students' social learning, extend visual literacy, problem-solving skills and metacognition."
McCline created Adventure STEAM as an educational initiative merging creativity, augmented reality and visual design with early childhood learning. All focused on the exciting world of science, technology, engineering, art and math by presenting fun and engaging activities utilizing AR/VR through interactive printed coloring and activity books. "These materials transport your child into outer space, guide them as they explore on safari, allow them to visit a museum, or takes them on a journey under the sea," said McCline. "All led through an online educational gaming and learning platform for web, tablet and mobile devices."
"Providing free to low-cost resources for children and families in our underserved communities is the best solution to combat illiteracy, nurture every child's creativity for exploration, encourage their mental growth, and overall help close the achievement gap in education," he continued. "While giving them the ability to not just study and learn in school, but to continue their education at home and on the go at their own pace."
Adventure STEAM was developed as teaching aids that not only families could benefit from, but to redesign the entire early education landscape in Pittsburgh and beyond. From parents to non-profits, teachers and mentors alike can implement these guides in and outside of the classroom, to introduce STEAM as early as possible and to make it easily accessible to all students and communities.
Industry executives, investors and researchers from universities and consulting firms agree that the prediction for the AR/VR market demand will range from $34 billion to $547 billion in the combined areas of education, corporate training, and health care by 2023, according to McCline.
"The potential for Adventure STEAM is off the charts, as the main advantages are learning gains, interaction, motivation and collaboration," said McCline. "These are all needed in education to encourage and improve our students' social learning, extend visual literacy, problem-solving skills and metacognition."