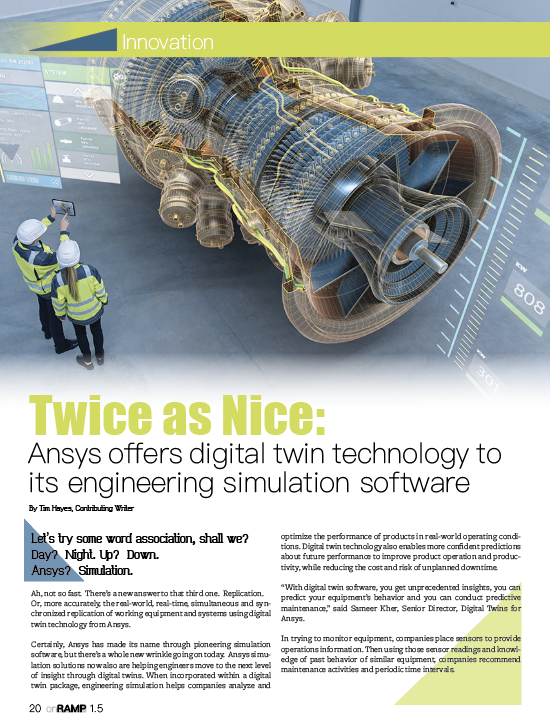 Let's try some word association, shall we?
Day? Night. Up? Down.
Ansys? Simulation.
Ah, not so fast. There's a new answer to that third one. Replication.
Or, more accurately, the real-world, real-time, simultaneous and synchronized replication of working equipment and systems using digital twin technology from Ansys.
Certainly, Ansys has made its name through pioneering simulation software, but there's a whole new wrinkle going on today. Ansys simulation solutions now also are helping engineers move to the next level of insight through digital twins. When incorporated within a digital twin package, engineering simulation helps companies analyze and optimize the performance of products in real-world operating conditions. Digital twin technology also enables more confident predictions about future performance to improve product operation and productivity, while reducing the cost and risk of unplanned downtime.
"With digital twin software, you get unprecedented insights, you can predict your equipment's behavior and you can conduct predictive maintenance," said Sameer Kher, Senior Director, Digital Twins for Ansys.
In trying to monitor equipment, companies place sensors to provide operations information. Then using those sensor readings and knowledge of past behavior of similar equipment, companies recommend maintenance activities and periodic time intervals.
This process, called Preventive Maintenance, tends to be wasteful and limited in the amount of insight generated. Digital twins handle all of that in real time by running a virtual version of the actual equipment. But not only that – the digital twin can predict and isolate performance issues that haven't even occurred yet, and can let operators accelerate time into the future to test solutions that can then be used on the real equipment to eliminate problems before they ever happen.
Typical applications of digital twin software include virtual commissioning, troubleshooting, system configuration, predictive and prescriptive maintenance, and production optimization. In one actual example, Rockwell Automation needed to reduce the "trial-and-
error" factor in commissioning its factory equipment by finding a real-time simulation to accurately predict the quality of the end-product. Through use of digital twin software, production yield and uptime were increased, reducing commissioning time from hours to minutes.
Or think of a major power plant generating thousands of megawatts of electricity. Each generating unit represents millions in revenue for the power company, so engineers know their primary responsibility is to keep that unit running safely and reliably. Should an unforeseen or undetected problem cause that unit to trip and go offline, the ramifications for customers suffering brownouts or blackouts can be severe, as well as the sudden loss of revenue for the company. Having a digital twin running totally in synch with each generating unit at all times offers an enormous sense of confidence that any internal performance issues can be spotted – and tested virtually, followed by the proper corrective action on the live unit – long before those issues cause the unit to trip.
"Using digital twins benefits customers in a number of important ways," Kher explained. "It increases revenue by keeping equipment operating more reliably. It reduces costs by anticipating performance issues and solving them virtually before applying a solution to actual equipment. It strengthens competitive edge by ensuring greater consistency in performance and delivery. The main markets for Ansys digital twin software include aerospace, automotive, manufacturing, buildings and infrastructure, oil and gas, energy production and health care.
"Our strength comes from working with many partners such as SAP, Rockwell Automation, and Microsoft," he continued. "We want to make it as easy for customers to access and use as possible. That's why Ansys is a founding partner of the Digital Twin Consortium, which also includes Dell, GE Digital, Northrop Grumman, Microsoft and others.
"We made our solution open, meaning users are not required to use Ansys tools," said Kher. "That's a key differentiator." Ansys has been working in this space for some time before officially launching its digital twin product in 2018.
"This offering is an exciting and fast-growing area for Ansys and our customers." Kher said. "It's a whole new branch of business for Ansys beyond design and analysis. The key is that we can push farther downstream into new areas of problems to solve for customers. This is more replication software than simulation – that's what makes Digital Twin technology so exciting for Ansys and our end-users."