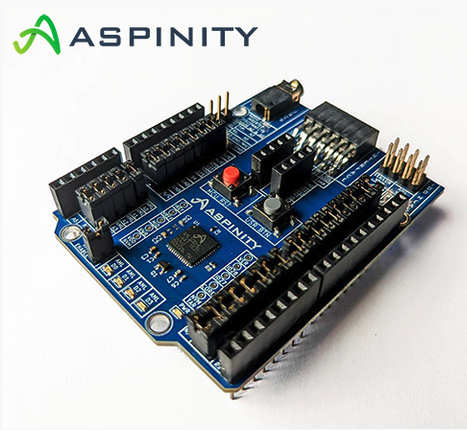 PITTSBURGH--(BUSINESS WIRE)--Aspinity, the leader in analog machine learning processing, announced today that it has joined the Renesas Preferred Partners Program and has released its AB2 AML100 Application Board. The board expedites the development of power-constrained always-on AI products that use the AML100 analog machine learning processor and Renesas' Quick-Connect IoT platform or other development platforms with an Arduino Uno Rev3 connector.
The near-zero power AML100 analog machine learning processor has been developed using Aspinity's proprietary analogML™ core and consumes 15µA for sensor interfacing, signal processing, and decision making completely within the analog domain. When programmed with one of Aspinity's purpose-built event detection algorithms, the AB2 allows system designers to quickly implement the AML100 as a front-end analog event detector that keeps the Renesas MCU in its lowest power state unless the sensor event of interest is detected, and further processing is required. By keeping the MCU in sleep mode for most of the time, the AML100 enables system designers to leverage the features and functionality of their favorite high-performance Renesas MCU without facing a battery life trade off.
The first demonstration of an Aspinity board within the Renesas Quick-Connect IoT platform will be shown in the Renesas booth at Embedded World 2023 (Hall 1, Stand 234, March 14-16, 2023, Nuremberg, Germany). It will feature the AML100 board connected to the Renesas EK-RA6M3 evaluation kit in the Quick-Connect IoT platform, to deliver a high accuracy, ultra-low power glass break detection solution. The system consumes <45µA when in always-listening mode, keeping the high performance Renesas RA6M3 MCU in its deep sleep mode unless a glass break is detected. By keeping the MCU in sleep mode for the 99.9+% of the time that there's no glass break, the AML100 significantly extends battery life for glass break sensors while ensuring that the system still achieves the high level of accuracy required for critical security applications.
"System designers are continuously searching for faster ways to develop new and innovative IoT products. Our collaboration with Aspinity allows designers to add new features to their next generation power-constrained products without compromising the performance of MCUs," said Chris Allexandre, senior vice president, CSMO and head of Global Sales & Marketing Unit at Renesas. "We are excited to continue to work with Aspinity on providing ultra-low power solutions for the myriad of always-on applications that require both high performance and an extended battery life."
"Consumers are no longer willing to trade battery-life for high performance – particularly in portable IoT products that are mounted in hard-to-reach locations and/or are used to keep their home smart, safe, and secure," said Tom Doyle, CEO and founder, Aspinity, Inc. "We are excited to join the Renesas Preferred Partners Program and demonstrate the first collaboration between the companies at Embedded World. Together, we open a new capability for system designers to incorporate power intelligence into products while still taking advantage of the high performance and rapid prototyping capability that they rely on from Renesas MCUs and the Quick-Connect IoT platforms."
About Aspinity
Aspinity is the world leader in the design and development of analog processing chips that are enabling power intelligent products for an energy efficient future. By delivering highly discriminating analog event detection, Aspinity's software programmable analog machine learning (analogML) core eliminates the power penalty of moving irrelevant data through the digital processing system, achieving near-zero always-on AI system power and dramatically improving battery life in consumer, IoT, industrial and medical applications.
To learn more about Aspinity, visit www.Aspinity.com. On Twitter: @aspinity.
About the Renesas Preferred Partners Program
The Renesas Preferred Partners Program is a global network of system solution providers working with Renesas to deliver optimized engineering solutions for customers designing with Renesas products. These IDH and engineering service partners offer value-added solutions for early-stage prototypes or productization of PoCs from Renesas and its partners, reducing development risks and time to market. To learn more about the Renessas Preferred Partners Program, visit Preferred Partners | Renesas.