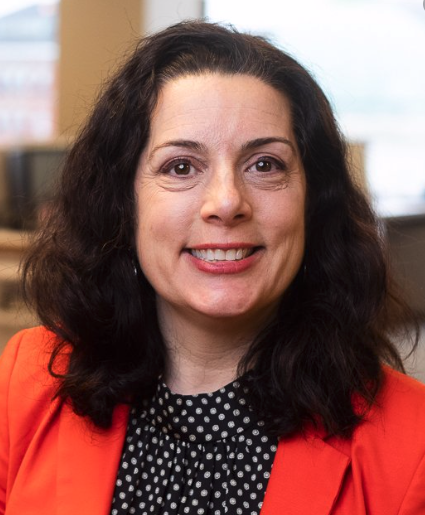 Aspirant, a global management consulting and technology firm, announced the promotion of Michele Petruccelli to Vice President. She will continue her current role as Director of Aspirant's Marketing & Innovation practice, and reports to President Mike McClaine. The company's headquarters are in Pittsburgh.
Petruccelli joined Aspirant in January 2018, where she created and has since grown the company's Marketing & Innovation practice. She specializes in brand strategy development and execution, consumer insight, design thinking, competitive scenario planning, and capability development. Petruccelli worked with a variety of clients across the U.S., including Novartis, Highmark, Lakeview Health, and Gateway Health.

"Michele has provided great value to our clients and has been critical to our growth and success," said Aspirant President Mike McClaine. "In addition to creating new business opportunities, she has been an exemplary team player, personified the values the Aspirant values, and been a key member of the Aspirant leadership team."

Petruccelli joined Aspirant from her role as President at her own consulting firm, Petruccelli Consulting, which she founded in 2010 with a focus on strategic marketing and innovation. While running Petruccelli Consulting, she worked with companies in the Fortune 100 and Global 1000 as well as mid-sized companies in a range of industries, with a focus on healthcare.
Prior to starting her company, Petruccelli's roles included Director of Product Development at Polyconcept North America, Director of Ideation and Innovation and Director of Brand Management at GlaxoSmithKline Consumer Healthcare, and AVP Marketing at PNC Financial Services. During her career, her work has spanned many organizations and ranges in size and industries, from financial services to consumer-packaged goods and healthcare.

"I've been so grateful to join Aspirant and be part of the company's growth in the last few years, particularly through building the Marketing & Innovation practice," said Michele Petruccelli. "It's a terrific honor to be a part of our incredible leadership group, and I love working with the overall team. I am so inspired and encouraged about the future of Aspirant and the great work we do to help leaders achieve their goals and realize their aspirations."

Petruccelli, along with Aspirant's VP and Organizational Effectiveness Director, Judy Johnson, PhD, also started an online video series, Walk & Talk with Michele & Judy, which focuses on a variety of marketing and HR-related topics, and also includes expert guests. This series has gained great popularity on social media due to its sharing of industry knowledge through a more casual approach.

Petruccelli also actively volunteers in Pittsburgh. She currently offers her branding expertise as part of the New Hazlett Theater Marketing Committee as well as volunteering at Animal Friends and serving as a board member with Big Brothers Big Sisters of Greater Pittsburgh. She's heavily involved in Aspirant's own Connection of Hopecampaign to prevent domestic violence. She earned her MBA from the University of Pittsburgh Katz Graduate School of Business as well as a Bachelor of Science degree in Finance from Miami University.