COLMENA to Take Mexico to the Moon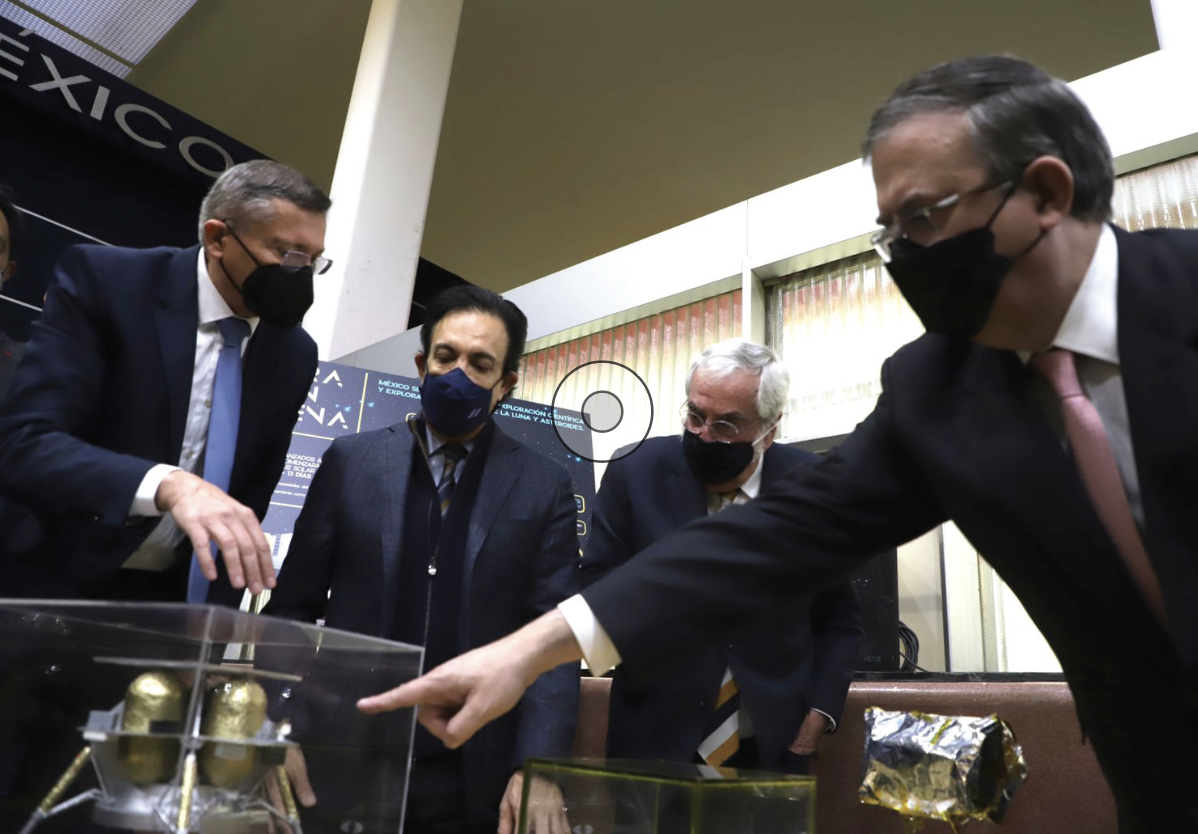 Agencia Espacial Mexicana, the Mexican Space Agency, will fly the first Latin American scientific instrument to the surface of the Moon aboard Peregrine. The payload, consisting of five small robots, weighing less than 60 grams and measuring 12 centimeters in diameter.
The COLMENA Project is Mexico's first lunar exploration mission. It is headed by the UNAM (Universidad Nacional Autónoma de México/National Autonomous University of Mexico) and accompanied by the Foreign Ministry, the Mexican Space Agency (AEM) and the state of Hidalgo.
Gustavo Medina, the head of LINX at the UNAM Institute of Nuclear Sciences (ICN), said that COLMENA is part of the first stage of a space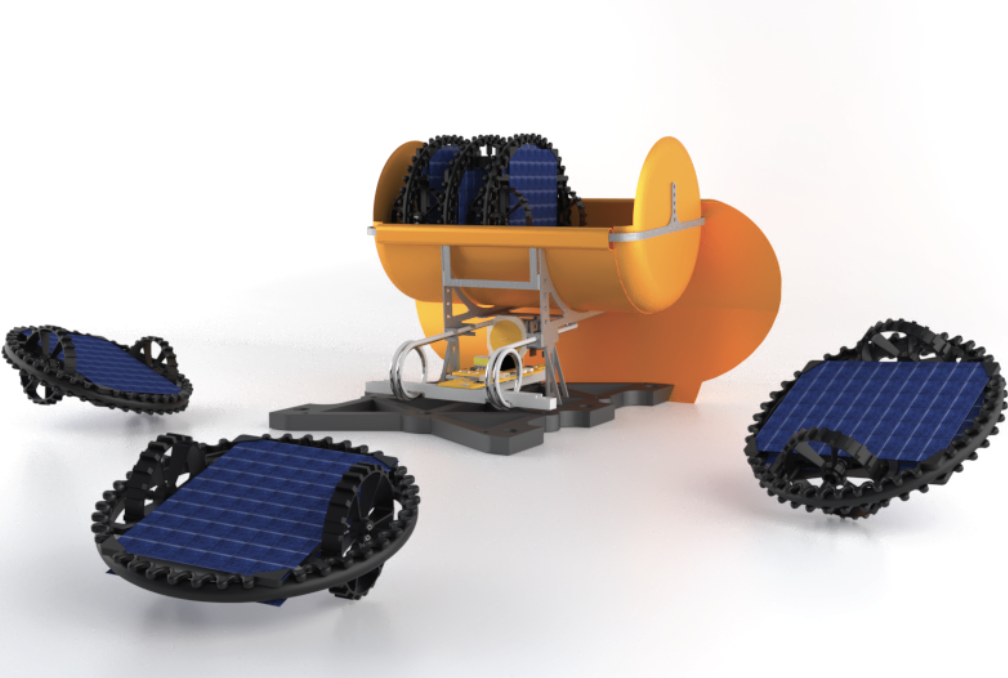 technology niche that Mexico wants to develop so that the nation can be a producer of goods, wealth, knowledge and well-being.
The mission calls for the robots to act autonomously and, taking nature as an example, demonstrate that they can coordinate and be space explorers and miners. Their electronics will be less than two centimeters from the lunar regolith on the Moon's surface, which could be quite the challenge to navigate.
COLMENA seeks to show how Mexican engineering and space tech is on par with the best in the world and to inspire future lunar initiatives.
Carnegie Mellon's Iris and Moonark May Be Small in Size, But Big in Potential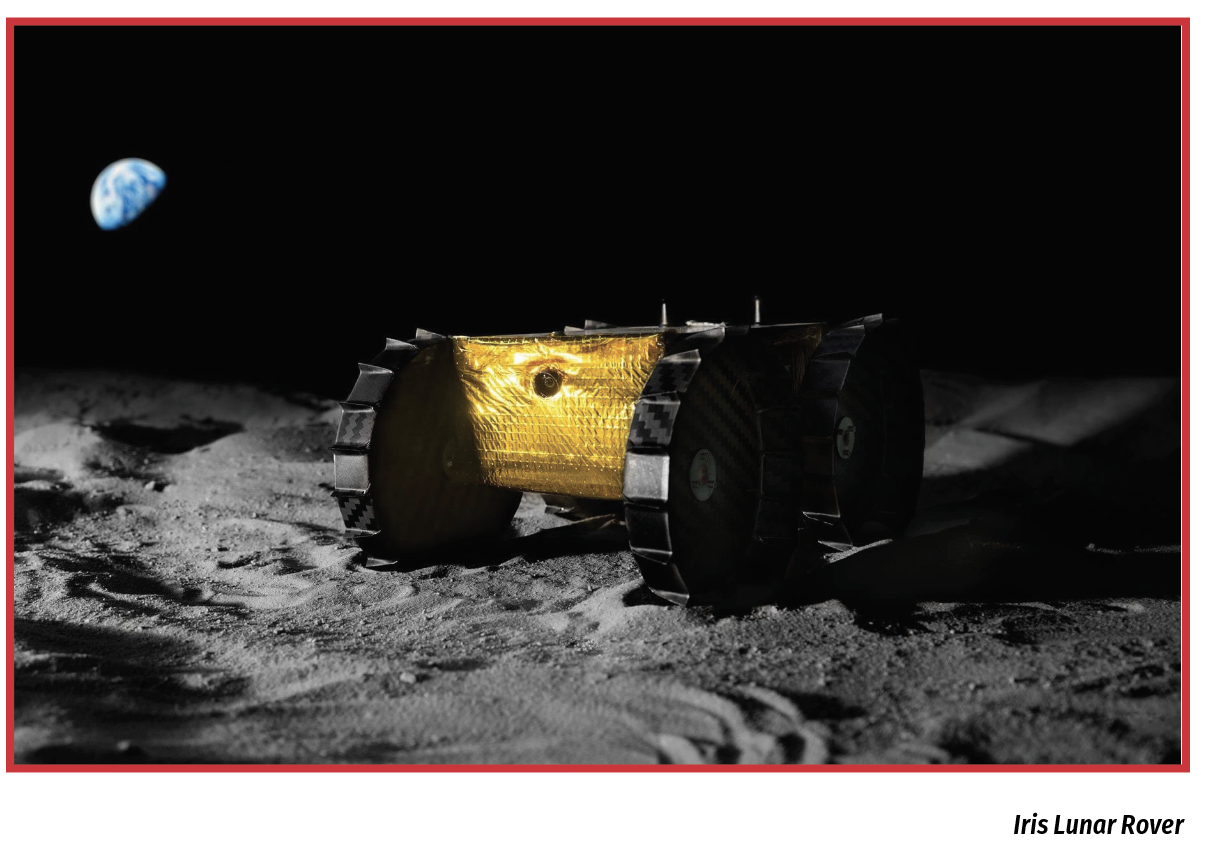 Carnegie Mellon University's Iris lunar rover is bolted onto Peregrine and ready to go to the Moon! Weighing in at a slight 2kg, Iris is the smallest and lightest rover to ever visit space. Its shoebox-sized chassis and bottle cap wheels are made from carbon fiber, attributing to its lightweight design and is a first for planetary robotics. Along with testing small rover mobility on the Moon, Iris will collect scientific images for geological study.
The team behind Iris is an internationally diverse group of more than 200 students, from a variety of majors across CMU – meaning that Iris is also poised to be the first student-developed craft to land on the Moon! The rover is a culmination of three years of hard work and rigorous testing to ensure its survival in the extreme temperatures and vacuum of space.
Iris isn't the university's only payload aboard Peregrine: the even smaller (at only 9oz) MoonArk can best be described as a miniature museum. It is an intricate time capsule designed to broadly represent our planet's arts, humanities, science and tech. This massive interdisciplinary project involves 18 universities and organizations, as well as about 250 contributing artists, designers, educators, scientists, choreographers, poets, writers, musicians, engineers and fabricators. The MoonArk contains a wide range of artifacts, including goat DNA, samples of music and poetry, miniature murals, Hopi corn and dried human blood. The art contained in the capsule explores Earth's relationship with the Moon as an artistic muse throughout history.
There are actually two MoonArks – one aboard Peregrine and another that was recently accepted to the permanent art collection of the Smithsonian's National Air and Space Museum. The space-bound MoonArk is anticipated to survive for hundreds of years for future generations to discover.
What's in the MoonBox?
Peregrine is packed with payloads from around the world, ranging from Carnegie Mellon University's Iris Lunar Rover to a token from BitMEX in the Seychelles containing 1 Bitcoin. But the lander will also contain mementos from tens of thousands of individuals within the confines of DHL's MoonBox. This small box contains 28 capsules – miniature payloads bought by individuals and groups in six countries.
Here are some highlights!
HEINZ HISTORY CENTER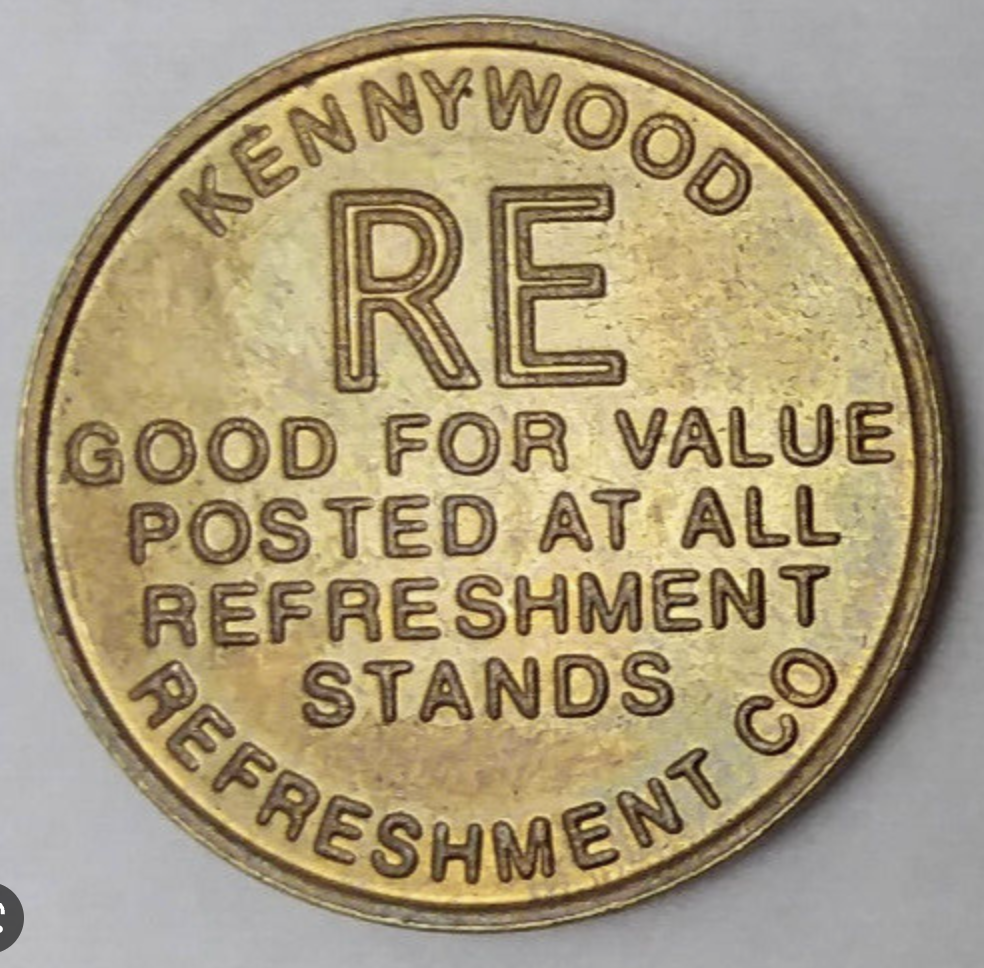 Following a campaign voted on by over 20,000 Western Pennsylvania residents, the Heinz History Center will be sending a token from Kennywood Amusement Park to the Moon. The token doesn't have an expiration date, so those free Potato Patch fries or sodas could be claimed anytime!
THE LUNAR CODEX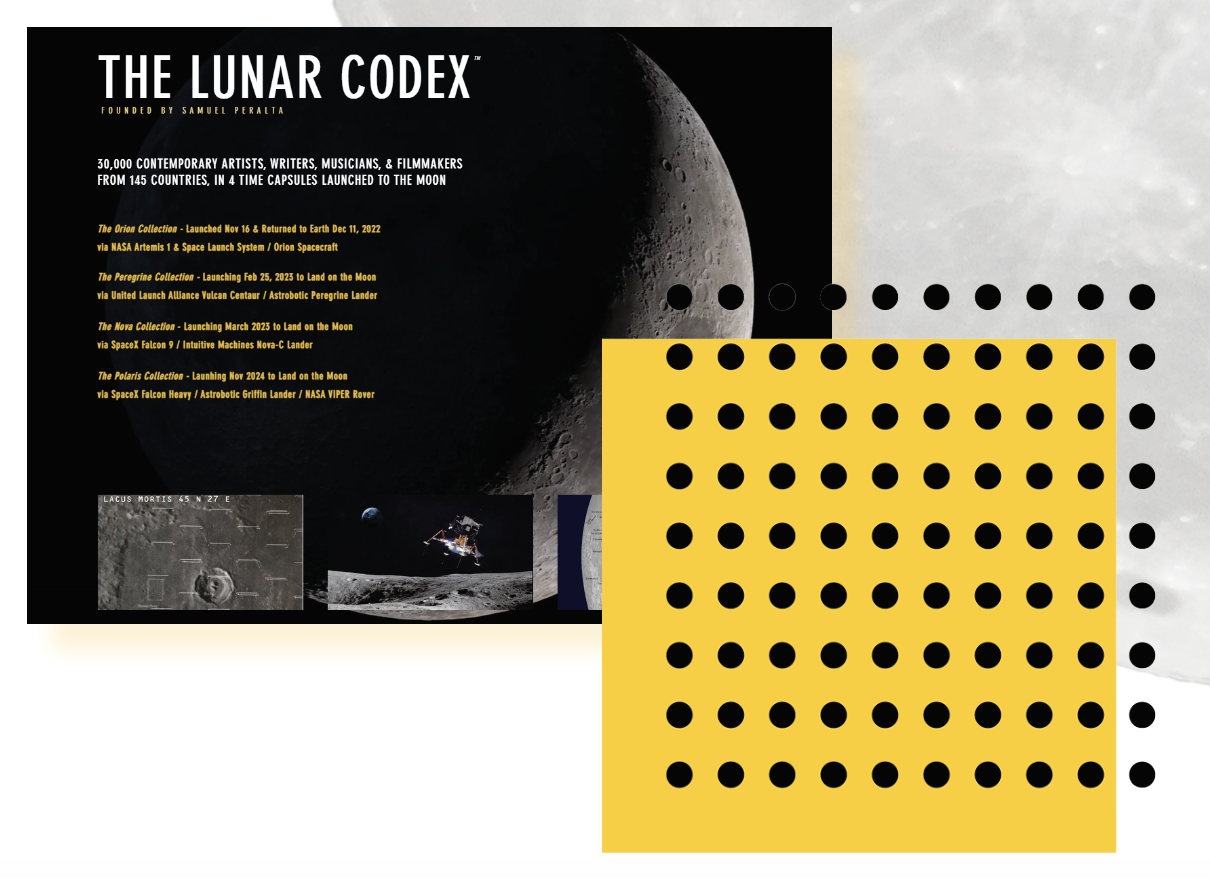 Traveling from Canada as a project of Incandence Corp., the Lunar Codex will be spread between four lunar missions, two of which are Astrobotic's Peregrine and Griffin landers. The codex includes pieces from 30,000 contemporary artists, writers, musicians and filmmakers from 145 countries.
u/Valphon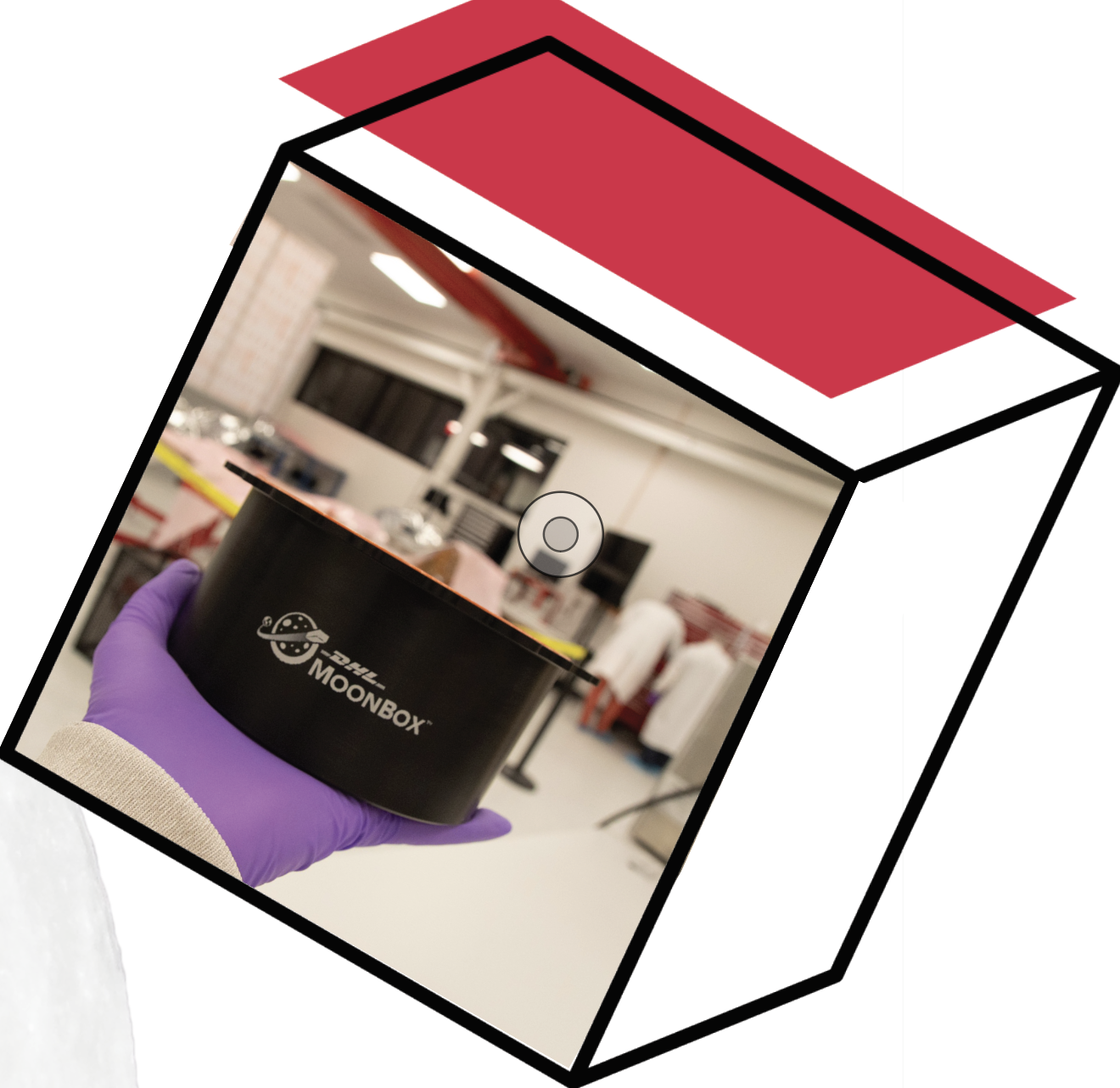 In January 2021, redditor u/Valphon made a post in r/space with the heading "You can send something to the Moon, for free! I'm creating a Lunar time capsule via Reddit - Sending up to 10mb of data to the Moon for up to 100,000 people!"
u/Valphon ordered a MoonBox capsule for a personal project and ended up with more leftover storage on their SD cards than anticipated, so they invited strangers on Reddit to submit their own mementos to the Moon! The post hit over 15,000 comments, with thousands of users submitting personal messages, hex strings, YouTube links, photos of pets and departed loved ones, music, infamous copypasta and the entire Bee Movie script.
ASTRO LIZ LAB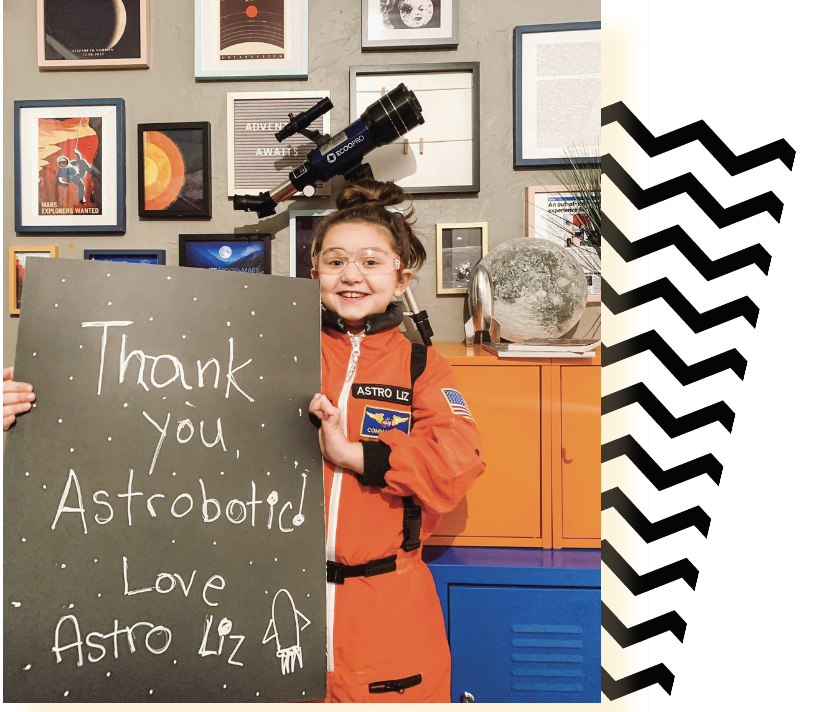 An aspiring astronaut and all-around STEM fan, nine-year-old Elizabeth Norman impressed Astrobotic when she tweeted to them about her homemade rocket, Vulcan Centaur. When Norman asked if Astrobotic would include her Astro Liz Lab website sticker aboard Peregrine if her launch was successful, the company replied, "Whether your rocket flies or not - it's the science, effort and enthusiasm that really counts. Send us your sticker, @AstroLiz'sLab and we'll send it to the Moon!"