The Covid-19 Global Pandemic has disrupted employer workplaces all over. As businesses try to safely welcome their employees back to work, there's one thing that's certain – safety is the number-one priority. The Coronavirus will not go away overnight, and the steps employers take now will help keep their employees and customers safe. Highmark Blue Cross Blue Shield is helping to make the return-to-work transition as smooth as possible.
Highmark's Employer Workplace Toolkit is a free resource available at www.highmarkemployer.com to help businesses in the transition back to work.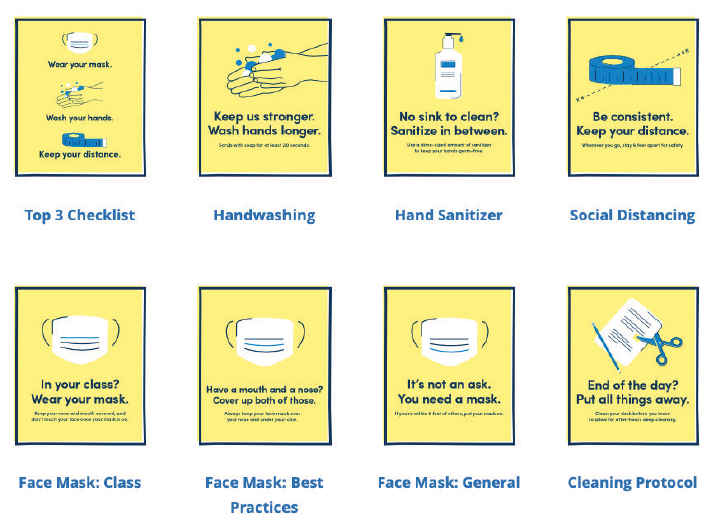 This useful, practical resource was developed with input from government regulations, clinical recommendations, and survey responses from an employer panel. It includes business tools and a wide variety of helpful content, including best practices and tips for both employers and employees, plus wellness resources available to Highmark members.
Back to Work Best Practices
Some examples of the best practices highlighted in the toolkit include staggering shifts so that fewer employees are working onsite at the same time, practicing social distancing when it comes to workstations, and being mindful of physical safety measures, such as improving air circulation and ventilation and providing employees with ample hand sanitizer and masks.
Downloadable Signage and One-Pagers
Additional elements included in Highmark's Employer Workplace Toolkit are helpful signage and one-pagers that can be shared and posted in and around the workplace. These helpful signs range from encouraging practicing social distancing and handwashing among employees, to directing the flow of employee foot traffic. (Available for download in English and Spanish.)
Resources to Successfully Work from Home
And the toolkit isn't just about physically returning to work. Many businesses have staff who are fully or partially working from home these days. So, you'll also find Tips for Leading Virtual Meetings, Staying Connected to Your Team, Virtual Engagement, Managing Burnout and more.
For more information and additional back-to-work resources, please visit www.highmarkemployer.com.
The tips and suggestions (hereinafter "tips"), including signage and other materials, provided to you are presented for your consideration only. They are based on tips and guidance published by various associations and organizations or discussed in studies and articles on the subject. Please assess whether the described tips or materials are appropriate for you. Highmark makes no representation or warranty related to the described tips or materials. These tips and materials are not intended to situate Highmark as a provider of medical services or dictate the diagnosis, care, or treatment. To learn more visit www.highmarkemployer.com. One of America's leading health insurance organizations and an independent licensee of the Blue Cross Blue Shield Association, Highmark Inc. (the Health Plan) and its affiliated health plans (collectively, the Health Plans) work to deliver high-quality, accessible, understandable, and affordable experiences, outcomes, and solutions to customers.
Read the entire issue of TEQ!