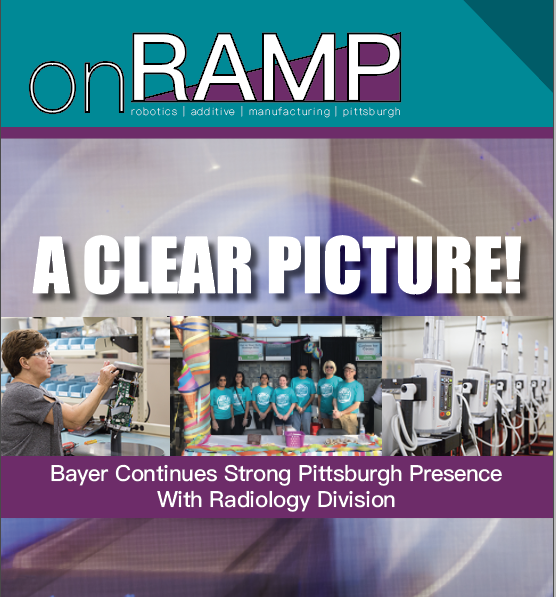 Although Pittsburgh is no longer the North American headquarters of Bayer Corporation, the German multinational pharmaceutical and life sciences company still employs more than 1,600 people in southwestern Pennsylvania at three sites. About 1,400 of those individuals work in the company's Pharmaceutical Division and Medical Device operations at facilities in Indiana Township near the Harmarville interchange of the Pennsylvania Turnpike, in RIDC Park O'Hara Township and in Saxonburg, Butler County.
The company has strong roots in Pittsburgh with operations in the area for more than 60 years as Mobay (1958-92), a joint venture with Monsanto; Miles (1992-95); and Bayer Corp. (1995-closing of Robinson Township operations in 2021). The company spun off its industrial chemicals and material sciences units into separate companies, Lanxess (2003) and Covestro (2015), respectively, and acquired MEDRAD (2006), a medical device manufacturer founded in Pittsburgh in the mid-1960s by a pair of Pittsburgh physicians.
At the three Pittsburgh-area locations, which are former MEDRAD sites, the company conducts R&D activities and manufactures radiology equipment, fluid delivery systems and disposables such as syringes and tubing sets for use in computerized tomography (CT) scans, magnetic resonance imaging (MR) and cardiovascular (CV) scans.
The products within the Radiology Division support imaging procedures in over 95% of hospitals in the U.S., supporting radiologists and other healthcare professionals to make diagnoses and guide treatment decisions across health conditions and chronic diseases. Bayer's portfolio includes medical devices, contrast media, Radiology software and equipment service across a broad range of imaging modalities, including CT, MR, PET, Interventional and Angiography.
"As market leaders, we're continually focused on innovation with regard to our operations and products," says Jeff Owoc, Senior Vice President of Medical Device Operations. "Much of that innovation comes from engineering, and we look to the local universities, as well as national and international pipelines to make sure we have the best talent."
Core activities of the product supply and manufacturing operations span assembly and testing of electromechanical devices, automation, clean room manufacturing, robotic packaging, microbiology/toxicology, and sterilization to name a few. The work is highly specialized. Since COVID-19 became a factor last March, non-production staff have been working remotely and all three production sites have remained operational to continue to supply products to hospitals and clinics. "It has been quite an adjustment, making sure our people are safe and our supply chains are intact, but we're continuing to function effectively," Owoc continues.
The efforts of Owoc and his colleagues are exemplified by the extent to which team members collaborate with colleagues worldwide on R&D and manufacturing activities. Combined, the local Radiology and Product Supply organizations produce products that support 60 million patients globally each year.
One of the recent innovations is the Medrad® Stellant FLEX CT Injection System, developed and manufactured exclusively in Pittsburgh. In the fall of 2019, the company obtained FDA clearance for use in contrast enhanced mammography.

According to Ned Uber, a Medrad Fellow and engineer who designs radiology products and lectures on bio design at Carnegie Mellon University and the University of Pittsburgh, "Medical imaging traditionally has not done a good job of screening the 40 percent of women with dense breast tissue for whom conventional mammography is like looking for a snowball in a snowstorm. Contrast Enhanced Mammography (CEM) can allow for better visualization of abnormalities in breast tissue that may not be visible with conventional mammography."
Besides the system's technological innovations, it is made with two-thirds the amount of plastic as previous injection systems. "When you're making as many systems as we do and manufacturing 40 million syringes a year for use with those systems, the reduction in materials usage represents a significant savings."
Optimizing User & Patient Experiences
To ensure that injection systems are easy to use in hospital settings, Bayer established the Human Factors Engineering (HFE) Lab at its Indiana Township facilities in 2013. The lab is run by four people who interact regularly with colleagues from the company's engineering, design, regulatory, marketing, quality, clinical and risk analysis teams.
"It's essential that engineers and product designers put themselves in the mindsets of the radiology technicians, radiologists and patients who will be using our systems," says Shannon Jankowski, the HFE Lab's Associate Director. "That's why we observe behind two-way mirrors how customers interact with our products in a hospital environment and make adjustments as necessary before the products are manufactured and shipped to customers."
From formative testing to final validation, the HFE Lab's work on a single product or system can last from one to three years.
When it comes to product testing, the HFE Lab sets Bayer apart from competitors in two significant ways: the company's testing is done in an environment that simulates a hospital setting rather than in the offices of market research firms, and Bayer engineers and product designers see first-hand how customers (radiology technicians and radiologists) and patients (role-played by engineers and product designers) interact with equipment rather than receive reports from market researchers with no formal training as engineers nor in ergonomics.
The environment will become even more authentic when Jankowski and her team upgrade the suite next year with hospital grade flooring and cabinetry, as well as with audio-visual improvements such as videotaping, playback and streaming.
During COVID, the company has been using third parties to conduct studies remotely by sending equipment and fixtures to designated locations and observing through Zoom how technicians, radiologists and "patients" interact with Bayer's radiology solutions just as they would in the HFE Lab. The company has also been using video to help its engineers conduct virtual studies.
"This arrangement has not been a big stretch for us," says Jankowski. "Before COVID, we routinely sent engineers, equipment and fixtures to test sites in Canada, France, Germany, Arizona and elsewhere to accommodate customers' needs and monitor their interactions with our products remotely in rare instances when we couldn't be on-site."
Besides observing how people use radiology equipment in the HFE Lab, Jankowski and her colleagues visit hospitals regularly through the team's Customer Connect program, going with field service representatives (FSRs) on calls to perform routine or emergency maintenance on equipment. On those occasions, engineers observe how users are interfacing with the company's devices in their own work environments.
"There's no substitute for contextual inquiry," says Jankowski. "Going into hospitals and asking questions of doctors, technicians and
patients is valuable. Although it's hard to do with COVID restrictions in place, I'm hopeful that we'll soon be able to resume those visits."
At Your Service
Brad Misera is an FSR in the Pittsburgh region and is 1 of 120 such professionals Bayer employs nationwide.
"Bayer has CT, MRI and CV products and software in about 21,000 hospitals nationwide and in 95 percent of the top 50 hospitals in the U.S.," says Cindy Steffen, Bayer's Head of U.S. Device and Software Service. "That figure includes 34,000 power injectors that help to diagnose and prevent advanced diseases."
Colleagues from the HFE Lab accompany Misera and several other FSRs on maintenance visits to hospitals in a territory that stretches from Zanesville, OH, to State College, and from Erie to Morgantown to service Bayer Radiology's contracts with the region's major healthcare providers.
As with the HFE Lab, Bayer Radiology's field service operations tower above those of other medical device manufacturers because the company uses its own technicians rather than third parties.
"We know our equipment better than technicians who haven't had as much training on our products as we have," says Misera. "We're also on call 24/7 to triage customer needs, dedicated to our customers at all times so patients can get diagnoses and scans when they need them."
In setting the standard for service, Bayer FSRs carry $60,000 worth of parts and equipment in their trucks to ensure that they have the necessary components on-hand to keep equipment up and running.
During COVID, the company has adopted a safety-first approach to performing routine and emergency maintenance. To minimize FSRs' exposure to the virus and reduce foot traffic in crowded hospitals, Bayer Radiology has been using its Technical Assistance Center more extensively than ever to help customers make basic equipment repairs themselves.
Creating a Great Place to Work
Since the pandemic became a factor this past February, the company has hired 50-75 people to meet continued demand for its products. Even though many new team members are working remotely, the onboarding process has been smooth.
"We hire purpose-driven people who are committed to our mission of everyone deserving clear answers about their health," says Jay Bleehash, Director of Human Resources. "By immediately acclimating them to our culture and providing training sessions, they feel a quick connection."
According to Bleehash, "Some of those individuals became familiar with the company through research we conduct in partnership with Carnegie Mellon, the University of Pittsburgh, Penn State University, Ohio State University and West Virginia University."
Bleehash expects the company to strengthen its ties to the region's largest universities as it develops a digital solution (software and data analytics) business to complement the equipment and consumables it manufactures.
To illustrate Bayer's ability to unite team members behind the company's mission, Bleehash recalls an occasion when the company won the Malcolm Baldrige National Quality Award for the second time, becoming one of the award's few two-time winners.
"When conducting the interview during the application process, the examiner said, 'I don't know how you're doing it. I've never seen an organization where every single person is connected to the purpose of the business.' The moral of that story is don't take things for granted. Make sure you're purposefully and continually making connections among team members and with customers."
When it comes to inclusion and diversity (I&D), Bayer favors people-centered leaders who are inclusive and fully committed to meeting the needs of the company's employees and customers to achieve business results in addressing the global challenges of health and nutrition. For more than 20 years, senior management and employees have made I&D an integral part of Bayer's corporate philosophy.
Divya Annamraju, Chief of Staff of Medical Device Operations, oversees Bayer's integration of the four I&D pillars – culture, talent, business and brand – with the company's operations in the region.
I&D efforts include Business Resource Groups which are voluntary, employee-led cohorts made up of individuals drawn together by common characteristics such as ethnicity, gender, sexual orientation, or disability status, and those colleagues who support them.
In addition to learning more about other cultures and themselves, employees benefit from professional development, networking, peer coaching and community outreach. Such activities include involvement with Susan G. Komen, Dress for Success, Delta Foundation, Pressley Ridge and others, as well as hosting a job shadowing event in conjunction with National Disability Employment Awareness Month.
"We want to develop a keen understanding of our diverse customer base," says Annamraju. "Having people from different backgrounds working in our teams allows us to harness their insights in order to meet that goal. Their engagement in community outreach efforts creates positive impacts in the community where we all work and live."
Annamraju adds that Bayer's Pittsburgh operations have always been at the forefront of the company's I&D initiatives "because of our belief as a company that the best ideas can come from anyone and everywhere," and in a growing body of evidence that shows diverse companies drive innovation and outperform their peers.
"By focusing on inclusion – the brand pillar of our I&D philosophy -- we want to be an employer of choice. Our vision of 'health for all, hunger for none,' speaks to our commitment to every single employee and every customer, which is what I&D is ultimately all about."

Read the entire issue of OnRamp Magazine: