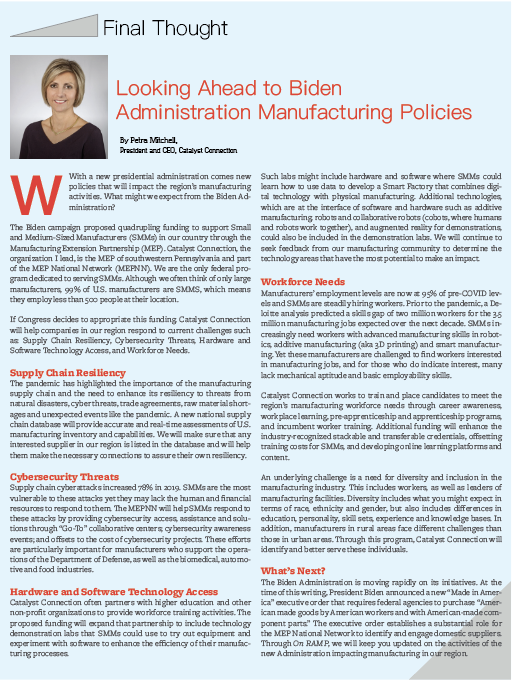 With a new presidential administration comes new policies that will impact the region's manufacturing activities. What might we expect from the Biden Administration?
The Biden campaign proposed quadrupling funding to support Small and Medium-Sized Manufacturers (SMMs) in our country through the Manufacturing Extension Partnership (MEP). Catalyst Connection, the organization I lead, is the MEP of southwestern Pennsylvania and part of the MEP National Network (MEPNN). We are the only federal program dedicated to serving SMMs. Although we often think of only large manufacturers, 99% of U.S. manufacturers are SMMS, which means they employ less than 500 people at their location.
If Congress decides to appropriate this funding, Catalyst Connection will help companies in our region respond to current challenges such as: Supply Chain Resiliency, Cybersecurity Threats, Hardware and Software Technology Access, and Workforce Needs.
Supply Chain Resiliency
The pandemic has highlighted the importance of the manufacturing supply chain and the need to enhance its resiliency to threats from natural disasters, cyber threats, trade agreements, raw material shortages and unexpected events like the pandemic. A new national supply chain database will provide accurate and real-time assessments of U.S. manufacturing inventory and capabilities. We will make sure that any interested supplier in our region is listed in the database and will help them make the necessary connections to assure their own resiliency.
Cybersecurity Threats
Supply chain cyberattacks increased 78% in 2019. SMMs are the most vulnerable to these attacks yet they may lack the human and financial resources to respond to them. The MEPNN will help SMMs respond to these attacks by providing cybersecurity access, assistance and solutions through "Go-To" collaborative centers; cybersecurity awareness events; and offsets to the cost of cybersecurity projects. These efforts are particularly important for manufacturers who support the operations of the Department of Defense, as well as the biomedical, automotive and food industries.
Hardware and Software Technology Access
Catalyst Connection often partners with higher education and other non-profit organizations to provide workforce training activities. The proposed funding will expand that partnership to include technology demonstration labs that SMMs could use to try out equipment and experiment with software to enhance the efficiency of their manufacturing processes.
Such labs might include hardware and software where SMMs could learn how to use data to develop a Smart Factory that combines digital technology with physical manufacturing. Additional technologies, which are at the interface of software and hardware such as additive manufacturing, robots and collaborative robots (cobots, where humans and robots work together), and augmented reality for demonstrations, could also be included in the demonstration labs. We will continue to seek feedback from our manufacturing community to determine the technology areas that have the most potential to make an impact.
Workforce Needs
Manufacturers' employment levels are now at 95% of pre-COVID levels and SMMs are steadily hiring workers. Prior to the pandemic, a Deloitte analysis predicted a skills gap of two million workers for the 3.5 million manufacturing jobs expected over the next decade. SMMs increasingly need workers with advanced manufacturing skills in robotics, additive manufacturing (aka 3D printing) and smart manufacturing. Yet these manufacturers are challenged to find workers interested in manufacturing jobs, and for those who do indicate interest, many lack mechanical aptitude and basic employability skills.
Catalyst Connection works to train and place candidates to meet the region's manufacturing workforce needs through career awareness, workplace learning, pre-apprenticeship and apprenticeship programs, and incumbent worker training. Additional funding will enhance the industry-recognized stackable and transferable credentials, offsetting training costs for SMMs, and developing online learning platforms and content.
An underlying challenge is a need for diversity and inclusion in the manufacturing industry. This includes workers, as well as leaders of manufacturing facilities. Diversity includes what you might expect in terms of race, ethnicity and gender, but also includes differences in education, personality, skill sets, experience and knowledge bases. In addition, manufacturers in rural areas face different challenges than those in urban areas. Through this program, Catalyst Connection will identify and better serve these individuals.
What's Next?
The Biden Administration is moving rapidly on its initiatives. At the time of this writing, President Biden announced a new "Made in America" executive order that requires federal agencies to purchase "American made goods by American workers and with American-made component parts." The executive order establishes a substantial role for the MEP National Network to identify and engage domestic suppliers. Through On RAMP, we will keep you updated on the activities of the new Administration impacting manufacturing in our region.
Read the entire issue here: