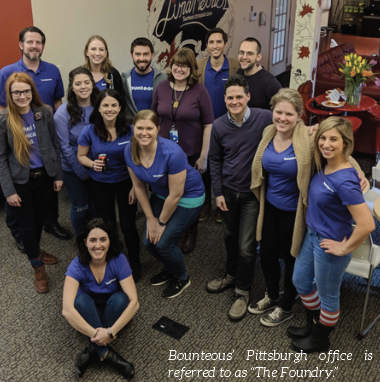 The COVID-19 pandemic didn't just speed up some companies' digital transformation projects, it turned them into near overnight necessities.
Shake Shack needed help setting up curbside pickup to safely serve its hungry customers. Mars Wrigley needed an innovative app, TREAT TOWN, to engage socially distanced trick-or-treaters while also driving candy sales. And, they both relied on Bounteous to quickly develop and deploy digital strategies that would pivot their respective businesses to success.
Bounteous' Pittsburgh office draws its roots all the way back to the former LunaMetrics, a digital marketing firm founded back in 2004. In 2017, HS2 Solutions acquired LunaMetrics, the first of five acquisitions over four years in the process of creating a new type of digital agency with deep expertise and tightly integrated capabilities.
Rebranded as Bounteous in 2018, combined capabilities would grow to include specialized expertise across data and analytics, commerce and digital experience platforms, and creative and design.
"With Pittsburgh's growing tech ecosystem, Bounteous has invested heavily in growing its Pittsburgh collaboration center nicknamed The Foundry," said Jon Meck, Vice President of Marketing.
He noted that with a distributed workforce, Bounteous has invested in Pittsburgh recruiting and expanded work from home policies, growing the local workforce by 150%.
Plans to move to The Highline this coming spring were recently announced, nearly doubling the space of the current location to accommodate the local growth.
Bounteous is hiring aggressively and is excited to grow its vibrant Pittsburgh collaboration center, said Leah Weyandt, Chief People Officer.
"Whether working with a client, completing awards applications or speaking to a candidate, we're repeatedly asked to define our culture. What most people are actually asking for is the litany of our cool perks. And let's be frank: it's exhilarating to boast about the freebies, fun and frolic! But it's also important to not confuse perks with culture," explained Weyandt. "A company's culture is more than a luxurious swag box or a themed happy hour. Good company culture is cemented in its core values and its perks are simply the byproduct."
Helping clients like Mars Wrigley and Shake Shack navigate digital transformation strategies in record time also keeps the Bounteous staff "perked up," ready to push the limits of technology, marketing and design.
Culture is Worth the Investment
The COVID-19 pandemic changed the landscape for Bounteous, both in terms of how its people work and what they worked on. Internally, the company pivoted to using remote technology to increase transparency, adopt to new working models and build and grow culture with distributed teams.
"These new practices have improved our processes, are helping us adapt to new working models due to COVID and will improve our cross-continent efforts even post-COVID," said Meck. Here's a list of changes Bounteous made:
• Weekly "Townhall meetings" with direct updates from our CEO
• Benefit concerts to highlight internal talent and raise money
• Summer activities for families and kids – talent shows, scavenger hunts, learn-to-code
• Live "Chopped"-style cooking competition with ingredients shipped ahead of time
• Back-to-school support for parents
• Sales and Marketing events – webinars, happy hours and online training
• Ongoing trivia nights with breakout rooms
• Monthly Bingo nights
• Happy hours, coffee hours
• Weekly yoga instruction