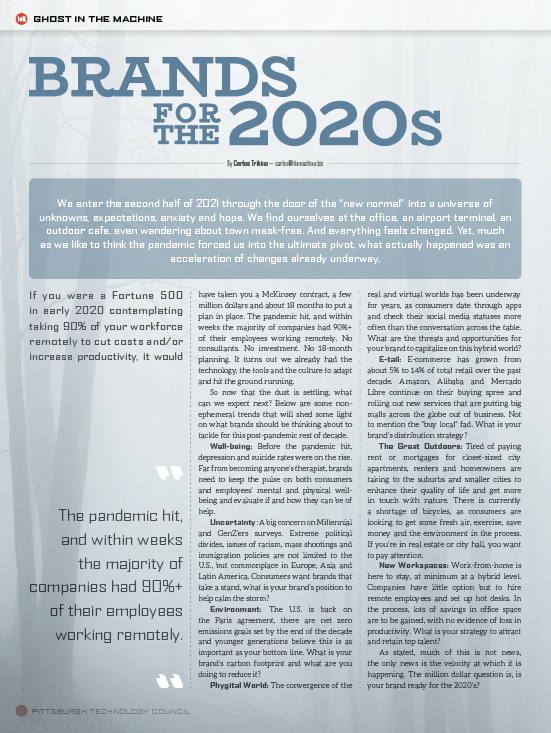 We enter the second half of 2021 through the door of the "new normal" into a universe of unknowns, expectations, anxiety and hope. We find ourselves at the office, an airport terminal, an outdoor cafe, even wandering about town mask-free. And everything feels changed. Yet, much as we like to think the pandemic forced us into the ultimate pivot, what actually happened was an acceleration of changes already underway.
If you were a Fortune 500 in early 2020 contemplating taking 90% of your workforce remotely to cut costs and/or increase productivity, it would have taken you a McKinsey contract, a few million dollars and about 18 months to put a plan in place. The pandemic hit, and within weeks the majority of companies had 90%+ of their employees working remotely. No consultants. No investment. No 18-month planning. It turns out we already had the technology, the tools and the culture to adapt and hit the ground running.
So now that the dust is settling, what can we expect next? Below are some non-ephemeral trends that will shed some light on what brands should be thinking about to tackle for this post-pandemic rest of decade.
Well-being: Before the pandemic hit, depression and suicide rates were on the rise. Far from becoming anyone's therapist, brands need to keep the pulse on both consumers and employees' mental and physical well-being and evaluate if and how they can be of help.
Uncertainty: A big concern on Millennial and GenZ'ers surveys. Extreme political divides, issues of racism, mass shootings and immigration policies are not limited to the U.S., but commonplace in Europe, Asia and Latin America. Consumers want brands that take a stand, what is your brand's position to help calm the storm?
Environment: The U.S. is back on the Paris agreement, there are net zero emissions goals set by the end of the decade and younger generations believe this is as important as your bottom line. What is your brand's carbon footprint and what are you doing to reduce it?
Phygital World: The convergence of the real and virtual worlds has been underway for years, as consumers date through apps and check their social media statuses more often than the conversation across the table. What are the threats and opportunities for your brand to capitalize on this hybrid world?
E-tail: E-commerce has grown from about 5% to 14% of total retail over the past decade. Amazon, Alibaba and Mercado Libre continue on their buying spree and rolling out new services that are putting big malls across the globe out of business. Not to mention the "buy local" fad. What is your brand's distribution strategy?
The Great Outdoors: Tired of paying rent or mortgages for closet-sized city apartments, renters and homeowners are taking to the suburbs and smaller cities to enhance their quality of life and get more in touch with nature. There is currently a shortage of bicycles, as consumers are looking to get some fresh air, exercise, save money and the environment in the process. If you're in real estate or city hall, you want to pay attention.
New Workspaces: Work-from-home is here to stay, at minimum at a hybrid level. Companies have little option but to hire remote employees and set up hot desks. In the process, lots of savings in office space are to be gained, with no evidence of loss in productivity. What is your strategy to attract and retain top talent?
As stated, much of this is not news, the only news is the velocity at which it is happening. The million dollar question is, is your brand ready for the 2020's?