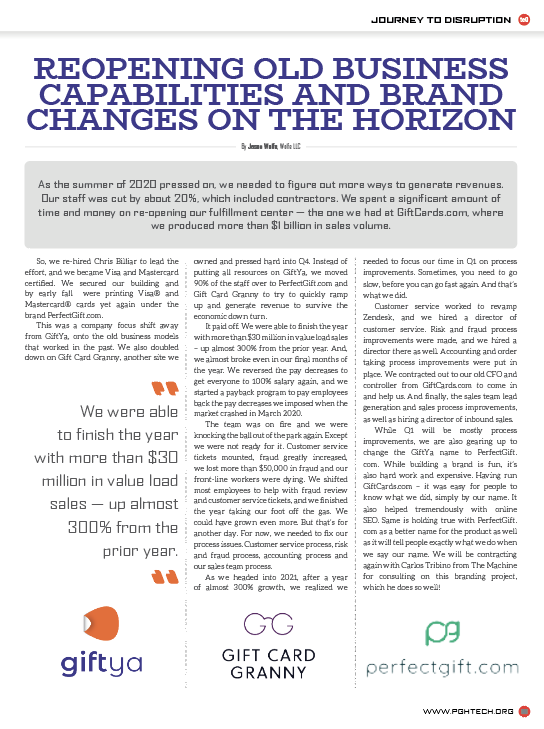 As the summer of 2020 pressed on, we needed to figure out more ways to generate revenues. Our staff was cut by about 20%, which included contractors. We spent a significant amount of time and money on re-opening our fulfillment center — the one we had at GiftCards.com, where we produced more than $1 billion in sales volume.
So, we re-hired Chris Billiar to lead the effort, and we became Visa and Mastercard certified. We secured our building and by early fall were printing Visa® and Mastercard® cards yet again under the brand PerfectGift.com.
This was a company focus shift away from GiftYa, onto the old business models that worked in the past. We also doubled down on Gift Card Granny, another site we owned and pressed hard into Q4. Instead of putting all resources on GiftYa, we moved 90% of the staff over to PerfectGift.com and Gift Card Granny to try to quickly ramp up and generate revenue to survive the economic down turn.
It paid off. We were able to finish the year with more than $30 million in value load sales – up almost 300% from the prior year. And, we almost broke even in our final months of the year. We reversed the pay decreases to get everyone to 100% salary again, and we started a payback program to pay employees back the pay decreases we imposed when the market crashed in March 2020.
The team was on fire and we were knocking the ball out of the park again. Except we were not ready for it. Customer service tickets mounted, fraud greatly increased, we lost more than $50,000 in fraud and our front-line workers were dying. We shifted most employees to help with fraud review and customer service tickets, and we finished the year taking our foot off the gas. We could have grown even more. But that's for another day. For now, we needed to fix our process issues. Customer service process, risk and fraud process, accounting process and our sales team process.
As we headed into 2021, after a year of almost 300% growth, we realized we needed to focus our time in Q1 on process improvements. Sometimes, you need to go slow, before you can go fast again. And that's what we did.
Customer service worked to revamp Zendesk, and we hired a director of customer service. Risk and fraud process improvements were made, and we hired a director there as well. Accounting and order taking process improvements were put in place. We contracted out to our old CFO and controller from GiftCards.com to come in and help us. And finally, the sales team lead generation and sales process improvements, as well as hiring a director of inbound sales.
While Q1 will be mostly process improvements, we are also gearing up to change the GiftYa name to PerfectGift.com. While building a brand is fun, it's also hard work and expensive. Having run GiftCards.com – it was easy for people to know what we did, simply by our name. It also helped tremendously with online SEO. Same is holding true with PerfectGift.com as a better name for the product as well as it will tell people exactly what we do when we say our name. We will be contracting again with Carlos Tribino from The Machine for consulting on this branding project, which he does so well!