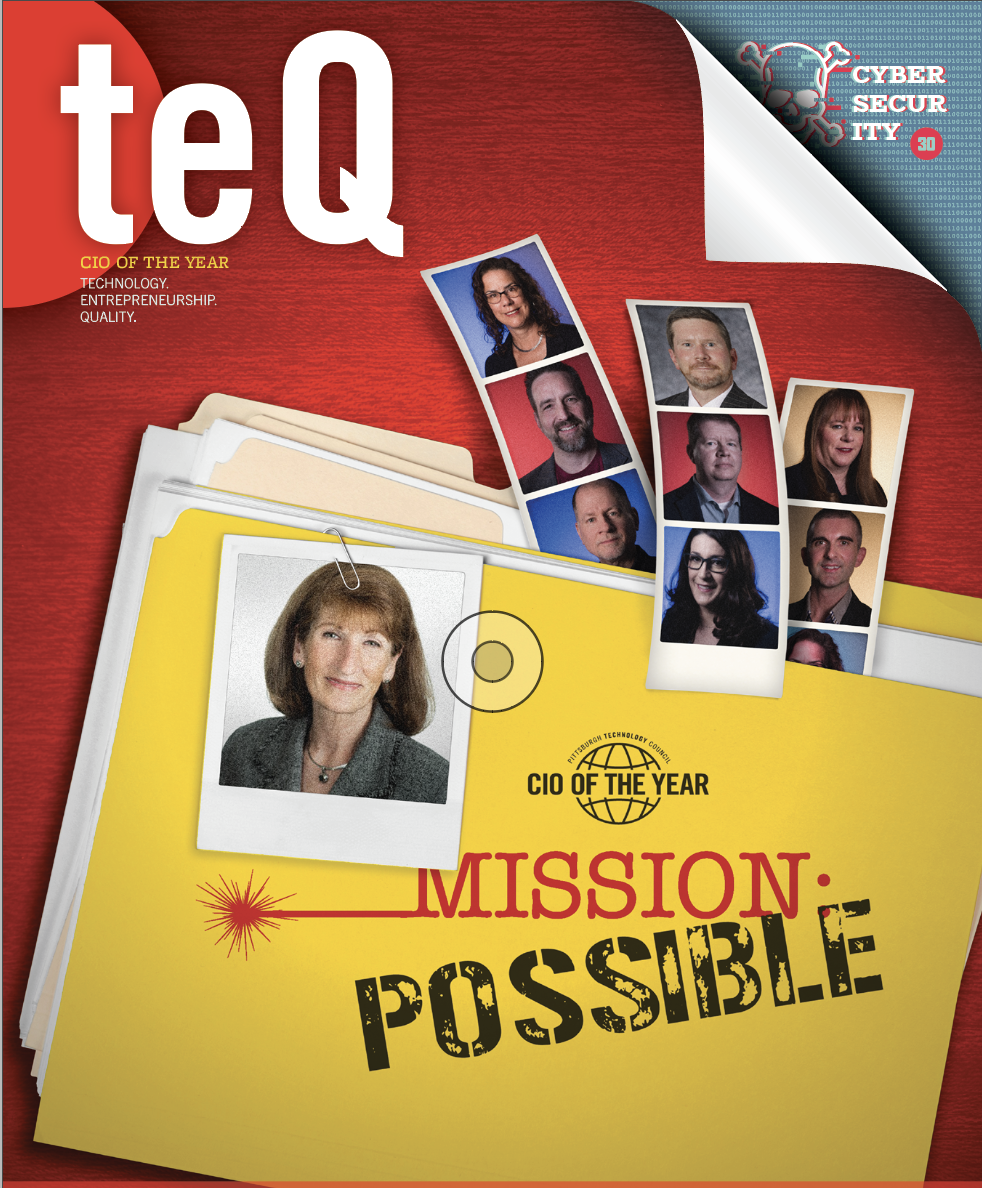 This year, the Pittsburgh Technology Council and Greater Pittsburgh CIO Group gather to honor the exceptional leaders who have fueled Pittsburgh's tech revolution and driven innovation throughout the city's ever-growing tech industry.
"As we look back on the past few years, we can see the remarkable strides that the Pittsburgh region has taken in the tech space. From AI and machine learning to cybersecurity and cloud computing, the city's tech scene continues to flourish and attract top talent from across the country," said Pittsburgh Technology Council President and CEO Audrey Russo.
"At the heart of this growth are the CIOs and CISOs who have led the charge, pushing boundaries and driving change throughout their organizations. These are the visionaries who have harnessed the power of technology to transform their companies, their industries and our region at large."
The CIO of the Year Awards is the one time of year to come together to recognize and celebrate the best of the best—the CIOs and CISOs who have gone above and beyond to deliver exceptional results, innovate with new technologies, and inspire their teams to achieve greatness. To make the Impossible, Possible!
CIO Choice Award Recipient
Ruth DeLost-Wylie, Senior Vice President & CAO, Hope Gas
Ruth DeLost-Wylie is Senior Vice President and Chief Administrative Officer of Hope Gas. In addition to Information Technology, Ruth is also responsible for Customer Care and Billing, Credit and Collection, Call Center, Facilities, Fleet and Supply Chain.
Ruth has over 30 years' experience in Information Technology with more than 25 years' experience in the utility industry. Prior to joining Hope Gas in 2023, Ruth and her teams have managed four consecutive systems implementations as a result of back-to-back acquisitions. There is another major conversion coming up in 2023, with more acquisitions and conversions forthcoming.
Ruth received Pittsburgh's 2012 Enterprise Sector CIO of the Year Award and is the 2015 recipient of Pittsburgh's Business Women's First Award. She is an active member of the United Way's Women's Leadership Council, is on the Pittsburgh Technology Council and is Vice Chair of Leadership Pittsburgh.
---
CIO: Government/Education/Non-Profit
Heidi Norman, CIO & Director, Dept. of Innovation & Performance, City of Pittsburgh
Heidi Norman serves as the CIO & Director, Dept. of Innovation & Performance for the City of Pittsburgh, PA. I&P elevates the work of city government by designing modern technology solutions for their colleagues, collaborating with partners to test innovative ideas, and developing leaders' capabilities to achieve operational excellence. I&P has gained a reputation for being at the cutting-edge of open data and analytics, applying lean systems principles to improve government services, and utilizing a collaborative approach to innovation with internal and external partners.
Norman holds a BA in Political Science from Northwestern University and an MS in Information Systems from Syracuse University, as well as executive education certificates from the Tepper School of Business and the CIO Institute at the Heinz School of Information Systems & Public Policy at Carnegie Mellon University.
Finalists:
Paul Allison, CIO, PennWest University
As the founding CIO for PennWest and previously the CIO for California University of Pennsylvania, Allison is responsible for overseeing the merging of the technology departments, services and strategies of the three institutions into one PennWest technology ecosystem.
Chuck Bartel, VP, IT & CIO, Duquesne University
Bartel is responsible for the overall management and strategic planning for all university IT services including administrative computing, centralized infrastructure, and a variety of technology support services including enterprise reporting, telecommunication services and information security.
Kyle Fulton, AVP Technology, GBU Financial Life
Fulton has been with GBU Financial Life since mid-2020. During the last several years, his responsibilities have included leading the transformation of IT and digital services, driving technology solutions and turning data into information.
Dan Hoffer, CIO, The Pittsburgh Cultural Trust
Hoffer oversees logical and physical security technology, networking logistics, website and application development, and overall technology planning and strategy. Dan has oversight of the Pittsburgh Tessitura consortium, enabled by the enterprise Tessitura CRM platform for 10 Pittsburgh arts and culture organizations.
Matt Hoffman, CIO, Pennsylvania Highlands Community College,
Hoffman leads a team of information technology professionals to enable and enhance the student experience with innovative technology solutions.
---
CIO Megabyte
Brad Ryba, CTO, Rimsys
Brad Ryba is the Co-Founder and CTO of Rimsys Regulatory Management Software, a cloud-based solution to digitize, automate, and create regulatory order for MedTech. Ryba has 22+ years' experience in technology and software quality roles, including engineering, design control, manufacturing quality, software QA and regulatory compliance. He has spent over half of his career working directly for medical device manufactures of sleep therapy, respiratory care, PSG diagnostics and dialysis treatment devices ranging from single-product startups to multinational Fortune 500 corporations. Ryba has experience developing and managing quality management systems within MedTech requirements, and he has been a featured speaker at the Medical Device Summit and ASQ Conference on Quality.
Finalists:
Binesh Dobhal, CIO, Creatotech
Dobhal is an accomplished coder and programmer who enjoys using his skills to contribute to the exciting technological advances that happen every day at Creatotech.
Mike Duddy, VP Technology, Apex Health Solutions
As a founding executive of Apex Health Solutions, Duddy led the ground-up development of the Apex healthcare technology platform, ApexAscent™. ApexAscent is a cloud-based healthcare interoperability and analytics solution.
---
CIO Gigabyte
Karl Herleman, Sr. VP of IT, American Textile Co.
After finishing a Penn State Computer Science degree in 1987, Karl Herleman moved to Florida as a software engineer. He stayed awake most nights tweaking code for companies like L3Harris and Seagate while also studying at UCF in Orlando. As his responsibilities increased and the systems he worked on grew larger, he turned his focus toward managing processes and people.
After 15 years, Herleman moved into enterprise architecture at Gartner and five years later he was the CIO for Miami Dade College. After finishing an MBA, he returned home to Pittsburgh in 2012 to work with manufacturing data and analytics at Management Science. Now, he's helping to drive digital transformation at American Textile Company, a leading provider of performance bedding products.
Finalists:
Mario Cafaro, SVP, Management Science Associates (MSA)
Mario Cafaro has been with MSA for nearly 24 years, starting in 1999 as an Application Help Desk team member and progressing through the ranks to his current role as SVP, Information Technology Systems & Services (ITSS) division.
Adam Gunnett, Director, IT & Marketing, Busy Beaver Building Centers
Gunnett has recently begun deploying new technologies such as Badger Technologies' Autonomous Robots and Pricer's Electronic Shelf Labels in stores. He prides himself in being able to lead the Busy Beaver team, and his peers, forward.
Scott Phelps, VP, Technology, Pittsburgh Steelers
Phelps leads a department that oversees all IT systems at UPMC Rooney Sports Complex and Acrisure Stadium. This includes network, storage and server architectures, communications systems, desktops, laptops, tablets/smartphones and all cloud-based storage and server architectures.
---
CIO Terabyte
Mike Keslar, Divisional CIO & President of BNY Mellon Pennsylvania
Mike Keslar serves as divisional CIO & President of BNY Mellon Pennsylvania. As CIO, Keslar provides technology leadership for three critical business lines, oversees international market technology, and drives the strategy for core IT services utilized across BNY Mellon. He also helps provide local leadership and cultivates technology relationships throughout the region. With a 30+ year history at BNY Mellon and commitment to continuous learning, he is a trusted IT partner for the executive team to drive our future strategy and growth.
Keslar is passionate about creating opportunities for the region. He currently sits on the Board of Directors for Vibrant Pittsburgh and Advisory Boards for the computer science programs at the University of Pittsburgh and Robert Morris University.
He holds a Bachelor's Degree in Economics from Saint Vincent College and an MBA from the University of Pittsburgh's Katz School of Business.
Finalists:
Chris Carmody, SVP, Enterprise IT Infrastructure, UPMC Information Technology
Carmody leads more than 1,300 people on the IT infrastructure teams, including cloud, data centers, data, voice and video networks, cybersecurity, analytics, enterprise architecture, hospital-based technology support and enterprise applications.
Kathleen Lovett, VP & CIO, Supply Chain, VSP Vision
Lovett partners closely with presidents and executives across the enterprise to advance meaningful business outcomes. Prior to joining VSP, she held executive leadership roles at Thermo Fisher Scientific, where she led global distribution channel technology and eCommerce digital operations teams.
Bhaskar Ramachandran, VP & CIO, PPG
Ramachandran is responsible for enabling PPG's business strategy through IT and its cybersecurity program. He joined PPG from Jabil Inc. where served as VP and CIO of its largest division.
Tracci Schultz, SVP, IT, FedEx Ground and Operations Core Technologies, FedEx Services
Schultz plays an integral role in leading FedEx's enterprise-wide digital transformation while ensuring the business meets its goals. Prior to assuming her current position, she served as the Senior Vice President of Strategic Planning, Engineering & Operational Solutions at FedEx Freight.
---
CISO Megabyte
Mike Conley, CISO, Industrial Scientific & Intelex
As CISO, Mike Conley is the senior IT leader for Industrial Scientific and Intelex Technologies, operating companies of Fortive Corporation. With 23 years' experience in the technology industry, he directs the 24/7 data protection and privacy operations for Industrial Scientific (HQ in Pittsburgh) and Intelex (HQ in Toronto) in addition to oversight for Global IT Operations. Conley contributes as a team member to numerous software and product development projects supporting cloud and connected-device platforms.
Outside of the office, he co-coordinates the Greater Pittsburgh CISO Group and serves on a board of directors for FBI/InfraGard Pittsburgh Members Alliance. Prior to his time at Industrial Scientific, Conley was the Manager of Security Engineering and Architecture at U.S. Steel and was a software engineer for the first 10 years of his career. He holds a BS in Computer Science from the California University of PA.
Finalists:
Brian Abercrombie, Information Security Privacy Officer, TeleTracking Technologies
Abercrombie has more than 27 years' experience in IT and Information Security in both leadership and technical functions. He has held CTO, CISO, and individual contributor roles across various market segments.
Tony Krance, Executive Director, IT/ISO, Seton Hill University
Krance works in conjunction with all University departments to maintain a secure data environment. He incorporates Seton Hill students in the defense of cybercrime through work study and graduate assistant programs.
Phil Woods, Sr. Director, Technology Operations & Solutions, CISO, FHLBank Pittsburgh
At FHLBank, Woods established information security strategy and direction for the enterprise with the added responsibility of IT infrastructure and operations, business continuity and disaster recovery, service management, workplace solutions and cloud computing.
---
CISO Gigabyte
Erika Carrara, VP & CISO, Wabtec Corporation
Carrara is a Native American, Army Veteran, and VP & CISO at Wabtec Corporation, a Fortune 300 company. Her expertise extends across multiple industries. In her role, she is tasked with leadership, direction, and delivery of global information security services and activities across more than 50 countries covering 300+ operating locations and more than 28,000 employees. Carrara actively works across all areas of the business, from the frontline to Board level, supporting business outcomes and strategic objectives, where she is committed to making security "actionable and understandable" at all levels.
Carrara is a firm believer that people are the solution to solving technology and business problems. With people-centric approach and emphasis on fundamentals, she pays homage to the company's Pittsburgh roots by using a Steelers football fundamental approach to cybersecurity; it begins and ends with "blocking and tackling."
Finalists:
Jason Rhykerd, CISO, Sheetz
Rhykerd, CISSP, is a highly accomplished technology professional with more than 20 years' experience in providing leadership and direction of technical systems, focusing on assessing and balancing cyber risk with business strategy.
Eris Symms, CISO, Arconic
Before becoming CISO in 2020, Symms led the security efforts for Arconic's digital transformation initiatives, including the transition to cloud collaboration platforms and cloud security solutions.an integral role in leading FedEx's enterprise-wide digital transformation while ensuring the business meets its goals. Prior to assuming her current position, she served as the Senior Vice President of Strategic Planning, Engineering & Operational Solutions at FedEx Freight.
---
CISO Terabyte
Susan Koski, CISO, Head of Enterprise Information Security, PNC Financial Services
Susan Koski is a role model and thought leader in cybersecurity, inspiring from the front as a woman in a largely male-dominated field, and helping to shape a security culture within PNC of collaboration and inclusion. She consistently delivers value and institutes high-impact initiatives. She converged cyber, physical, fraud and insider monitoring into PNC's 24x7x365 Global Security Fusion Center and shared this model within the industry.
Koski has also created and matured programs across identity (FIDO enabled), data protection, cryptography, application security and insider threat. An inspiring, servant leader, her teams have consistently maintained impressive retention rates and she mentors other women in technology and security. She has had her thought leadership featured about building a security culture within the book, "Fight Fire with Fire: Proactive Cybersecurity Strategies for Today's Leaders" and is actively engaged with several industry organizations, including FS-ISAC, BPI/BITS, Evanta and the Greater Pittsburgh CISO Group.
Finalist:
Mike Noble, CISO, Alcoa
Noble is responsible for managing Alcoa's global information security program. This incorporates all facets of information and cyber security, including strategy, policy, process and standards development, risk management, incident response, threat intelligence, IT Compliance and privacy.
---
Rising Star
Dusan Stefanovic, Sr. IT Manager, U.S. Steel
Dusan Stefanovic is an experienced IT Manager and thought leader. He is proud to serve and lead a diverse team of IT professionals on a mission to delight their customers and drive innovation in support of business and IT strategy. During his career, he has progressed through technical and leadership roles while gaining valuable IT and business experience, including time as a Program Manager responsible for managing various large, multi-year projects. He also led the strategic planning and execution of the shift to Microsoft cloud-based services.
He serves on the Advisory Board of the Greater Pittsburgh IT Managers group and a graduate of Pittsburgh IT Leadership Development Program. Stefanovic holds a BE in Computer Engineering from Youngstown State University and an MS in Engineering Management from Robert Morris University.
Finalists:
Karen Fay, VP, Information Security Governance, Dollar Bank
Fay is a proven leader in information technology, data governance and information security with extensive experience in cyber security, data privacy and data compliance.
Kallie Winkler, Client Systems Manager, Schneider Downs
Winkler was promoted to her current role, where she oversees all technology that Schneider Downs' professional staff utilize to serve their clients every day. She strives to find the software that will make their employees' day-to-day tasks more efficient with an all-around better process from start to finish.