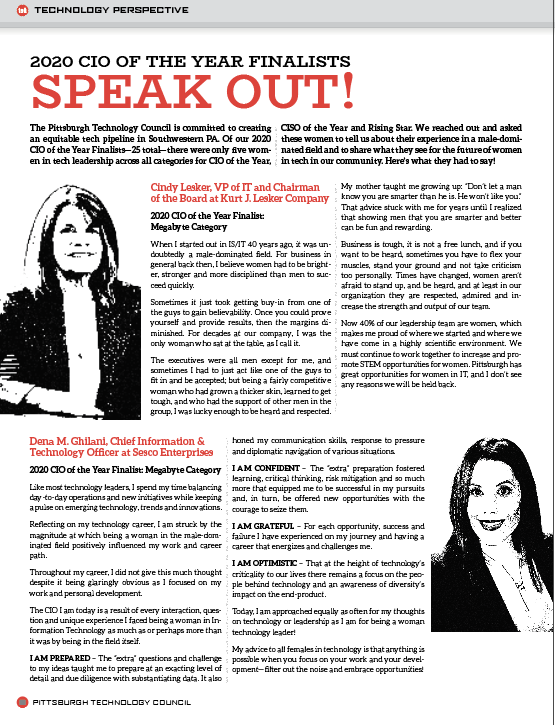 The Pittsburgh Technology Council is committed to creating an equitable tech pipeline in Southwestern PA. Of our 2020 CIO of the Year Finalists—25 total—there were only five women in tech leadership across all categories for CIO of the Year, CISO of the Year and Rising Star. We reached out and asked these women to tell us about their experience in a male-dominated field and to share what they see for the future of women in tech in our community. Here's what they had to say!
Cindy Lesker, VP of IT and Chairman of the Board at Kurt J. Lesker Company
2020 CIO of the Year Finalist: Megabyte Category
When I started out in IS/IT 40 years ago, it was undoubtedly a male-dominated field. For business in general back then, I believe women had to be brighter, stronger and more disciplined than men to succeed quickly.
Sometimes it just took getting buy-in from one of the guys to gain believability. Once you could prove yourself and provide results, then the margins diminished. For decades at our company, I was the only woman who sat at the table, as I call it.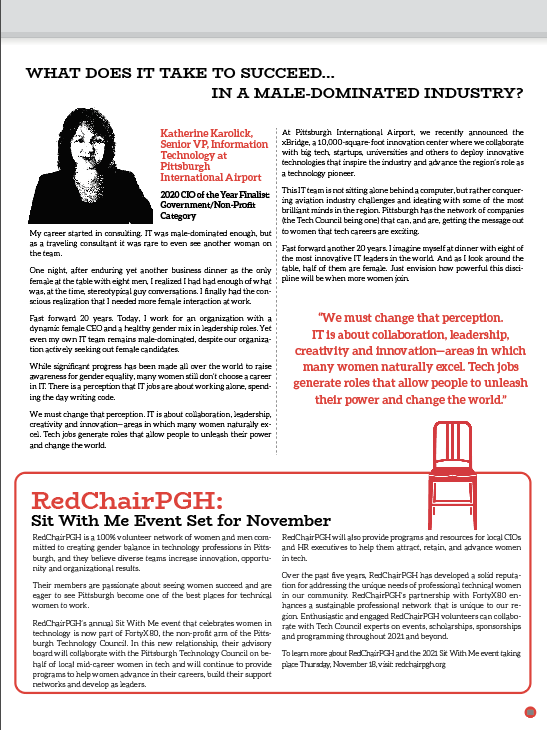 The executives were all men except for me, and sometimes I had to just act like one of the guys to fit in and be accepted; but being a fairly competitive woman who had grown a thicker skin, learned to get tough, and who had the support of other men in the group, I was lucky enough to be heard and respected. My mother taught me growing up: "Don't let a man know you are smarter than he is. He won't like you." That advice stuck with me for years until I realized that showing men that you are smarter and better can be fun and rewarding.
Business is tough, it is not a free lunch, and if you want to be heard, sometimes you have to flex your muscles, stand your ground and not take criticism too personally. Times have changed, women aren't afraid to stand up, and be heard, and at least in our organization they are respected, admired and increase the strength and output of our team.
Now 40% of our leadership team are women, which makes me proud of where we started and where we have come in a highly scientific environment. We must continue to work together to increase and promote STEM opportunities for women. Pittsburgh has great opportunities for women in IT, and I don't see any reasons we will be held back.
Dena M. Ghilani, Chief Information & Technology Officer at Sesco Enterprises
2020 CIO of the Year Finalist: Megabyte Category
Like most technology leaders, I spend my time balancing day-to-day operations and new initiatives while keeping a pulse on emerging technology, trends and innovations.
Reflecting on my technology career, I am struck by the magnitude at which being a woman in the male-dominated field positively influenced my work and career path.
Throughout my career, I did not give this much thought despite it being glaringly obvious as I focused on my work and personal development.
The CIO I am today is a result of every interaction, question and unique experience I faced being a woman in Information Technology as much as or perhaps more than it was by being in the field itself.
I am prepared – The "extra" questions and challenge to my ideas taught me to prepare at an exacting level of detail and due diligence with substantiating data. It also honed my communication skills, response to pressure and diplomatic navigation of various situations.
I am confident – The "extra" preparation fostered learning, critical thinking, risk mitigation and so much more that equipped me to be successful in my pursuits and, in turn, be offered new opportunities with the courage to seize them.
I am grateful – For each opportunity, success and failure I have experienced on my journey and having a career that energizes and challenges me.
I am optimistic – That at the height of technology's criticality to our lives there remains a focus on the people behind technology and an awareness of diversity's impact on the end-product.
Today, I am approached equally as often for my thoughts on technology or leadership as I am for being a woman technology leader!
My advice to all females in technology is that anything is possible when you focus on your work and your development—filter out the noise and embrace opportunities!
Katherine Karolick, Senior VP, Information Technology at Pittsburgh International Airport
2020 CIO of the Year Finalist: Government/Non-Profit Category
My career started in consulting. IT was male-dominated enough, but as a traveling consultant it was rare to even see another woman on the team.
One night, after enduring yet another business dinner as the only
female at the table with eight men, I realized I had had enough of what was, at the time, stereotypical guy conversations. I finally had the conscious realization that I needed more female interaction at work.
Fast forward 20 years. Today, I work for an organization with a
dynamic female CEO and a healthy gender mix in leadership roles. Yet even my own IT team remains male-dominated, despite our organization actively seeking out female candidates.
While significant progress has been made all over the world to raise awareness for gender equality, many women still don't choose a career in IT. There is a perception that IT jobs are about working alone, spending the day writing code.
We must change that perception. IT is about collaboration, leadership, creativity and innovation—areas in which many women naturally excel. Tech jobs generate roles that allow people to unleash their power and change the world.
At Pittsburgh International Airport, we recently announced the xBridge, a 10,000-square-foot innovation center where we collaborate with big tech, startups, universities and others to deploy innovative technologies that inspire the industry and advance the region's role as a technology pioneer.
This IT team is not sitting alone behind a computer, but rather conquering aviation industry challenges and ideating with some of the most brilliant minds in the region. Pittsburgh has the network of companies (the Tech Council being one) that can, and are, getting the message out to women that tech careers are exciting.
Fast forward another 20 years. I imagine myself at dinner with eight of the most innovative IT leaders in the world. And as I look around the table, half of them are female. Just envision how powerful this discipline will be when more women join.