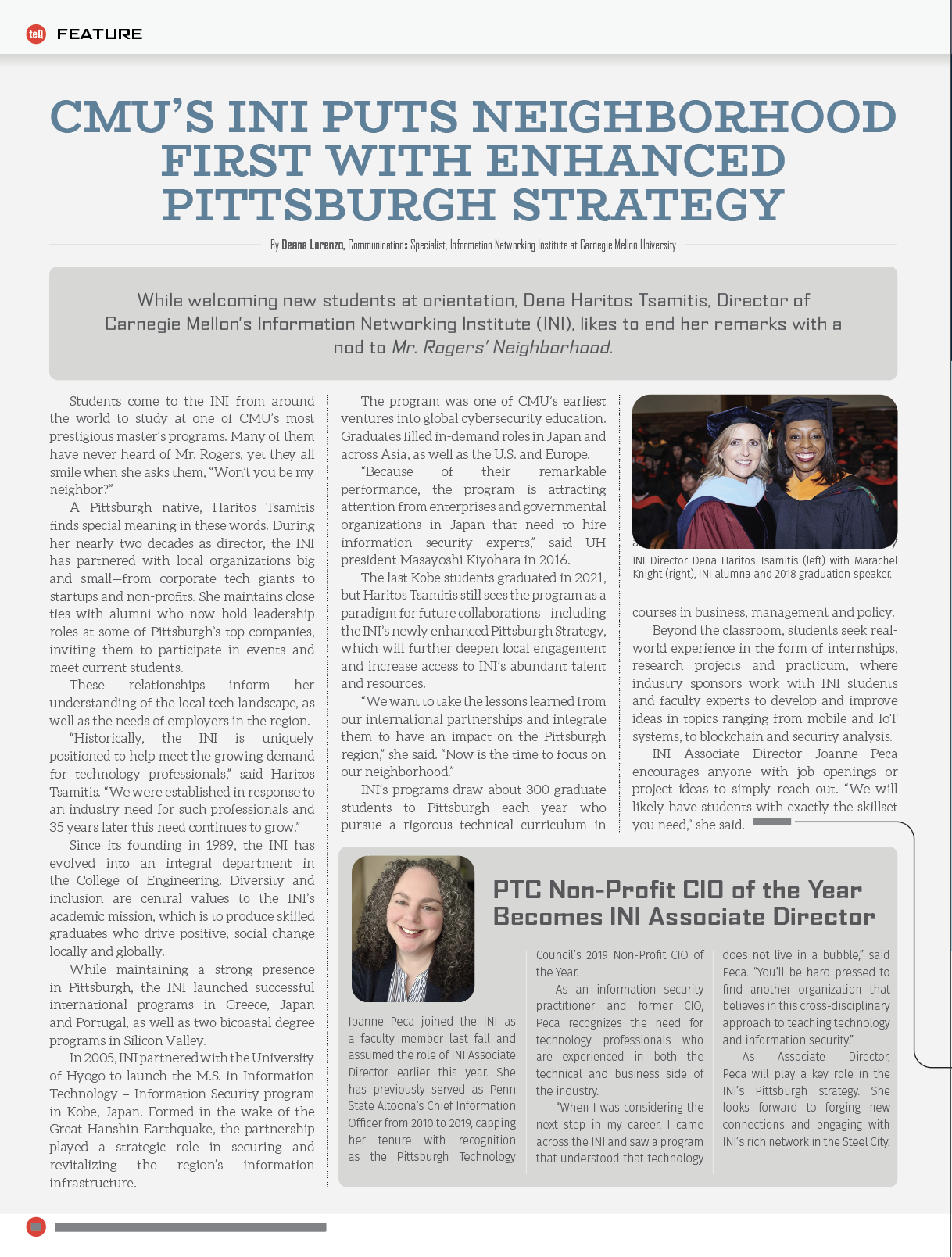 While welcoming new students at orientation, Dena Haritos Tsamitis, Director of Carnegie Mellon's Information Networking Institute (INI), likes to end her remarks with a nod to Mr. Rogers' Neighborhood.
Students come to the INI from around the world to study at one of CMU's most prestigious master's programs. Many of them have never heard of Mr. Rogers, yet they all smile when she asks them, "Won't you be my neighbor?"
A Pittsburgh native, Haritos Tsamitis finds special meaning in these words. During her nearly two decades as director, the INI has partnered with local organizations big and small—from corporate tech giants to startups and non-profits. She maintains close ties with alumni who now hold leadership roles at some of Pittsburgh's top companies, inviting them to participate in events and meet current students.
These relationships inform her understanding of the local tech landscape, as well as the needs of employers in the region.
"Historically, the INI is uniquely positioned to help meet the growing demand for technology professionals," said Haritos Tsamitis. "We were established in response to an industry need for such professionals and 35 years later this need continues to grow."
Since its founding in 1989, the INI has evolved into an integral department in the College of Engineering. Diversity and inclusion are central values to the INI's academic mission, which is to produce skilled graduates who drive positive, social change locally and globally.
While maintaining a strong presence in Pittsburgh, the INI launched successful international programs in Greece, Japan and Portugal, as well as two bicoastal degree programs in Silicon Valley.
In 2005, INI partnered with the University of Hyogo to launch the M.S. in Information Technology – Information Security program in Kobe, Japan. Formed in the wake of the Great Hanshin Earthquake, the partnership played a strategic role in securing and revitalizing the region's information infrastructure.
The program was one of CMU's earliest ventures into global cybersecurity education. Graduates filled in-demand roles in Japan and across Asia, as well as the U.S. and Europe.
INI is Looking for Practicum Sponsors!

Why sponsor a Practicum Project? Sponsorship is a fantastic recruitment opportunity, granting organizations early access to exceptionally qualified INI students and helping solve short term problems. Visit bit.ly/INI-Practicum-2022 or reach out to INI-practicum@andrew.cmu.edu to learn more.
"Because of their remarkable performance, the program is attracting attention from enterprises and governmental organizations in Japan that need to hire information security experts," said UH president Masayoshi Kiyohara in 2016.
The last Kobe students graduated in 2021, but Haritos Tsamitis still sees the program as a paradigm for future collaborations—including the INI's newly enhanced Pittsburgh Strategy, which will further deepen local engagement and increase access to INI's abundant talent and resources.
"We want to take the lessons learned from our international partnerships and integrate them to have an impact on the Pittsburgh region," she said. "Now is the time to focus on our neighborhood."
INI's programs draw about 300 graduate students to Pittsburgh each year who pursue a rigorous technical curriculum in information networking, security, and mobile and IoT engineering, complemented by courses in business, management and policy.
Beyond the classroom, students seek real-world experience in the form of internships, research projects and practicum, where industry sponsors work with INI students and faculty experts to develop and improve ideas in topics ranging from mobile and IoT systems, to blockchain and security analysis.
INI Associate Director Joanne Peca encourages anyone with job openings or project ideas to simply reach out. "We will likely have students with exactly the skillset you need," she said.
Prior to joining the INI last fall, Peca served as Penn State Altoona's Chief Information Officer and was named Pittsburgh Technology Council's Non-Profit CIO of the Year in 2019. As an information security practitioner and former CIO, Peca understands the importance of balancing both the technical and business sides of the industry.
"It's not often you find an intensely technical program that also recognizes and appreciates the connection to other disciplines," she said. "If you're a CIO or CISO in Pittsburgh looking to hire someone who can understand policy and also build the solution you're looking for—INI students are a great fit."
PTC Non-Profit CIO of the Year Becomes INI Associate Director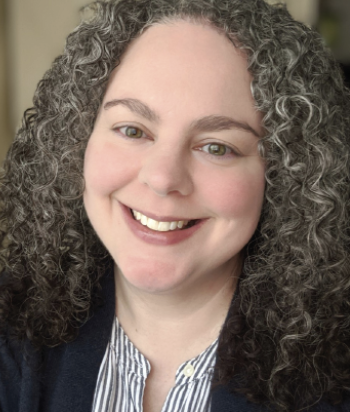 Joanne Peca joined the INI as a faculty member last fall and assumed the role of INI Associate Director earlier this year. She has previously served as Penn State Altoona's Chief Information Officer from 2010 to 2019, capping her tenure with recognition as the Pittsburgh Technology Council's 2019 Non-Profit CIO of the Year.
As an information security practitioner and former CIO, Peca recognizes the need for technology professionals who are experienced in both the technical and business side of the industry.
"When I was considering the next step in my career, I came across the INI and saw a program that understood that technology does not live in a bubble," said Peca. "You'll be hard pressed to find another organization that believes in this cross-disciplinary approach to teaching technology and information security."
As Associate Director, Peca will play a key role in the INI's Pittsburgh strategy. She looks forward to forging new connections and engaging with INI's rich network in the Steel City.