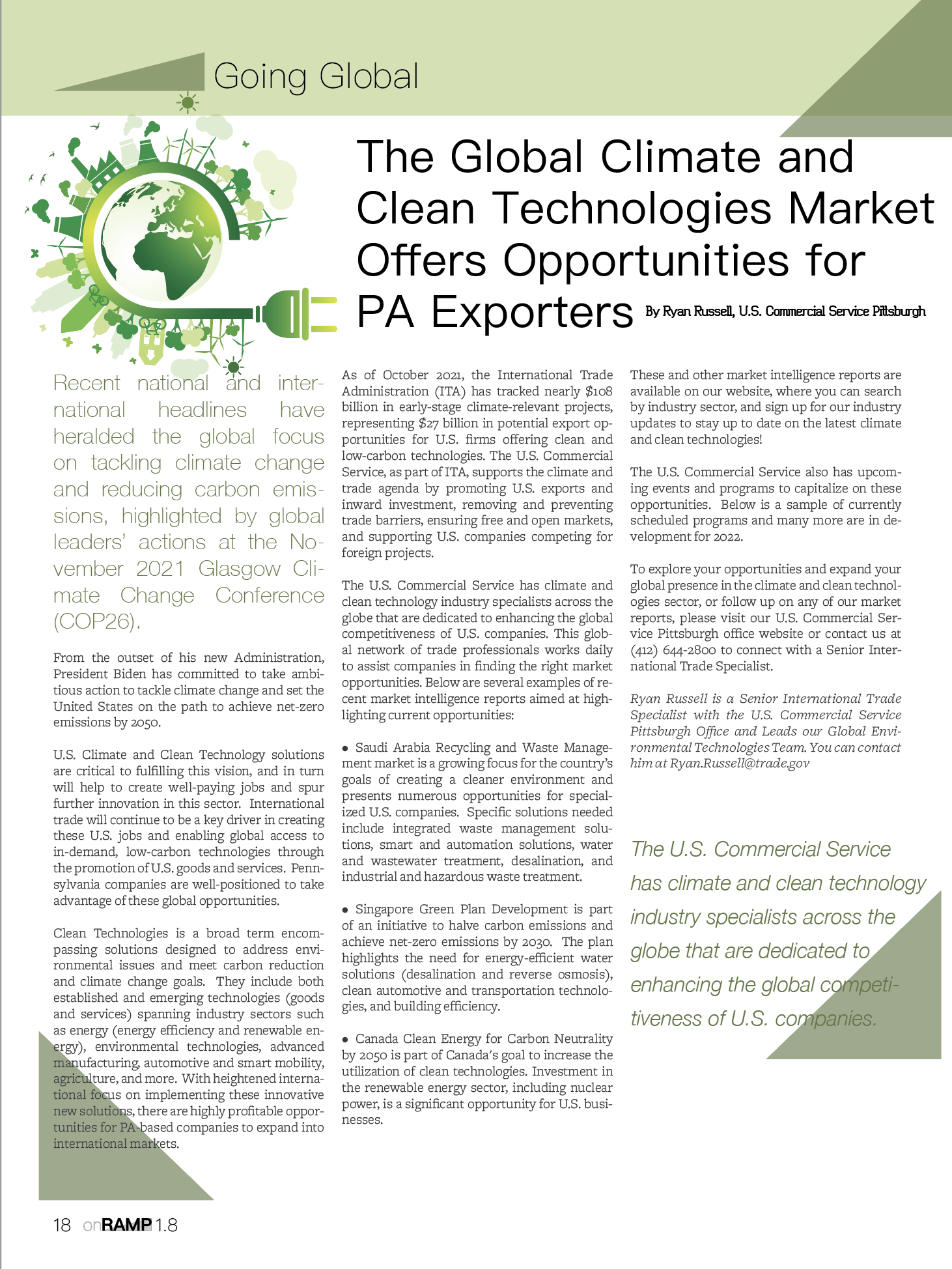 Recent national and international headlines have heralded the global focus on tackling climate change and reducing carbon emissions, highlighted by global leaders' actions at the November 2021 Glasgow Climate Change Conference (COP26).
From the outset of his new Administration, President Biden has committed to take ambitious action to tackle climate change and set the United States on the path to achieve net-zero emissions by 2050.
U.S. Climate and Clean Technology solutions are critical to fulfilling this vision, and in turn will help to create well-paying jobs and spur further innovation in this sector. International trade will continue to be a key driver in creating these U.S. jobs and enabling global access to in-demand, low-carbon technologies through the promotion of U.S. goods and services. Pennsylvania companies are well-positioned to take advantage of these global opportunities.
Clean Technologies is a broad term encompassing solutions designed to address environmental issues and meet carbon reduction and climate change goals. They include both established and emerging technologies (goods and services) spanning industry sectors such as energy (energy efficiency and renewable energy), environmental technologies, advanced manufacturing, automotive and smart mobility, agriculture, and more. With heightened international focus on implementing these innovative new solutions, there are highly profitable opportunities for PA-based companies to expand into international markets.
As of October 2021, the International Trade Administration (ITA) has tracked nearly $108 billion in early-stage climate-relevant projects, representing $27 billion in potential export opportunities for U.S. firms offering clean and low-carbon technologies. The U.S. Commercial Service, as part of ITA, supports the climate and trade agenda by promoting U.S. exports and inward investment, removing and preventing trade barriers, ensuring free and open markets, and supporting U.S. companies competing for foreign projects.
The U.S. Commercial Service has climate and clean technology industry specialists across the globe that are dedicated to enhancing the global competitiveness of U.S. companies. This global network of trade professionals works daily to assist companies in finding the right market opportunities. Below are several examples of recent market intelligence reports aimed at highlighting current opportunities:
• Saudi Arabia Recycling and Waste Management market is a growing focus for the country's goals of creating a cleaner environment and presents numerous opportunities for specialized U.S. companies. Specific solutions needed include integrated waste management solutions, smart and automation solutions, water and wastewater treatment, desalination, and industrial and hazardous waste treatment.
• Singapore Green Plan Development is part of an initiative to halve carbon emissions and achieve net-zero emissions by 2030. The plan highlights the need for energy-efficient water solutions (desalination and reverse osmosis), clean automotive and transportation technologies, and building efficiency.
• Canada Clean Energy for Carbon Neutrality by 2050 is part of Canada's goal to increase the utilization of clean technologies. Investment in the renewable energy sector, including nuclear power, is a significant opportunity for U.S. businesses.
These and other market intelligence reports are available on our website, where you can search by industry sector, and sign up for our industry updates to stay up to date on the latest climate and clean technologies!
The U.S. Commercial Service also has upcoming events and programs to capitalize on these opportunities. Below is a sample of currently scheduled programs and many more are in development for 2022.
To explore your opportunities and expand your global presence in the climate and clean technologies sector, or follow up on any of our market reports, please visit our U.S. Commercial Service Pittsburgh office website or contact us at (412) 644-2800 to connect with a Senior International Trade Specialist.
Ryan Russell is a Senior International Trade Specialist with the U.S. Commercial Service Pittsburgh Office and Leads our Global Environmental Technologies Team. You can contact him at Ryan.Russell@trade.gov