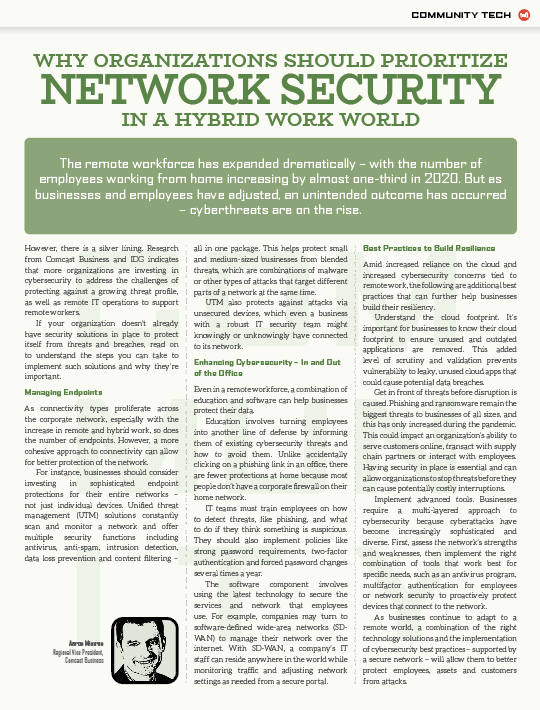 The remote workforce has expanded dramatically – with the number of employees working from home increasing by almost one-third in 2020. But as businesses and employees have adjusted, an unintended outcome has occurred – cyberthreats are on the rise.
However, there is a silver lining. Research from Comcast Business and IDG indicates that more organizations are investing in cybersecurity to address the challenges of protecting against a growing threat profile, as well as remote IT operations to support remote workers.
If your organization doesn't already have security solutions in place to protect itself from threats and breaches, read on to understand the steps you can take to implement such solutions and why they're important.
Managing Endpoints
As connectivity types proliferate across the corporate network, especially with the increase in remote and hybrid work, so does the number of endpoints. However, a more cohesive approach to connectivity can allow for better protection of the network.
For instance, businesses should consider investing in sophisticated endpoint protections for their entire networks – not just individual devices. Unified threat management (UTM) solutions constantly scan and monitor a network and offer multiple security functions including antivirus, anti-spam, intrusion detection, data loss prevention and content filtering –all in one package. This helps protect small and medium-sized businesses from blended threats, which are combinations of malware or other types of attacks that target different parts of a network at the same time.
UTM also protects against attacks via unsecured devices, which even a business with a robust IT security team might knowingly or unknowingly have connected to its network.
Enhancing Cybersecurity – In and Out of the Office
Even in a remote workforce, a combination of education and software can help businesses protect their data.
Education involves turning employees into another line of defense by informing them of existing cybersecurity threats and how to avoid them. Unlike accidentally clicking on a phishing link in an office, there are fewer protections at home because most people don't have a corporate firewall on their home network.
IT teams must train employees on how to detect threats, like phishing, and what to do if they think something is suspicious. They should also implement policies like strong password requirements, two-factor authentication and forced password changes several times a year.
The software component involves using the latest technology to secure the services and network that employees use. For example, companies may turn to software-defined wide-area networks (SD-WAN) to manage their network over the internet. With SD-WAN, a company's IT staff can reside anywhere in the world while monitoring traffic and adjusting network settings as needed from a secure portal.
Best Practices to Build Resilience
Amid increased reliance on the cloud and increased cybersecurity concerns tied to remote work, the following are additional best practices that can further help businesses build their resiliency.
Understand the cloud footprint. It's important for businesses to know their cloud footprint to ensure unused and outdated applications are removed. This added level of scrutiny and validation prevents vulnerability to leaky, unused cloud apps that could cause potential data breaches.
Get in front of threats before disruption is caused. Phishing and ransomware remain the biggest threats to businesses of all sizes, and this has only increased during the pandemic. This could impact an organization's ability to serve customers online, transact with supply chain partners or interact with employees. Having security in place is essential and can allow organizations to stop threats before they can cause potentially costly interruptions.
Implement advanced tools. Businesses require a multi-layered approach to cybersecurity because cyberattacks have become increasingly sophisticated and diverse. First, assess the network's strengths and weaknesses, then implement the right combination of tools that work best for specific needs, such as an antivirus program, multifactor authentication for employees or network security to proactively protect devices that connect to the network.
As businesses continue to adapt to a remote world, a combination of the right technology solutions and the implementation of cybersecurity best practices – supported by a secure network – will allow them to better protect employees, assets and customers from attacks.