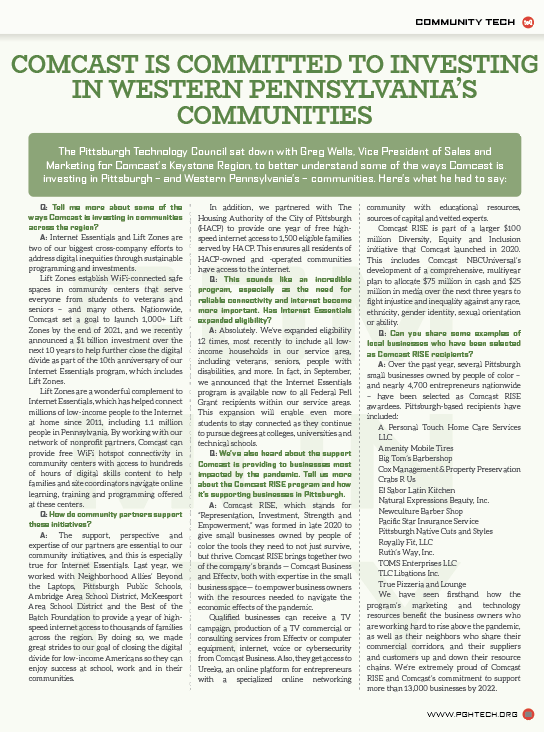 The Pittsburgh Technology Council sat down with Greg Wells, Vice President of Sales and Marketing for Comcast's Keystone Region, to better understand some of the ways Comcast is investing in Pittsburgh – and Western Pennsylvania's – communities. Here's what he had to say:
Q: Tell me more about some of the ways Comcast is investing in communities across the region?
A: Internet Essentials and Lift Zones are two of our biggest cross-company efforts to address digital inequities through sustainable programming and investments.
Lift Zones establish WiFi-connected safe spaces in community centers that serve everyone from students to veterans and seniors – and many others. Nationwide, Comcast set a goal to launch 1,000+ Lift Zones by the end of 2021, and we recently announced a $1 billion investment over the next 10 years to help further close the digital divide as part of the 10th anniversary of our Internet Essentials program, which includes Lift Zones.
Lift Zones are a wonderful complement to Internet Essentials, which has helped connect millions of low-income people to the Internet at home since 2011, including 1.1 million people in Pennsylvania. By working with our network of nonprofit partners, Comcast can provide free WiFi hotspot connectivity in community centers with access to hundreds of hours of digital skills content to help families and site coordinators navigate online learning, training and programming offered at these centers.
Q: How do community partners support these initiatives?
A: The support, perspective and expertise of our partners are essential to our community initiatives, and this is especially true for Internet Essentials. Last year, we worked with Neighborhood Allies' Beyond the Laptops, Pittsburgh Public Schools, Ambridge Area School District, McKeesport Area School District and the Best of the Batch Foundation to provide a year of high-speed internet access to thousands of families across the region. By doing so, we made great strides to our goal of closing the digital divide for low-income Americans so they can enjoy success at school, work and in their communities.
In addition, we partnered with The Housing Authority of the City of Pittsburgh (HACP) to provide one year of free high-speed internet access to 1,500 eligible families served by HACP. This ensures all residents of HACP-owned and -operated communities have access to the internet.
Q: This sounds like an incredible program, especially as the need for reliable connectivity and internet become more important. Has Internet Essentials expanded eligibility?
A: Absolutely. We've expanded eligibility 12 times, most recently to include all low-income households in our service area, including veterans, seniors, people with disabilities, and more. In fact, in September, we announced that the Internet Essentials program is available now to all Federal Pell Grant recipients within our service areas. This expansion will enable even more students to stay connected as they continue to pursue degrees at colleges, universities and technical schools.
Q: We've also heard about the support Comcast is providing to businesses most impacted by the pandemic. Tell us more about the Comcast RISE program and how it's supporting businesses in Pittsburgh.
A: Comcast RISE, which stands for "Representation, Investment, Strength and Empowerment," was formed in late 2020 to give small businesses owned by people of color the tools they need to not just survive, but thrive. Comcast RISE brings together two of the company's brands — Comcast Business and Effectv, both with expertise in the small business space — to empower business owners with the resources needed to navigate the economic effects of the pandemic.
Qualified businesses can receive a TV campaign, production of a TV commercial or consulting services from Effectv or computer equipment, internet, voice or cybersecurity from Comcast Business. Also, they get access to Ureeka, an online platform for entrepreneurs with a specialized online networking community with educational resources, sources of capital and vetted experts.
Comcast RISE is part of a larger $100 million Diversity, Equity and Inclusion initiative that Comcast launched in 2020. This includes Comcast NBCUniversal's development of a comprehensive, multiyear plan to allocate $75 million in cash and $25 million in media over the next three years to fight injustice and inequality against any race, ethnicity, gender identity, sexual orientation or ability.
Q: Can you share some examples of local businesses who have been selected as Comcast RISE recipients?
A: Over the past year, several Pittsburgh small businesses owned by people of color – and nearly 4,700 entrepreneurs nationwide – have been selected as Comcast RISE awardees. Pittsburgh-based recipients have included:
A Personal Touch Home Care Services LLC
Amenity Mobile Tires
Big Tom's Barbershop
Cox Management & Property Preservation
Crabs R Us
El Sabor Latin Kitchen
Natural Expressions Beauty, Inc.
Newculture Barber Shop
Pacific Star Insurance Service
Pittsburgh Native Cuts and Styles
Royally Fit, LLC
Ruth's Way, Inc.
TOMS Enterprises LLC
TLC Libations Inc.
True Pizzeria and Lounge
We have seen firsthand how the program's marketing and technology resources benefit the business owners who are working hard to rise above the pandemic, as well as their neighbors who share their commercial corridors, and their suppliers and customers up and down their resource chains. We're extremely proud of Comcast RISE and Comcast's commitment to support more than 13,000 businesses by 2022.