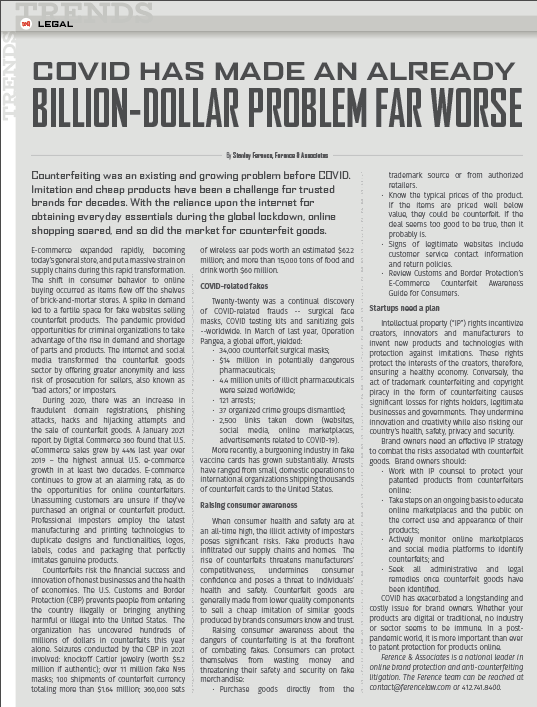 Counterfeiting was an existing and growing problem before COVID. Imitation and cheap products have been a challenge for trusted brands for decades. With the reliance upon the internet for obtaining everyday essentials during the global lockdown, online shopping soared, and so did the market for counterfeit goods.
E-commerce expanded rapidly, becoming today's general store, and put a massive strain on supply chains during this rapid transformation. The shift in consumer behavior to online buying occurred as items flew off the shelves of brick-and-mortar stores. A spike in demand led to a fertile space for fake websites selling counterfeit products. The pandemic provided opportunities for criminal organizations to take advantage of the rise in demand and shortage of parts and products. The internet and social media transformed the counterfeit goods sector by offering greater anonymity and less risk of prosecution for sellers, also known as "bad actors," or imposters.
During 2020, there was an increase in fraudulent domain registrations, phishing attacks, hacks and hijacking attempts and the sale of counterfeit goods. A January 2021 report by Digital Commerce 360 found that U.S. eCommerce sales grew by 44% last year over 2019 – the highest annual U.S. e-commerce growth in at least two decades. E-commerce continues to grow at an alarming rate, as do the opportunities for online counterfeiters. Unassuming customers are unsure if they've purchased an original or counterfeit product. Professional imposters employ the latest manufacturing and printing technologies to duplicate designs and functionalities, logos, labels, codes and packaging that perfectly imitates genuine products.
Counterfeits risk the financial success and innovation of honest businesses and the health of economies. The U.S. Customs and Border Protection (CBP) prevents people from entering the country illegally or bringing anything harmful or illegal into the United States. The organization has uncovered hundreds of millions of dollars in counterfeits this year alone. Seizures conducted by the CBP in 2021 involved: knockoff Cartier jewelry (worth $5.2 million if authentic); over 11 million fake N95 masks; 100 shipments of counterfeit currency totaling more than $1.64 million; 360,000 sets of wireless ear pods worth an estimated $62.2 million; and more than 15,000 tons of food and drink worth $60 million.
COVID-related fakes
Twenty-twenty was a continual discovery of COVID-related frauds -- surgical face masks, COVID testing kits and sanitizing gels --worldwide. In March of last year, Operation Pangea, a global effort, yielded:
• 34,000 counterfeit surgical masks;
• $14 million in potentially dangerous pharmaceuticals;
• 4.4 million units of illicit pharmaceuticals were seized worldwide;
• 121 arrests;
• 37 organized crime groups dismantled;
• 2,500 links taken down (websites, social media, online marketplaces, advertisements related to COVID-19).
More recently, a burgeoning industry in fake vaccine cards has grown substantially. Arrests have ranged from small, domestic operations to international organizations shipping thousands of counterfeit cards to the United States.
Raising consumer awareness
When consumer health and safety are at an all-time high, the illicit activity of imposters poses significant risks. Fake products have infiltrated our supply chains and homes. The rise of counterfeits threatens manufacturers' competitiveness, undermines consumer confidence and poses a threat to individuals' health and safety. Counterfeit goods are generally made from lower quality components to sell a cheap imitation of similar goods produced by brands consumers know and trust.
Raising consumer awareness about the dangers of counterfeiting is at the forefront of combating fakes. Consumers can protect themselves from wasting money and threatening their safety and security on fake merchandise:
• Purchase goods directly from the trademark source or from authorized retailers.
• Know the typical prices of the product. If the items are priced well below value, they could be counterfeit. If the deal seems too good to be true, then it probably is.
• Signs of legitimate websites include customer service contact information and return policies.
• Review Customs and Border Protection's E-Commerce Counterfeit Awareness Guide for Consumers.
Startups need a plan
Intellectual property ("IP") rights incentivize creators, innovators and manufacturers to invent new products and technologies with protection against imitations. These rights protect the interests of the creators, therefore, ensuring a healthy economy. Conversely, the act of trademark counterfeiting and copyright piracy in the form of counterfeiting causes significant losses for rights holders, legitimate businesses and governments. They undermine innovation and creativity while also risking our country's health, safety, privacy and security.
Brand owners need an effective IP strategy to combat the risks associated with counterfeit goods. Brand owners should:
• Work with IP counsel to protect your patented products from counterfeiters online:
• Take steps on an ongoing basis to educate online marketplaces and the public on the correct use and appearance of their products;
• Actively monitor online marketplaces and social media platforms to identify counterfeits; and
• Seek all administrative and legal remedies once counterfeit goods have been identified.
COVID has exacerbated a longstanding and costly issue for brand owners. Whether your products are digital or traditional, no industry or sector seems to be immune. In a post-pandemic world, it is more important than ever to patent protection for products online.
Ference & Associates is a national leader in online brand protection and anti-counterfeiting litigation. The Ference team can be reached at contact@ferencelaw.com or 412.741.8400.