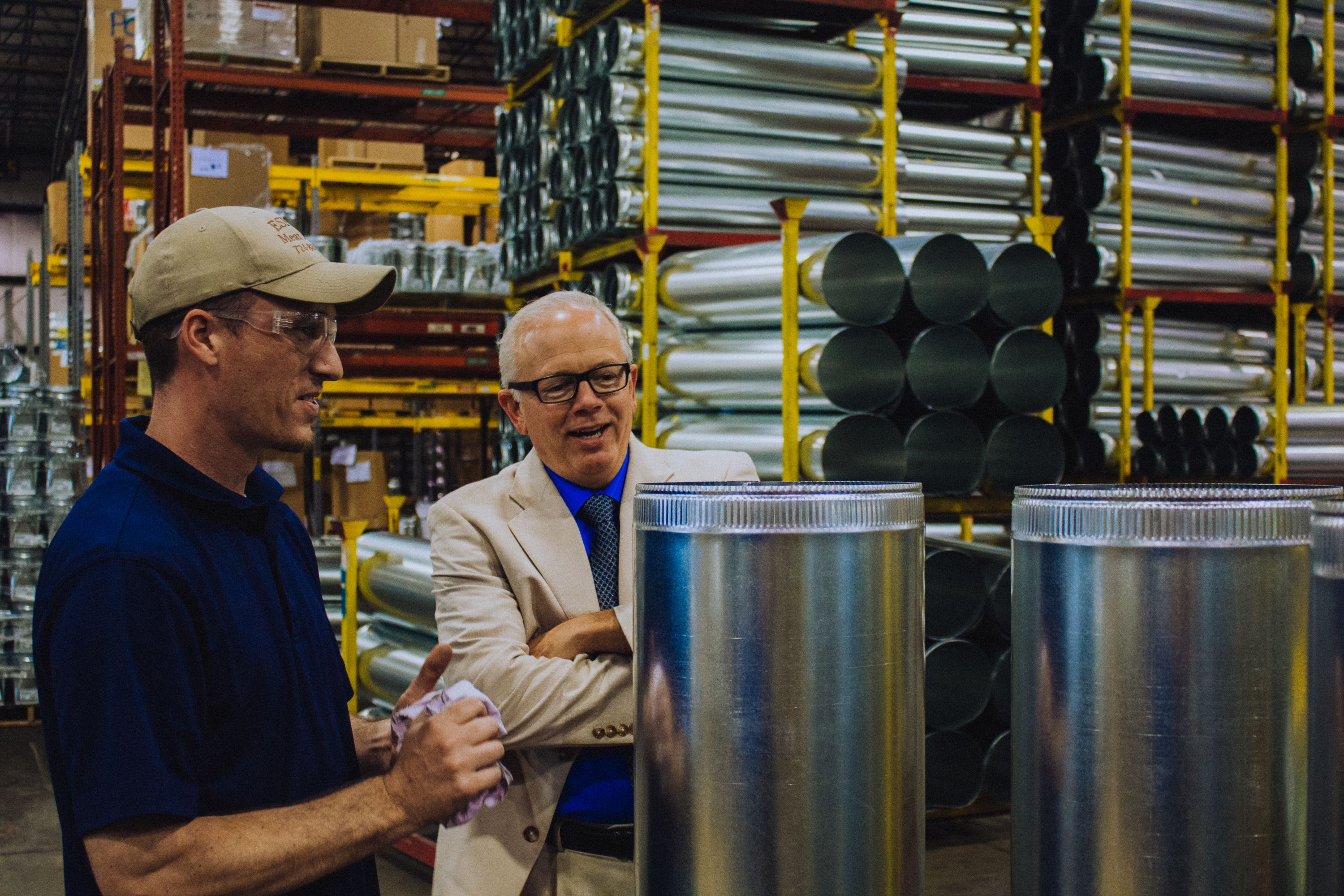 Involved in lean manufacturing and focused on continuous improvement for 15 years, DMI believed it had exploited as much of the low-lying fruit in efficiency gains and gone as far as it could using this method. Continuing to manage the Lean program as a staple throughout its manufacturing cells and processes, DMI decided to take the next step to improve its operations, reduce the burden on its workers, and enhance the sustainability of its operations. Its new innovation plan focused on adopting robotic and advanced analytic technology, enhancing worker safety and reducing its environmental footprint.
In moving to Industry 4.0 process improvement enhancements, DMI was interested in the use of automation – through use of "pick and place" robotic arms on two of its manufacturing lines – to further reduce costs, increase throughput to create more product production capacity, as well as solve human operator safety concerns.
"This subject matter – IT/OT, IoT and AI - is very difficult to understand for many seniorleaders within an organization. It is critical they comprehend these concepts to allow your organization to get where you want it to go," said Raymond Yeager, CEO, DMI Companies. "At DMI you can readily see there is excitement with our senior team. There is also tremendous amount of excitement with our Board of Directors. DMI senior management has been able to explain these tools to assist us in the business transformation we require for success. Corporations need senior people who are able to justify to Owners, Presidents, CEOs, and the Board of Directors how important their business transformation is to the long-term success of the firm. But remember, you must crawl before you walk and walk before you run."
DMI has 423 employees, some of whom are members of SMART (Sheet Metal, Air, Rail and Transportation Workers) Local Union 12 in Pittsburgh. Since the company was founded in 1978, DMI and Local 12 have developed a partnership, such that Local 12 understands and fully supports DMI's goals for automation and perfection in lean component manufacturing, product quality, timely delivery, workplace safety, and a well-trained workforce.
"It has been an impressive undertaking to see DMI make the investments in technology that improves production output and product quality. This technology has also been instrumental in creating a safer work environment by reducing the possibility of worker injuries from heavy lifting and worker fatigue," said Todd J Deitrick, Business Representative, Sheet Metal Workers Local 12. "I especially like that DMI has instituted a maintenance technician training program which has created more opportunities for workers to get promoted and trained in emerging technology."
Women In Manufacturing
Another human resource focus for DMI is increasing the number of women in manufacturing. According to the US Department of Commerce, while women make up 47% of the workforce overall, only 30% work in the manufacturing industry and 25% of manufacturing company leadership. At DMI, 63 members of their workforce are women, and of those, 17 work on the
manufacturing floor.
Often when people hear that someone works in manufacturing they think "factory," "repetitive," "male-dominated," and "antiquated," according to Natalie S. Chury, DMI Companies IT/OT Programs Manager.
"I am here to tell you that what I think are things like, 'efficiency,' 'data-driven decisions,' 'artificial intelligence,' 'predictive analysis' and 'supportive management.'" She said. "My focus is aiding in the transformational change of IT/OT by collaborating with various staff members throughout the organization to enhance the alignment between business process, information technology and operational technology. This is a newly-formed cross- functional effort that was created when DMI began enhancing its operations with Industry 4.0 concepts."
In Chury's current role, each day is an inspiring ride. "I am challenged every day. I get to work with amazing people. I also get to witness the growing presence of women in multiple departments within DMI," she said.
The concepts of Industry 4.0 and IT/OT excite Chury because it gives her a seat at the table to change the future, of not only DMI, but for the manufacturing community.
"My motto in life, whether it be when I am at work or at home being a wife and a mom, has always been 'work smarter, not harder,'" she said. "That motto placed me where I am today, and I am so excited to be a part of this journey and to see what our futures hold!"
DMI Manufacturing Line Automation
The DMI team took a holistic approach to two of its manufacturing lines: (1) Sealant and Adhesive Mix Room production ("Sealant"); (2) Snap Pipe production ("Pipe").
Sealant & Adhesive Production Room
In the case of the "Sealant" production line, the challenge was the operator needed to continuously lift boxes that were 35-45 pounds – leading to operator fatigue as the day went on and a resulting decrease in throughput. Each robotic arm responded to this challenge, but there were still bottlenecks along the line that also needed resolution.
This included the human operator's ability to provide the raw material at the beginning of the line without impacting throughput. So, the team also developed an auto-dispense station in conjunction with adding the robotic arm. This limited the need for the human operator to participate in physical activities both at the beginning and end of the production line, reducing their fatigue, allowing them to focus on continued replenishment of packaging materials to the line thus increasing and solidifying throughput.
"Since the addition of the Robot (Betty) we have been able to increase daily through put by 66% with less strain and fatigue on the operator," said Charlie Blaniar, 24-year Sealant & Adhesive Production Room Manager.
"Before the addition of the robot to the mix room, I was lifting on average a total of 34,000 lbs per day. Since the installation of the robot, the total weight lifted has been cut in half," said Chuck Sweeney, 2-year Mix-Room Dispense Production Worker. "Ergonomically, this has become a better way to work. As a result, production has increased in numbers, as well as speed, while maintaining a steady level of energy throughout my shift. The robot has several safety features including two light curtains, a pressure mat, two e stops and a crush sensor."
Snap Pipe Production Line
The "Pipe" production line has many moving parts resulting in the need for two human operators. One operator bundled and stacked the finished product, and the other had to monitor and adjust the various steps of the manufacturing process as the pipe was being made.
This line faced two challenges: First, pipe bundles are very heavy – 2500 individual pipes (500 bundles) are manufactured each shift with each bundle weighing about 50 pounds; and customers wanted the pipe bundles strapped, which required another department and human-involved laborer step just prior to shipping.
The full assembly line no longer has two human operators. By adding a robotic arm, an operator no longer must lift the bundles and another department does not have to facilitate the strapping of the bundles – so that only one operator is now required instead of two. As a result, DMI was able to reduce labor costs, improve productivity and enhance worker safety. Prior to the pipe-line robot, DMI reports that four accidents had resulted in days away from work due to handling the pipe at the payoff table. Since the implementation of the robot, DMI has had no incidents that resulted in time away from work at the pipe-line payoff table.
One challenge DMI had in its operations is that each human operator is different in terms of how fast they work, how quickly they fatigue and having a unique perspective on how they approach their tasks. This led to differences in throughput and quality depending on the operator. The use of robotic arms eliminates those differences, allows the operator to instead focus on critical tasks that are buffered from throughput dependency and line TACT time, which increases productivity and reduces costs.
Prioritizing Industry 4.0 activities
DMI used a number of methods to prioritize its Industry 4.0 investments. In 2016, DMI created an efficiency team that consists of a production manager, mechanical engineer and industrial engineer. This team monitors the production lines and manufacturing processes, inventory, production costs and other metrics.
DMI charged them with identifying low-level opportunities for automation. When the ideas run out from a lean manufacturing perspective, the efficiency team makes a recommendation to leadership on ways to improve efficiency. The decision depends on cost, implementation ability, etc. In addition, the leadership team makes automation recommendations to the efficiency teams based on Industry 4.0 program goals, industry trends or what they may have seen at other manufacturing operations.
The leadership team also goes on the factory floor to identify "pain points" – where staff has validated there is a problem and seek solutions for that problem. Finally, like most companies, DMI does strategic planning focusing on identified pain points, as well as new ideas that the team identified to improve operations. The planning also includes continuous reviews of product cost, profit margins, etc. to identify production lines that may need improvement. The team then physically visits the line to identify options for improvement.
"The Manufacturing Execution System (MES) was well implemented. The training I received was extremely easy to learn and then apply. Since the implementation of MES, I am always thinking of ways to make it even better. I'm very open to more changes that embrace technology!" exclaimed Alcesta Bise, 10-year DMI production worker.
Smart Manufacturing
Another challenge DMI faced when it decided to embark on the Industry 4.0 journey was converging the information technology - computers and software that staff use at their desks and the enterprise - network infrastructure with the operational technology used on the production floor such as programmable logic controllers (PLC), industrial switching, industrial wireless, radio frequency identification (RFID) systems, etc. to support DMI's business strategy.
DMI began to focus on the concept of "smart manufacturing" that leverages digital twinning, machine learning, the internet of things and artificial intelligence. DMI's goal was to transform its business so that it could leverage digital technologies to make its operations more agile, flexible and responsive while incorporating autonomous learning, yet it lacked in-house expertise. So, it brought in external teams who could help meet its goals through the use of "Internet of Things" (IOT) Being able to make smart decisions based on real-time activities throughout our business is key to our strategy. Combining internet-connected devices with cloud computing and machine learning enables DMI to make data-and evidence-driven decisions.
DMI plans future investments in digital twinning – "a virtual representation of an object or system that spans its lifecycle, is updated from real-time data, and uses simulation, machine learning and reasoning to help decision-making." Specific examples include:
• Leveraging algorithms from three production lines as part of a pilot experiment;
• Reconstructing documents and control system logs from process monitoring videos;
• Measuring project success by monitoring energy/resource consumption, production line operating costs, and product line reconfiguration time.
This information will provide DMI's operations a self-configuring production control system that can learn from sensor and computer logs of manufacturing lines. Suggesting real-time monitoring and control strategies that can achieve safe and efficient operations and transitions between production modes. Machine learning can offer suggestions, and even make decisions on its own. This AI decision-making is based on variables DMI identifies, to enhance efficiency of activities. Systems range from simple devices such as a PLC, to a complex system like Manufacturing Execution System (MES). MES focuses on activities such as lean execution, material tracking, machine level interface, workforce management, and Work in Process (WIP) quality.
Although initially the production staff's reaction was negative, thinking that the focus was to make them work harder, the reality was the opposite. Once the staff saw their production numbers, they became competitive with themselves and with other shifts, creating competition and fun for everyone on the floor to see what throughput numbers each could achieve. DMI invested in large screens (Vorne) so the production staff could see production goals and throughput for their shift with the goal to identify methods of improving operations. Overall, the implantation of the Vorne boards boosted morale among the production staff.
"As someone who can't even use the remote control for my TV at home, I was nervous about the new system at first, but it was very easy to learn. I'm looking forward to more technology changes that make my life easier," said Helen Necciai, 34-year production worker.
The Smart Manufacturing system also provides data necessary to dynamically build product from a rules-based configurator (CPQ), instead of using offline tools and manual data entry. The system also creates bill of materials, routing, cost and pricing. Without human intervention, internal business rules are automatically applied during part configuration – as developed by the customer placing the order. The implementation of CPQ provides several billions of permutations of product that are now available to be ordered and manufactured. DMI also implemented visual planner (VPi) software that identifies the requirements for product production, performs shop-scheduling routines, matches supply against demand to identify needed materials and production resources as well as materials requirements planning (MRP) for schedules. This not only ensures material is on hand but also determines if production staff is appropriately distributed to meet demand.
DMI's most significant challenge in the digital space was its data warehouse that aggregates structured data from across multiple systems, and then selects and organizes the data for comparison and analysis through dashboards and visualizations. This helps management better understand if sales, manufacturing, and shipping are reaching DMI's goals. This information is updated every 15 minutes and is available to all as visualization models within Microsoft Teams. DMI decided to use simple colors such as green ("On Target") or red ("Needs Attention") to bring awareness with simple but effective visualizations management.