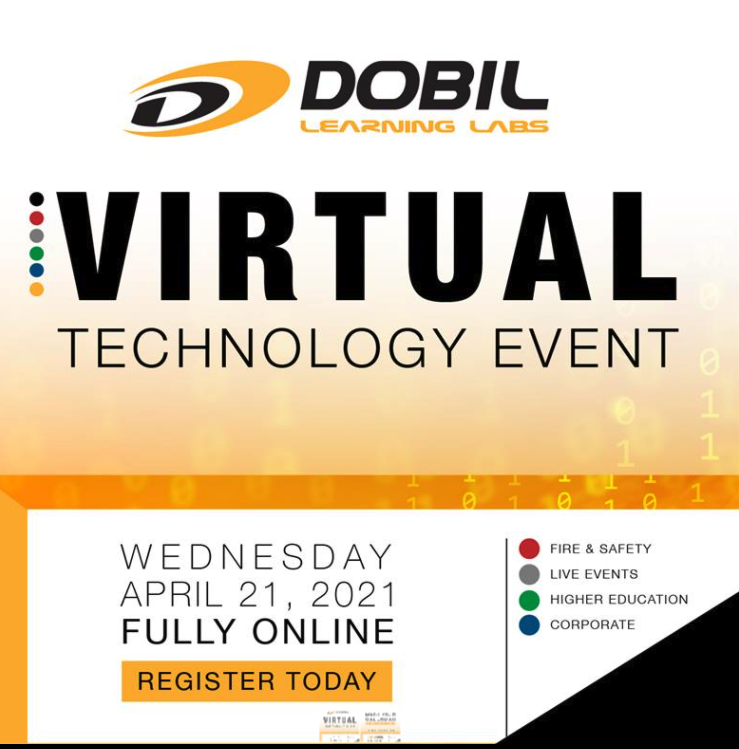 Dobil Laboratories, Inc. announced that their complimentary, day-long technology event will take place fully-online on Wednesday, April 21, 2021. Dobil will bring together subject matter experts, thought leaders and manufacturers within the technology space to provide insight on the latest tech innovations.
The Dobil Learning Labs virtual technology event is offering four different industry tracks throughout the virtual event. Attendees will explore new ideas and visualize the future of professional AV for live events, corporate use, and higher education technologies. Additionally, attendees can discover the latest technology made for the fire, safety, and security industry.
Dobil Learning Labs sessions allow you to hear from industry leaders who are continuously pushing the technology and audio-visual industry forward. During the event, attendees can interact with the most technologically advanced integration team in the region and turn concepts into tangible, 2021 projects.
Dobil Learning Labs was created as an informative tool for those in the technology industry looking for technology news and product updates.
Presenters include professionals from companies such as Crestron, Legrand, Audio-Technica, Lensec, Shure, Sony, JBL Professional and Crown by Harman, Draper, Planar, Barco, Mersive Technologies, Incorporated, Online Marketing and Bogen Communications, Incorporated.
Event sessions within the four tracks include product demonstrations, a showcase of the latest products and gear, training from top manufacturers, as well as educational presentations.
"We, at Dobil, have noticed a void in the number of educational tools available to the live events technology, fire, safety and audio-visual industries. We are bringing Dobil Learning Labs to fruition in order to offer a place for others to learn and grow, free of charge. As we celebrate our 50-year anniversary, we are excited to share knowledge of technological advances and products with the industry through our Learning Labs event," says David Rosenberger, Vice President at Dobil Laboratories.

Registration for the Dobil Learning Labs event is free of charge. Learn more about Dobil Learning Labs and register to attend the upcoming virtual event by visiting the Dobil Learning Labs Event Registration Page.
# # #
About Dobil Learning Labs, Inc.
Founded in 1971, Dobil Laboratories, Incorporated is a Pittsburgh-based, nationally recognized, full-service, audio-visual, live events and fire and security systems integrator. Dobil creates custom designs and installs large screen graphic projection, sound reinforcement along with sophisticated, yet easy-to-use, integrated control systems. Dobil's elite team of Crestron certified programmers design unique AV solutions for any space. www.dobil.com
Media Enquiries
Leah Pascarella
412-782-3399