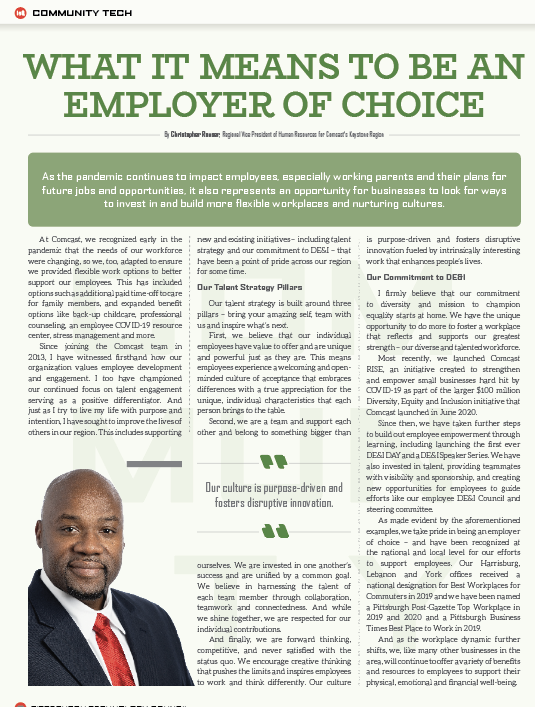 As the pandemic continues to impact employees, especially working parents and their plans for future jobs and opportunities, it also represents an opportunity for businesses to look for ways to invest in and build more flexible workplaces and nurturing cultures.
At Comcast, we recognized early in the pandemic that the needs of our workforce were changing, so we, too, adapted to ensure we provided flexible work options to better support our employees. This has included options such as additional paid time-off to care for family members, and expanded benefit options like back-up childcare, professional counseling, an employee COVID-19 resource center, stress management and more.
Since joining the Comcast team in 2013, I have witnessed firsthand how our organization values employee development and engagement. I too have championed our continued focus on talent engagement serving as a positive differentiator. And just as I try to live my life with purpose and intention, I have sought to improve the lives of others in our region. This includes supporting new and existing initiatives – including talent strategy and our commitment to DE&I – that have been a point of pride across our region for some time.
Our Talent Strategy Pillars
Our talent strategy is built around three pillars – bring your amazing self, team with us and inspire what's next.
First, we believe that our individual employees have value to offer and are unique and powerful just as they are. This means employees experience a welcoming and open-minded culture of acceptance that embraces differences with a true appreciation for the unique, individual characteristics that each person brings to the table.
Second, we are a team and support each other and belong to something bigger than ourselves. We are invested in one another's success and are unified by a common goal. We believe in harnessing the talent of each team member through collaboration, teamwork and connectedness. And while we shine together, we are respected for our individual contributions.
And finally, we are forward thinking, competitive, and never satisfied with the status quo. We encourage creative thinking that pushes the limits and inspires employees to work and think differently. Our culture is purpose-driven and fosters disruptive innovation fueled by intrinsically interesting work that enhances people's lives.
Our Commitment to DE&I
I firmly believe that our commitment to diversity and mission to champion equality starts at home. We have the unique opportunity to do more to foster a workplace that reflects and supports our greatest strength – our diverse and talented workforce.
Most recently, we launched Comcast RISE, an initiative created to strengthen and empower small businesses hard hit by COVID-19 as part of the larger $100 million Diversity, Equity and Inclusion initiative that Comcast launched in June 2020.
Since then, we have taken further steps to build out employee empowerment through learning, including launching the first ever DE&I DAY and a DE&I Speaker Series. We have also invested in talent, providing teammates with visibility and sponsorship, and creating new opportunities for employees to guide efforts like our employee DE&I Council and steering committee.
As made evident by the aforementioned examples, we take pride in being an employer of choice – and have been recognized at the national and local level for our efforts to support employees. Our Harrisburg, Lebanon and York offices received a national designation for Best Workplaces for Commuters in 2019 and we have been named a Pittsburgh Post-Gazette Top Workplace in 2019 and 2020 and a Pittsburgh Business Times Best Place to Work in 2019.
And as the workplace dynamic further shifts, we, like many other businesses in the area, will continue to offer a variety of benefits and resources to employees to support their physical, emotional and financial well-being.