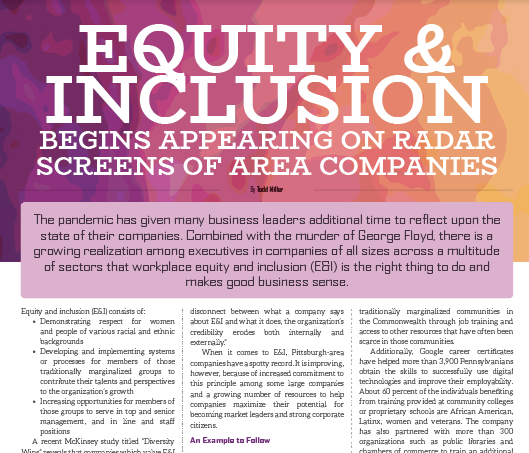 The pandemic has given many business leaders additional time to reflect upon the state of their companies. Combined with the murder of George Floyd, there is a growing realization among executives in companies of all sizes across a multitude of sectors that workplace equity and inclusion (E&I) is the right thing to do and makes good business sense.
Equity and inclusion (E&I) consists of:
• Demonstrating respect for women and people of various racial and ethnic backgrounds
• Developing and implementing systems or processes for members of those traditionally marginalized groups to contribute their talents and perspectives to the organization's growth
• Increasing opportunities for members of those groups to serve in top and senior management, and in line and staff positions
A recent McKinsey study titled "Diversity Wins" reveals that companies which value E&I outperform their peers that do not. In 2019, the performance of companies that placed less emphasis on E&I was 19 percent lower than those who made gender diversity a high priority. In that same vein, executive teams comprised of more than 30 percent women are more likely to outperform companies who have a lower percentage of women in key positions.
Likewise, companies that promote ethnic diversity among the workforce have a 36 percent higher likelihood of outperforming companies that don't promote such a variety of backgrounds and perspectives among their workforces. Most tellingly, companies in the top 25 percent for both gender and ethnic diversity are 12 percent more likely to outperform companies that lag on the diversity front.
The study also found that "if there is a disconnect between what a company says about E&I and what it does, the organization's credibility erodes both internally and externally."
When it comes to E&I, Pittsburgh-area companies have a spotty record. It is improving, however, because of increased commitment to this principle among some large companies and a growing number of resources to help companies maximize their potential for becoming market leaders and strong corporate citizens.
An Example to Follow
Google, which employs 900 people from its offices in Pittsburgh's East Liberty neighborhood in a former Nabisco baking plant that anchors the Bakery Square office, retail and residential complex, has been at the forefront of developing and implementing E&I.
"Employees are much happier if they can bring their whole selves to work," says Abby Israel, Google's HR Market Manager for the Midwest, which includes the company's offices in Pittsburgh, Chicago, Michigan and Wisconsin. "If they feel like they're being included and heard, they're more productive, and if they feel they're being discriminated against, they'll be less productive."
Besides fostering a corporate culture that values E&I, Google has provided more than $14 million in grants to non-profits and other organizations to empower entrepreneurs of traditionally marginalized communities in the Commonwealth through job training and access to other resources that have often been scarce in those communities.
Additionally, Google career certificates have helped more than 3,900 Pennsylvanians obtain the skills to successfully use digital technologies and improve their employability. About 60 percent of the individuals benefiting from training provided at community colleges or proprietary schools are African American, Latinx, women and veterans. The company has also partnered with more than 300 organizations such as public libraries and chambers of commerce to train an additional 6,600 Pennsylvanians in digital skills.
Google's promotion of E&I outside of the company also has internal benefits. According to Israel, "We have seen employment [at Google] of all underrepresented groups double over the past several years. Robust E&I programs have led to greater retention by helping employees who contemplate leaving the company to transition into new roles."
Resources for Regional Companies
E&I programs are not limited to large companies. In fact, companies with smaller staffs and fewer resources than Google can still take innovative actions as this region has many excellent, affordable tools available to established companies and startups alike.
The Executive Action Response Team (EARN) is the brainchild of George Robinson II, Jessica Brooks Woods and Martin Shepherd, who met each other during an executive leadership program in 2019. That same year, the University of Pittsburgh published a "Race and Gender Equity Report" that cataloged racial inequality in the regional workforce, as well as in education, health care and contact with the criminal justice system. The report concluded that the Pittsburgh region is one of the most difficult in the country for African Americans, particularly women, to live.
Following the murder of George Floyd in May 2020, the trio created EARN to help leaders in Pittsburgh's corporate, academic and non-profit sectors become more responsive and welcoming to African Americans, whom Robinson says, "have often felt marginalized and excluded in Pittsburgh companies."
Through a letter to area CEOs, EARN initially targeted Fortune 500 companies in the region and then pivoted to also serve mid- and small-cap companies after Floyd was murdered by a Minneapolis police officer and demand for E&I-related consulting services skyrocketed.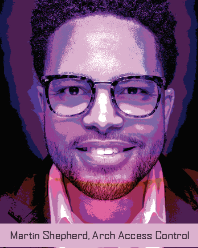 EARN is working with the Port Authority of Allegheny County, as well as with various public companies, and government, non-profit and health care organizations to develop and implement E&I strategies.
According to Brooks Woods, who also serves as CEO of the Pittsburgh Business Group on Health, "There has been a lot of inertia and resistance to change, but we're seeing signs from corporate leaders and entrepreneurs that providing more opportunities for African Americans, and other minorities and women, can benefit their companies and improve the quality of life for more people in the region."
EARN is in discussions with national organizations from Detroit, Atlanta and elsewhere about importing to Pittsburgh proven ways to increase opportunities for African Americans in area companies. "What has worked elsewhere can work here, too, if there's enough support for those types of programs," says Robinson, who is UPMC's Director of Supplier Diversity and Inclusion.
Adds EARN co-founder Martin Shepherd, who is also CEO of Arch Access Control, "There is a unique opportunity in Pittsburgh's tech sector to help early-stage companies get their culture right, from the outset. Equity as a discipline is an opportunity for tech companies to create a strategic advantage in the recruitment and retention of talent. In addition, tech companies, most of which depend upon innovation and diverse perspectives to arrive at the best product, stand to benefit from intentionally creating a culture that is open to recruiting and advancing African American leadership."
More Than Environmental Stewardship
At Sustainable Pittsburgh, a non-profit organization that empowers decision-making which builds a fundamentally equitable, resilient, healthy and prosperous region, the term "sustainability" means more than conserving natural resources.
Founded in 1998 as part of the President's Council on Sustainable Development and originally part of the Pittsburgh Technology Council, the organization offers a suite of programs to promote E&I for all types of businesses. Under the leadership of Executive Director Joylette Portlock, Ph.D., Sustainable Pittsburgh developed the "Leading Forward Roadmap" and distributed it to companies throughout the region.
The document proves guidance related to three sets of activities that organizations can undertake separately or simultaneously. Those activities consist of: 1) Supporting local communities and businesses during the pandemic; 2) Advancing racial and ethnic equity; and 3) Reducing the organization's carbon footprint. Sustainable Pittsburgh created the Roadmap because, as Portlock puts it, "Leadership and engagement in the business sector is vital for a sustainable economic recovery."
Over the past year, Portlock has found "a strong appetite" for incorporating E&I into the workplace. Earlier this year, the organization held a virtual workshop with Vibrant Pittsburgh that attracted more than 180 people. Vibrant Pittsburgh is a non-profit organization with a mission of "building a thriving and inclusive Pittsburgh region by attracting, retaining and elevating a diversity of talent."
"There's a strong business case for advancing E&I," says Portlock. "Companies that practice E&I are 35 percent more likely to have stronger financial returns than companies that don't. Companies also need to look at their suppliers and see if they are reflective of the community, engage stakeholders and measure progress."
According to a survey of local leaders conducted by Edelman, a global communications firm, "77 percent of the U.S. population says that it is deeply important that companies respond to racial injustice to earn or keep their trust."
Despite the perception that progress in the E&I realm is lagging, Portlock says there is "lots of good work" happening regionally. She cites UPMC, whose board has made E&I a high priority for the past 25 years through hiring practices, and more recently through its Center for Engagement and Inclusion. The Center enables Pennsylvania's largest non-governmental employer, which has a workforce of 90,000, to manage and monitor its diversity and inclusion policies, practices and programs, including a supplier diversity program.
Raising Consciousness About Bias
Conscious Unbias is a consulting firm that partners with companies and other organizations to, in the words of founder Amber Thompson, "bring transparency to the experiences of marginalized people in the workplace and workforce, and in the community."
Thompson, a Pittsburgh native who moved to Philadelphia for graduate school, began the company when she returned to the area and couldn't find a job. Conscious Unbias has its roots in Idea Foundry, an Oakland-based non-profit economic development organization dedicated to job creation.
The firm developed an Equity Index that encompasses race, gender, sexual orientation, disability, religion and ethnicity, and looks at the intersection of those factors to objectively measure inequalities in policies, procedures and practices. Thompson and her team then generate a root cause analysis from the Equity Index and use a propriety software program to devise solutions tailored to clients' specific needs.
Conscious Unbias follows minoritized employees throughout their careers and works with employers to help create opportunities for minority team members in the organizations for which they work. Additionally, the firm's platform helps companies tailor their marketing messages to the needs and concerns of marginalized communities.
Using a bottom-up or top-down approach, depending upon the client, Conscious Unbias also helps employers and team members be accountable to one another by using listening sessions and focus groups.
Observes Thompson, "The biggest obstacle companies of all sizes face is how to operationalize principles of equity and inclusion. We help them by identifying and attacking the root causes of factors that prevent minoritized team members from being given the same opportunities as others in the organization. Black people in the tech sector and beyond need to fight for opportunity in the region, and we help them by creating a space that prevents retaliation and persuades leaders to break from the status quo while holding them accountable."
What the Future Holds
With an abundance of resources available, E&I assistance is more accessible than ever to Pittsburgh-area companies. The extent to which leaders in the tech, corporate, academic, health care and non-profit sectors act upon the evidence that E&I makes good business sense could determine the long-term economic vitality of this region.