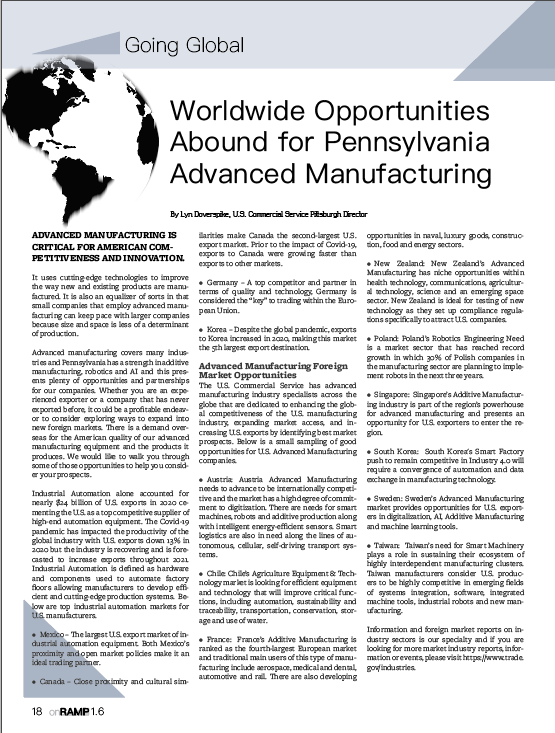 Advanced manufacturing is critical for American competitiveness and innovation.
It uses cutting-edge technologies to improve the way new and existing products are manufactured. It is also an equalizer of sorts in that small companies that employ advanced manufacturing can keep pace with larger companies because size and space is less of a determinant of production.
Advanced manufacturing covers many industries and Pennsylvania has a strength in additive manufacturing, robotics and AI and this presents plenty of opportunities and partnerships for our companies. Whether you are an experienced exporter or a company that has never
exported before, it could be a profitable endeavor to consider exploring ways to expand into new foreign markets. There is a demand overseas for the American quality of our advanced manufacturing equipment and the products it produces. We would like to walk you through some of those opportunities to help you consider your prospects.
Industrial Automation alone accounted for nearly $24 billion of U.S. exports in 2020 cementing the U.S. as a top competitive supplier of high-end automation equipment. The Covid-19 pandemic has impacted the productivity of the global industry with U.S. exports down 13% in 2020 but the industry is recovering and is forecasted to increase exports throughout 2021.
Industrial Automation is defined as hardware and components used to automate factory floors allowing manufacturers to develop efficient and cutting-edge production systems. Below are top industrial automation markets for U.S. manufacturers.
• Mexico – The largest U.S. export market of industrial automation equipment. Both Mexico's proximity and open market policies make it an ideal trading partner.
• Canada – Close proximity and cultural similarities make Canada the second-largest U.S. export market. Prior to the impact of Covid-19, exports to Canada were growing faster than exports to other markets.
• Germany – A top competitor and partner in terms of quality and technology, Germany is considered the "key" to trading within the European Union.
• Korea – Despite the global pandemic, exports to Korea increased in 2020, making this market the 5th largest export destination.
Advanced Manufacturing Foreign Market Opportunities
The U.S. Commercial Service has advanced manufacturing industry specialists across the globe that are dedicated to enhancing the global competitiveness of the U.S. manufacturing industry, expanding market access, and increasing U.S. exports by identifying best market prospects. Below is a small sampling of good opportunities for U.S. Advanced Manufacturing companies.
• Austria: Austria Advanced Manufacturing needs to advance to be internationally competitive and the market has a high degree of commitment to digitization. There are needs for smart machines, robots and additive production along with intelligent energy-efficient sensors. Smart logistics are also in need along the lines of autonomous, cellular, self-driving transport systems.
• Chile: Chile's Agriculture Equipment & Technology market is looking for efficient equipment and technology that will improve critical functions, including automation, sustainability and traceability, transportation, conservation, storage and use of water.
• France: France's Additive Manufacturing is ranked as the fourth-largest European market and traditional main users of this type of manufacturing include aerospace, medical and dental, automotive and rail. There are also developing opportunities in naval, luxury goods, construction, food and energy sectors.
• New Zealand: New Zealand's Advanced Manufacturing has niche opportunities within health technology, communications, agricultural technology, science and an emerging space sector. New Zealand is ideal for testing of new technology as they set up compliance regulations specifically to attract U.S. companies.
• Poland: Poland's Robotics Engineering Need is a market sector that has reached record growth in which 30% of Polish companies in the manufacturing sector are planning to implement robots in the next three years.
• Singapore: Singapore's Additive Manufacturing industry is part of the region's powerhouse for advanced manufacturing and presents an opportunity for U.S. exporters to enter the region.
• South Korea: South Korea's Smart Factory push to remain competitive in Industry 4.0 will require a convergence of automation and data exchange in manufacturing technology.
• Sweden: Sweden's Advanced Manufacturing market provides opportunities for U.S. exporters in digitalization, AI, Additive Manufacturing and machine learning tools.
• Taiwan: Taiwan's need for Smart Machinery plays a role in sustaining their ecosystem of highly interdependent manufacturing clusters. Taiwan manufacturers consider U.S. producers to be highly competitive in emerging fields of systems integration, software, integrated
machine tools, industrial robots and new manufacturing.
Information and foreign market reports on industry sectors is our specialty and if you are looking for more market industry reports, information or events, please visit https://www.trade.gov/industries.