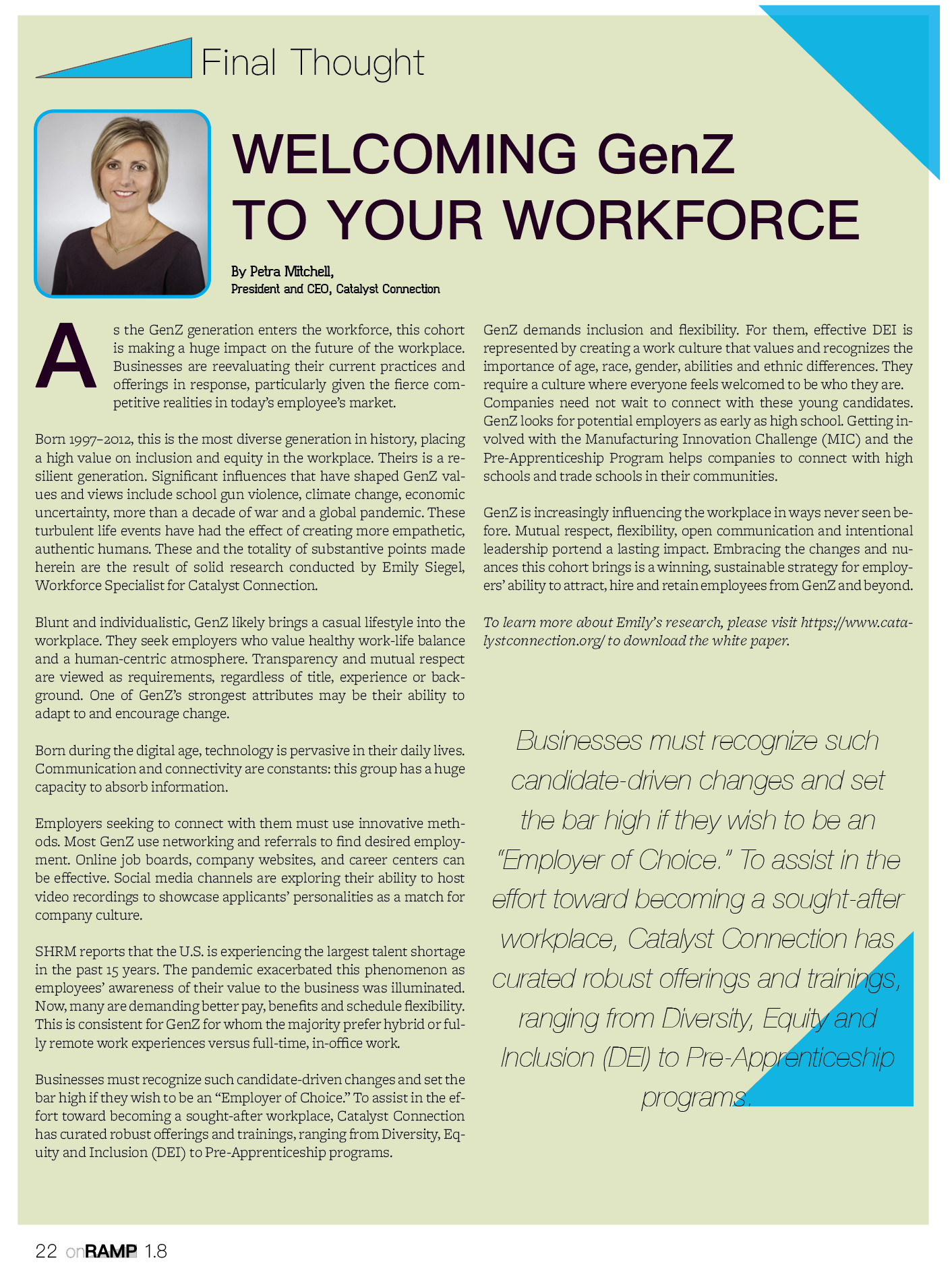 As the GenZ generation enters the workforce, this cohort is making a huge impact on the future of the workplace. Businesses are reevaluating their current practices and offerings in response, particularly given the fierce competitive realities in today's employee's market.
Born 1997–2012, this is the most diverse generation in history, placing a high value on inclusion and equity in the workplace. Theirs is a resilient generation. Significant influences that have shaped GenZ values and views include school gun violence, climate change, economic uncertainty, more than a decade of war and a global pandemic. These turbulent life events have had the effect of creating more empathetic, authentic humans. These and the totality of substantive points made herein are the result of solid research conducted by Emily Siegel, Workforce Specialist for Catalyst Connection.
Blunt and individualistic, GenZ likely brings a casual lifestyle into the workplace. They seek employers who value healthy work-life balance and a human-centric atmosphere. Transparency and mutual respect are viewed as requirements, regardless of title, experience or background. One of GenZ's strongest attributes may be their ability to adapt to and encourage change.
Born during the digital age, technology is pervasive in their daily lives. Communication and connectivity are constants: this group has a huge capacity to absorb information.
Employers seeking to connect with them must use innovative methods. Most GenZ use networking and referrals to find desired employment. Online job boards, company websites, and career centers can be effective. Social media channels are exploring their ability to host video recordings to showcase applicants' personalities as a match for company culture.
SHRM reports that the U.S. is experiencing the largest talent shortage in the past 15 years. The pandemic exacerbated this phenomenon as employees' awareness of their value to the business was illuminated. Now, many are demanding better pay, benefits and schedule flexibility. This is consistent for GenZ for whom the majority prefer hybrid or fully remote work experiences versus full-time, in-office work.
Businesses must recognize such candidate-driven changes and set the bar high if they wish to be an "Employer of Choice." To assist in the effort toward becoming a sought-after workplace, Catalyst Connection has curated robust offerings and trainings, ranging from Diversity, Equity and Inclusion (DEI) to Pre-Apprenticeship programs.
Born during the digital age, technology is pervasive in their daily lives. Communication and connectivity are constants: this group has a huge capacity to absorb information.
GenZ demands inclusion and flexibility. For them, effective DEI is represented by creating a work culture that values and recognizes the importance of age, race, gender, abilities and ethnic differences. They require a culture where everyone feels welcomed to be who they are.
Companies need not wait to connect with these young candidates. GenZ looks for potential employers as early as high school. Getting involved with the Manufacturing Innovation Challenge (MIC) and the Pre-Apprenticeship Program helps companies to connect with high schools and trade schools in their communities.
GenZ is increasingly influencing the workplace in ways never seen before. Mutual respect, flexibility, open communication and intentional leadership portend a lasting impact. Embracing the changes and nuances this cohort brings is a winning, sustainable strategy for employers' ability to attract, hire and retain employees from GenZ and beyond.
To learn more about Emily's research, please visit https://www.catalystconnection.org/ to download the white paper.