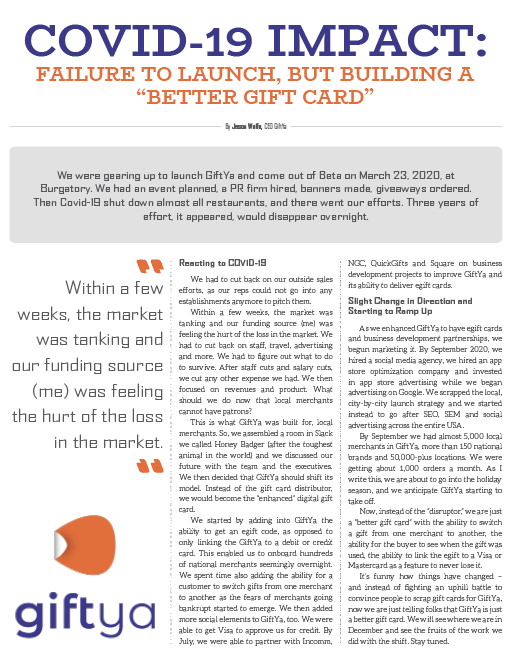 We were gearing up to launch GiftYa and come out of Beta on March 23, 2020, at Burgatory. We had an event planned, a PR firm hired, banners made, giveaways ordered. Then Covid-19 shut down almost all restaurants, and there went our efforts. Three years of effort, it appeared, would disappear overnight.
Reacting to COVID-19
We had to cut back on our outside sales efforts, as our reps could not go into any establishments anymore to pitch them.
Within a few weeks, the market was tanking and our funding source (me) was feeling the hurt of the loss in the market. We had to cut back on staff, travel, advertising and more. We had to figure out what to do to survive. After staff cuts and salary cuts, we cut any other expense we had. We then focused on revenues and product. What should we do now that local merchants cannot have patrons?
This is what GiftYa was built for, local merchants. So, we assembled a room in Slack we called Honey Badger (after the toughest animal in the world) and we discussed our future with the team and the executives. We then decided that GiftYa should shift its model. Instead of the gift card distributor, we would become the "enhanced" digital gift card.
We started by adding into GiftYa the ability to get an egift code, as opposed to only linking the GiftYa to a debit or credit card. This enabled us to onboard hundreds of national merchants seemingly overnight. We spent time also adding the ability for a customer to switch gifts from one merchant to another as the fears of merchants going bankrupt started to emerge. We then added more social elements to GiftYa, too. We were able to get Visa to approve us for credit. By July, we were able to partner with Incomm, NGC, QuickGifts and Square on business development projects to improve GiftYa and its ability to deliver egift cards.
Slight Change in Direction and Starting to Ramp Up
As we enhanced GiftYa to have egift cards and business development partnerships, we begun marketing it. By September 2020, we hired a social media agency, we hired an app store optimization company and invested in app store advertising while we began advertising on Google. We scrapped the local, city-by-city launch strategy and we started instead to go after SEO, SEM and social advertising across the entire USA.
By September we had almost 5,000 local merchants in GiftYa, more than 150 national brands and 50,000-plus locations. We were getting about 1,000 orders a month. As I write this, we are about to go into the holiday season, and we anticipate GiftYa starting to take off.
Now, instead of the "disruptor," we are just a "better gift card" with the ability to switch a gift from one merchant to another, the ability for the buyer to see when the gift was used, the ability to link the egift to a Visa or Mastercard as a feature to never lose it.
It's funny how things have changed – and instead of fighting an uphill battle to convince people to scrap gift cards for GiftYa, now we are just telling folks that GiftYa is just a better gift card. We will see where we are in December and see the fruits of the work we did with the shift. Stay tuned.
Read the entire Tech 50 2020 Issue of TEQ: