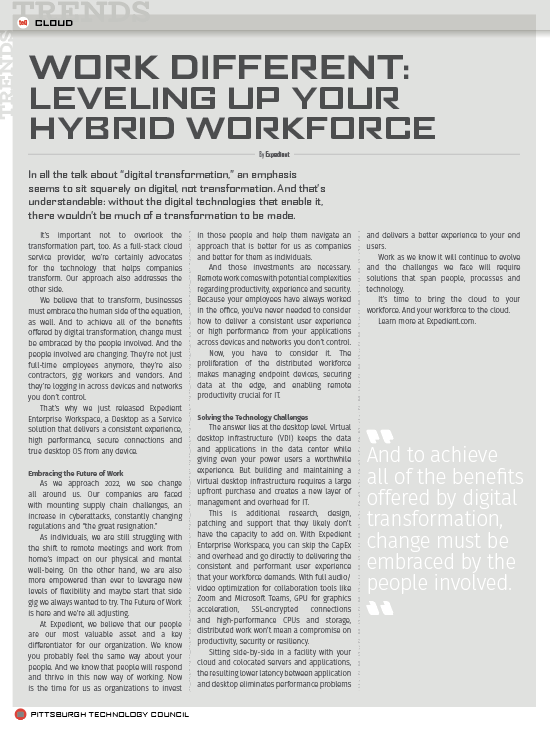 In all the talk about "digital transformation," an emphasis seems to sit squarely on digital, not transformation. And that's understandable: without the digital technologies that enable it, there wouldn't be much of a transformation to be made.
It's important not to overlook the transformation part, too. As a full-stack cloud service provider, we're certainly advocates for the technology that helps companies transform. Our approach also addresses the other side.
We believe that to transform, businesses must embrace the human side of the equation, as well. And to achieve all of the benefits offered by digital transformation, change must be embraced by the people involved. And the people involved are changing. They're not just full-time employees anymore, they're also contractors, gig workers and vendors. And they're logging in across devices and networks you don't control.
That's why we just released Expedient Enterprise Workspace, a Desktop as a Service solution that delivers a consistent experience, high performance, secure connections and true desktop OS from any device.
Embracing the Future of Work
As we approach 2022, we see change all around us. Our companies are faced with mounting supply chain challenges, an increase in cyberattacks, constantly changing regulations and "the great resignation."
As individuals, we are still struggling with the shift to remote meetings and work from home's impact on our physical and mental well-being. On the other hand, we are also more empowered than ever to leverage new levels of flexibility and maybe start that side gig we always wanted to try. The Future of Work is here and we're all adjusting.
At Expedient, we believe that our people are our most valuable asset and a key differentiator for our organization. We know you probably feel the same way about your people. And we know that people will respond and thrive in this new way of working. Now is the time for us as organizations to invest in those people and help them navigate an approach that is better for us as companies and better for them as individuals.
And those investments are necessary. Remote work comes with potential complexities regarding productivity, experience and security. Because your employees have always worked in the office, you've never needed to consider how to deliver a consistent user experience or high performance from your applications across devices and networks you don't control.
Now, you have to consider it. The proliferation of the distributed workforce makes managing endpoint devices, securing data at the edge, and enabling remote productivity crucial for IT.
Solving the Technology Challenges
The answer lies at the desktop level. Virtual desktop infrastructure (VDI) keeps the data and applications in the data center while giving even your power users a worthwhile experience. But building and maintaining a virtual desktop infrastructure requires a large upfront purchase and creates a new layer of management and overhead for IT.
This is additional research, design, patching and support that they likely don't have the capacity to add on. With Expedient Enterprise Workspace, you can skip the CapEx and overhead and go directly to delivering the consistent and performant user experience that your workforce demands. With full audio/video optimization for collaboration tools like Zoom and Microsoft Teams, GPU for graphics acceleration, SSL-encrypted connections and high-performance CPUs and storage, distributed work won't mean a compromise on productivity, security or resiliency.
Sitting side-by-side in a facility with your cloud and colocated servers and applications, the resulting lower latency between application and desktop eliminates performance problems and delivers a better experience to your end users.
Work as we know it will continue to evolve and the challenges we face will require solutions that span people, processes and technology.
It's time to bring the cloud to your workforce. And your workforce to the cloud.
Learn more at Expedient.com.