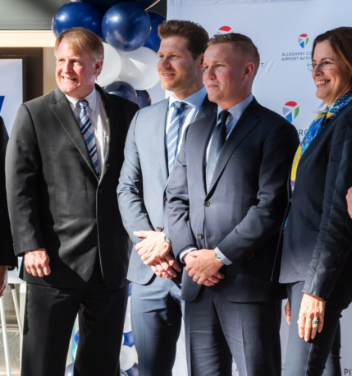 At a press conference yesterday, the Allegheny County Airport Authority welcomed the flag carrier of Iceland to Pittsburgh, joined by Icelandair executives who announced they're launching nonstop service to Reykjavík, Iceland, beginning in May 2024.
The flight will be Pittsburgh International Airport's second nonstop flight to Europe, following British Airways' service to London Heathrow. With the two routes, Pittsburgh will be connected to the other side of the Atlantic every day of the week from May through October.
"We're just delighted to have a major carrier that's been very successful in Europe for many, many years join us now in Pittsburgh," said Allegheny County Executive Rich Fitzgerald. "None of this happens without people working together and the collaboration of the airport—CEO Christina Cassotis and her team—the airport authority board members, our business community, VisitPittsburgh, the airport chamber and so many other partners that make this all possible and work with us to make these flights successful."
Fitzgerald, ACAA leadership and valued government and business partners gathered on the Ticketing level at Pittsburgh International Airport as part of the airline's announcement, underscoring the importance of the new route—and airline—to the Western Pennsylvania market.
Icelandair is the flag carrier of the Nordic nation and traces its roots back to the 1937 founding of its predecessor airline, Flugfélag Akureyrar. The company's fleet consists of 43 Boeing and De Havilland aircraft, with 19 more aircraft on order.
The carrier serves dozens of destinations across North America, Greenland and Europe from its hub at Keflavik International Airport serving the capital of Reykjavík.