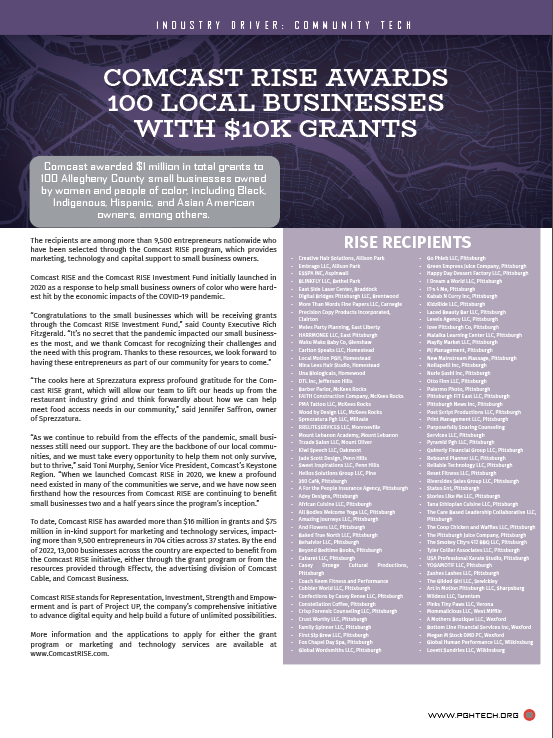 Comcast awarded $1 million in total grants to 100 Allegheny County small businesses owned by women and people of color, including Black, Indigenous, Hispanic, and Asian American owners, among others.
The recipients are among more than 9,500 entrepreneurs nationwide who have been selected through the Comcast RISE program, which provides marketing, technology and capital support to small business owners.
Comcast RISE and the Comcast RISE Investment Fund initially launched in 2020 as a response to help small business owners of color who were hardest hit by the economic impacts of the COVID-19 pandemic.
"Congratulations to the small businesses which will be receiving grants through the Comcast RISE Investment Fund," said County Executive Rich Fitzgerald. "It's no secret that the pandemic impacted our small businesses the most, and we thank Comcast for recognizing their challenges and the need with this program. Thanks to these resources, we look forward to having these entrepreneurs as part of our community for years to come."
"The cooks here at Sprezzatura express profound gratitude for the Comcast RISE grant, which will allow our team to lift our heads up from the restaurant industry grind and think forwardly about how we can help meet food access needs in our community," said Jennifer Saffron, owner of Sprezzatura.
"As we continue to rebuild from the effects of the pandemic, small businesses still need our support. They are the backbone of our local communities, and we must take every opportunity to help them not only survive, but to thrive," said Toni Murphy, Senior Vice President, Comcast's Keystone Region. "When we launched Comcast RISE in 2020, we knew a profound need existed in many of the communities we serve, and we have now seen firsthand how the resources from Comcast RISE are continuing to benefit small businesses two and a half years since the program's inception."
To date, Comcast RISE has awarded more than $16 million in grants and $75 million in in-kind support for marketing and technology services, impacting more than 9,500 entrepreneurs in 704 cities across 37 states. By the end of 2022, 13,000 businesses across the country are expected to benefit from the Comcast RISE initiative, either through the grant program or from the resources provided through Effectv, the advertising division of Comcast Cable, and Comcast Business.
Comcast RISE stands for Representation, Investment, Strength and Empowerment and is part of Project UP, the company's comprehensive initiative to advance digital equity and help build a future of unlimited possibilities.
More information and the applications to apply for either the grant program or marketing and technology services are available at
www.ComcastRISE.com.