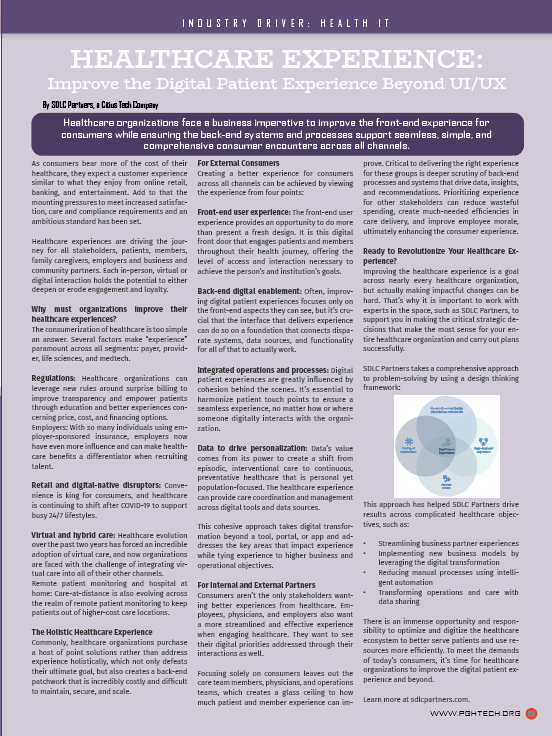 Healthcare organizations face a business imperative to improve the front-end experience for consumers while ensuring the back-end systems and processes support seamless, simple, and comprehensive consumer encounters across all channels.
As consumers bear more of the cost of their healthcare, they expect a customer experience similar to what they enjoy from online retail, banking, and entertainment. Add to that the mounting pressures to meet increased satisfaction, care and compliance requirements and an ambitious standard has been set.
Healthcare experiences are driving the journey for all stakeholders, patients, members, family caregivers, employers and business and community partners. Each in-person, virtual or digital interaction holds the potential to either deepen or erode engagement and loyalty.
Why must organizations improve their healthcare experiences?
The consumerization of healthcare is too simple an answer. Several factors make "experience" paramount across all segments: payer, provider, life sciences, and medtech.
Regulations: Healthcare organizations can leverage new rules around surprise billing to improve transparency and empower patients through education and better experiences concerning price, cost, and financing options.
Employers: With so many individuals using employer-sponsored insurance, employers now have even more influence and can make healthcare benefits a differentiator when recruiting talent.
Retail and digital-native disruptors: Convenience is king for consumers, and healthcare is continuing to shift after COVID-19 to support busy 24/7 lifestyles.
Virtual and hybrid care: Healthcare evolution over the past two years has forced an incredible adoption of virtual care, and now organizations are faced with the challenge of integrating virtual care into all of their other channels.
Remote patient monitoring and hospital at home: Care-at-distance is also evolving across the realm of remote patient monitoring to keep patients out of higher-cost care locations.
The Holistic Healthcare Experience
Commonly, healthcare organizations purchase a host of point solutions rather than address experience holistically, which not only defeats their ultimate goal, but also creates a back-end patchwork that is incredibly costly and difficult to maintain, secure, and scale.
For External Consumers
Creating a better experience for consumers across all channels can be achieved by viewing the experience from four points:
Front-end user experience: The front-end user experience provides an opportunity to do more than present a fresh design. It is this digital front door that engages patients and members throughout their health journey, offering the level of access and interaction necessary to achieve the person's and institution's goals.
Back-end digital enablement: Often, improving digital patient experiences focuses only on the front-end aspects they can see, but it's crucial that the interface that delivers experience can do so on a foundation that connects disparate systems, data sources, and functionality for all of that to actually work.
Integrated operations and processes: Digital patient experiences are greatly influenced by cohesion behind the scenes. It's essential to harmonize patient touch points to ensure a seamless experience, no matter how or where someone digitally interacts with the organization.
Data to drive personalization: Data's value comes from its power to create a shift from episodic, interventional care to continuous, preventative healthcare that is personal yet population-focused. The healthcare experience can provide care coordination and management across digital tools and data sources.
This cohesive approach takes digital transformation beyond a tool, portal, or app and addresses the key areas that impact experience while tying experience to higher business and operational objectives.
For Internal and External Partners
Consumers aren't the only stakeholders wanting better experiences from healthcare. Employees, physicians, and employers also want a more streamlined and effective experience when engaging healthcare. They want to see their digital priorities addressed through their interactions as well.
Focusing solely on consumers leaves out the care team members, physicians, and operations teams, which creates a glass ceiling to how much patient and member experience can improve. Critical to delivering the right experience for these groups is deeper scrutiny of back-end processes and systems that drive data, insights, and recommendations. Prioritizing experience for other stakeholders can reduce wasteful spending, create much-needed efficiencies in care delivery, and improve employee morale, ultimately enhancing the consumer experience.
Ready to Revolutionize Your Healthcare Experience?
Improving the healthcare experience is a goal across nearly every healthcare organization, but actually making impactful changes can be hard. That's why it is important to work with experts in the space, such as SDLC Partners, to support you in making the critical strategic decisions that make the most sense for your entire healthcare organization and carry out plans successfully.
SDLC Partners takes a comprehensive approach to problem-solving by using a design thinking framework: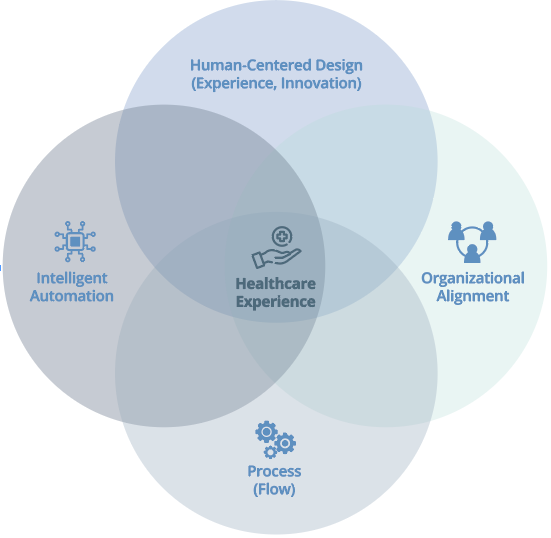 This approach has helped SDLC Partners drive results across complicated healthcare objectives, such as:
Streamlining business partner experiences
Implementing new business models by leveraging the digital transformation
Reducing manual processes using intelligent automation
Transforming operations and care with data sharing
There is an immense opportunity and responsibility to optimize and digitize the healthcare ecosystem to better serve patients and use resources more efficiently. To meet the demands of today's consumers, it's time for healthcare organizations to improve the digital patient experience and beyond.
Learn more at sdlcpartners.com.