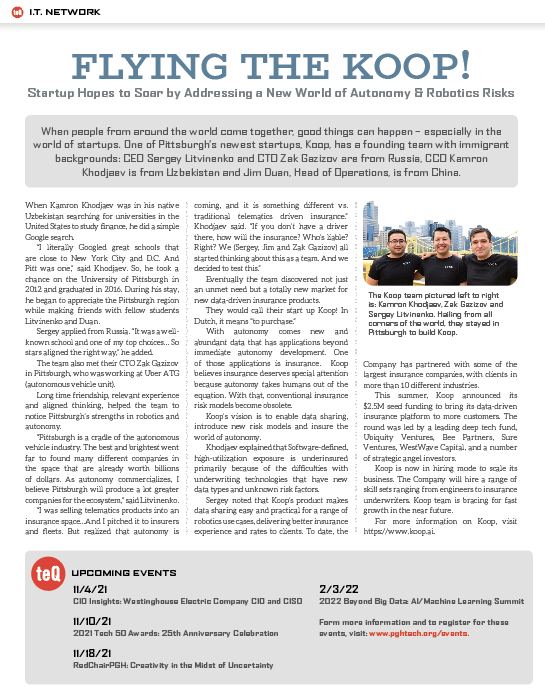 When people from around the world come together, good things can happen – especially in the world of startups. One of Pittsburgh's newest startups, Koop, has a founding team with immigrant backgrounds: CEO Sergey Litvinenko and CTO Zak Gazizov are from Russia, CCO Kamron Khodjaev is from Uzbekistan and Jim Duan, Head of Operations, is from China.
When Kamron Khodjaev was in his native Uzbekistan searching for universities in the United States to study finance, he did a simple Google search.
"I literally Googled great schools that are close to New York City and D.C. And Pitt was one," said Khodjaev. So, he took a chance on the University of Pittsburgh in 2012 and graduated in 2016. During his stay, he began to appreciate the Pittsburgh region while making friends with fellow students Litvinenko and Duan.
Sergey applied from Russia. "It was a well-known school and one of my top choices… So stars aligned the right way," he added.
The team also met their CTO Zak Gazizov in Pittsburgh, who was working at Uber ATG (autonomous vehicle unit).
Long time friendship, relevant experience and aligned thinking, helped the team to notice Pittsburgh's strengths in robotics and autonomy.
"Pittsburgh is a cradle of the autonomous vehicle industry. The best and brightest went far to found many different companies in the space that are already worth billions of dollars. As autonomy commercializes, I believe Pittsburgh will produce a lot greater companies for the ecosystem," said Litvinenko.
"I was selling telematics products into an insurance space…And I pitched it to insurers and fleets. But realized that autonomy is coming, and it is something different vs. traditional telematics driven insurance." Khodjaev said. "If you don't have a driver there, how will the insurance? Who's liable? Right? We (Sergey, Jim and Zak Gazizov) all started thinking about this as a team. And we decided to test this."
Eventually the team discovered not just an unmet need but a totally new market for new data-driven insurance products.
They would call their start up Koop! In Dutch, it means "to purchase."
With autonomy comes new and abundant data that has applications beyond immediate autonomy development. One of those applications is insurance. Koop believes insurance deserves special attention because autonomy takes humans out of the equation. With that, conventional insurance risk models become obsolete.
Koop's vision is to enable data sharing, introduce new risk models and insure the world of autonomy.
Khodjaev explained that Software-defined, high-utilization exposure is underinsured primarily because of the difficulties with underwriting technologies that have new data types and unknown risk factors.
Sergey noted that Koop's product makes data sharing easy and practical for a range of robotics use cases, delivering better insurance experience and rates to clients. To date, the Company has partnered with some of the largest insurance companies, with clients in more than 10 different industries.
This summer, Koop announced its $2.5M seed funding to bring its data-driven insurance platform to more customers. The round was led by a leading deep tech fund, Ubiquity Ventures, Bee Partners, Sure Ventures, WestWave Capital, and a number of strategic angel investors.
Koop is now in hiring mode to scale its business. The Company will hire a range of skill sets ranging from engineers to insurance underwriters. Koop team is bracing for fast growth in the near future.
For more information on Koop, visit https://www.koop.ai.