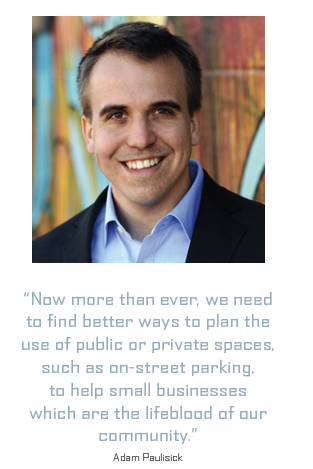 During challenging times, it's more important than ever for successful businesses to give back. That's the philosophy of Headstorm, a boutique software development and systems engineering firm with offices in Lawrenceville and suburban Dallas, that has provided $500,000 of development time to create Kurb (kurb.io), a software solution that helps planners, community development corporations, businesses and residents jointly to determine the best use of public spaces and infrastructure.
The advantage of Kurb is that, unlike traditional city planning software like AutoCAD or Bentley's MicroStation, it's user friendly and accessible, with average monthly subscription fees ranging from $10-$100.
The website and app were conceived at the First Pittsburgh Civic Hackathon, a virtual event held over a weekend this past May to facilitate collaboration in developing technology-based solutions that address issues of public interest. Adam Paulisick, a senior partner and chief product officer at Headstorm, captained the winning team.
The event was co-sponsored by the Pittsburgh Technology Council and RustBuilt.org, a Pittsburgh-based grassroots initiative that promotes entrepreneurship across all business sectors in communities of all sizes across the Rust Belt.
As a firm that aligns itself with the United Nations' 17 sustainable development goals, Headstorm found the Hackathon to be a natural fit for a five-year-old company that wants to become woven further into Pittsburgh's fabric.
"It was a great experience collaborating with 20+ people from so many different professional backgrounds," says Paulisick. The accolades he and his team received for Kurb prompted the adjunct professor of entrepreneurship at Carnegie Mellon University's Tepper School of Business and executive education instructor in CMU's Gates Center for Computer Science to keep the team together and expand upon its initial work to create a marketable product that benefits the public.
"Now more than ever, we need to find better ways to plan the use of public or private spaces, such as on-street parking, to help small businesses which are the lifeblood of our community."
Such innovations include creating and publishing plans for public spaces by allowing thousands of comments on the use of space prior to permit approvals or using Kurb to designate parking spaces for curbside food pickup or brief occupancy by delivery trucks and service providers, and inform parking enforcement officers via Pittsburgh-based MeterFeeder.com not to ticket vehicles parked in such spaces. Another feature in early development would allow businesses to pay for their customers' on-street parking to encourage direct ordering and pickup.
The City of Pittsburgh's Department of Mobility & Infrastructure has begun to beta test Kurb in carrying out its responsibilities related to managing the operation of and access to public rights-of-way, including sidewalks, curbs and streets.
The Civic Hackathon also gave Paulisick and his team the idea to launch Foundry UI (foundryui.com), an open-source library for software developers. "It saves the average team of engineers hundreds of hours and allows them to jumpstart concepts without having to invent components from scratch," says Paulisick. "It's like a free kit of Legos [software] that prevents developers from getting stuck and needing to change out software parts as their applications grow or are remade."
In a similar vein, Headstorm is working with the Forbes Funds to help the organization facilitate virtual human-centered design methods and workshops among the organizations and community-based nonprofits it supports. In doing so, the company is helping to close the digital divide.
"As a company, we could easily conserve our resources for a rainy day," says Paulisick, "but all of the partners are committed to making a difference at a time when it matters most, now."
Specifically, he and his colleagues firmly believe that anyone who is able should invest in technology tools and services to overcome the pandemic and prepare for a future in which technology access and online collaboration are essential.
"Ideas are great, but to move forward as a region, we need solutions now like those that came out of the Hackathon. What worked in the past will not be the answer today and after the pandemic."
Read the entire issue of TEQ here: