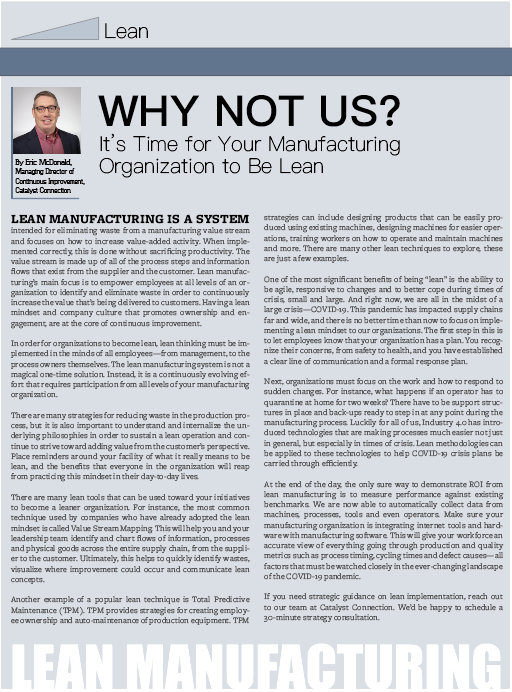 Lean manufacturing is a system intended for eliminating waste from a manufacturing value stream and focuses on how to increase value-added activity. When implemented correctly, this is done without sacrificing productivity. The value stream is made up of all of the process steps and information flows that exist from the supplier and the customer.
Lean manufacturing's main focus is to empower employees at all levels of an organization to identify and eliminate waste in order to continuously increase the value that's being delivered to customers. Having a lean mindset and company culture that promotes ownership and engagement, are at the core of continuous improvement.
In order for organizations to become lean, lean thinking must be implemented in the minds of all employees—from management, to the process owners themselves. The lean manufacturing system is not a magical one-time solution. Instead, it is a continuously evolving effort that requires participation from all levels of your manufacturing organization.
There are many strategies for reducing waste in the production process, but it is also important to understand and internalize the underlying philosophies in order to sustain a lean operation and continue to strive toward adding value from the customer's perspective. Place reminders around your facility of what it really means to be lean, and the benefits that everyone in the organization will reap from practicing this mindset in their day-to-day lives.
There are many lean tools that can be used toward your initiatives to become a leaner organization. For instance, the most common technique used by companies who have already adopted the lean mindset is called Value Stream Mapping. This will help you and your leadership team identify and chart flows of information, processes and physical goods across the entire supply chain, from the supplier to the customer. Ultimately, this helps to quickly identify wastes, visualize where improvement could occur and communicate lean concepts.
Another example of a popular lean technique is Total Predictive Maintenance (TPM). TPM provides strategies for creating employee ownership and auto-maintenance of production equipment. TPM strategies can include designing products that can be easily produced using existing machines, designing machines for easier operations, training workers on how to operate and maintain machines and more. There are many other lean techniques to explore, these are just a few examples.
One of the most significant benefits of being "lean" is the ability to be agile, responsive to changes and to better cope during times of crisis, small and large. And right now, we are all in the midst of a large crisis—COVID-19. This pandemic has impacted supply chains far and wide, and there is no better time than now to focus on implementing a lean mindset to our organizations. The first step in this is to let employees know that your organization has a plan. You recognize their concerns, from safety to health, and you have established a clear line of communication and a formal response plan.
Next, organizations must focus on the work and how to respond to sudden changes. For instance, what happens if an operator has to quarantine at home for two weeks? There have to be support structures in place and back-ups ready to step in at any point during the manufacturing process. Luckily for all of us, Industry 4.0 has introduced technologies that are making processes much easier not just in general, but especially in times of crisis. Lean methodologies can be applied to these technologies to help COVID-19 crisis plans be carried through efficiently.
At the end of the day, the only sure way to demonstrate ROI from lean manufacturing is to measure performance against existing benchmarks. We are now able to automatically collect data from machines, processes, tools and even operators. Make sure your manufacturing organization is integrating internet tools and hardware with manufacturing software. This will give your workforce an accurate view of everything going through production and quality metrics such as process timing, cycling times and defect causes—all factors that must be watched closely in the ever-changing landscape of the COVID-19 pandemic.
If you need strategic guidance on lean implementation, reach out to our team at Catalyst Connection. We'd be happy to schedule a 30-minute strategy consultation.
Read the entire issue of OnRamp Magazine: