To those who know her well and love her even more, Pittsburgh is less a city and more a collection of neighborhoods. Conventional wisdom pegs the number of those distinct hamlets at 90, in fact.
But what's going on out at the airport these days? Another distinct collection of people pursuing a shared interest in a specific geographic location? Dare we call it another neighborhood being born before our very eyes?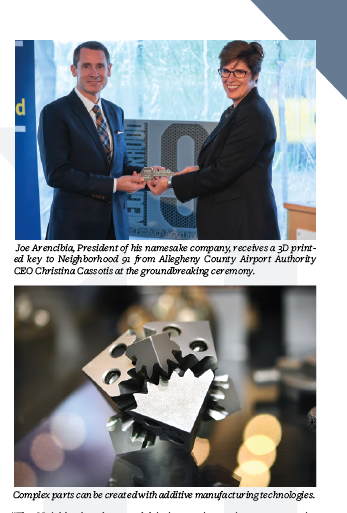 We may, indeed. It's been dubbed "Neighborhood 91," the world's first development to condense and connect all components of the additive manufacturing supply chain into one powerful production neighborhood concept. Developed with the input and assistance of the University of Pittsburgh, Neighborhood 91 – centered at the new 195-acre Pittsburgh Airport Innovation Campus – will take shape next to the airport terminal and runway.
But why additive manufacturing? What makes that industry deserving of all the attention and investment? Because additive manufacturing – perhaps better known as 3-D printing – defines the future. And by seizing this opportunity to centralize resources, production, shipping and innovation in one location, Neighborhood 91 intends to stake its claim on that future – and do it right here.
Additive manufacturing is defined as the process of joining materials to make objects from 3-D model data, usually layer upon layer, as opposed to subtractive manufacturing methodologies (like machining) that can be compared to carving objects from a block. The sequence actually comprises a suite of processes used to print metals, polymers, ceramics and biomaterials. Applications can be found in aircraft, automobiles, even surgical implants for people, thanks to the lightweight designs, material usage reductions, cost reductions, lead time reductions, part count reductions, performance improvements and other advantages inherent in the additive manufacturing process.
Okay, so that explains why additive manufacturing has generated such intense activity. But why Pittsburgh? More specifically, why Pittsburgh International Airport?
"Part of our vision as an airport is to advance the region's role as a world leader," said CEO Christina Cassotis. "Additive manufacturing is looking for a place to call home and no one has made that happen – until now. The Pittsburgh region is a natural fit based on its history and its assets of today. And our airport is leading the way to get it done along with our university partners."
Argon gas supplier Arencibia has committed to be Neighborhood 91's anchor tenant. Arencibia is the industry leader in recycling gases throughout the aerospace and additive manufacturing supply chain, creating more efficiencies and saving money for companies.
Argon, helium and other noble gases, each essential elements of additive manufacturing, represent up to 60 percent of costs in this process. Securing Arencibia as the first resident of Neighborhood 91 became critical then – not only as a key raw material, but also for having a ready supply onsite for the other companies further down the production chain.
"The Neighborhood 91 model is innovation at its core: marrying technological, commercial and public-private collaboration to fundamentally change the industry," said Joe Arencibia, President of his namesake company. "This is something that isn't happening elsewhere and we are excited to be the foundation upon which the Neighborhood is built."
The Neighborhood 91 concept is based on shared capital resources at the core of the development. The goal, as the project continues to take shape, includes offering a complete end-to-end ecosystem to include:
• Powder, parts, post-production, testing and analysis.
• Communal powder storage facilities.
• Efficiencies in production/post-production and delivery.
• Tenants' clients cost savings from on-demand printing.
• Reduced transportation costs.
• Airport access to reach global markets efficiently.
The airport already has a microgrid under construction to use natural gas being extracted directly on site to power the terminal and airfield. Drawing from that same onsite resource of natural gas, Neighborhood 91 also will have its own power grid, guaranteeing a reliable source of energy for manufacturing and operations.
The microgrids provide competitively priced power and resiliency in supply. The airport sits atop the Marcellus Shale, estimated to be the second largest natural gas field in the world. The Pittsburgh airport remains one of only a handful of North American airports to drill for natural gas on its own property.
The airport also features numerous cargo options, including two transatlantic and all-freighter services on Qatar Cargo. People and products can be anywhere in the world in 24 hours or less.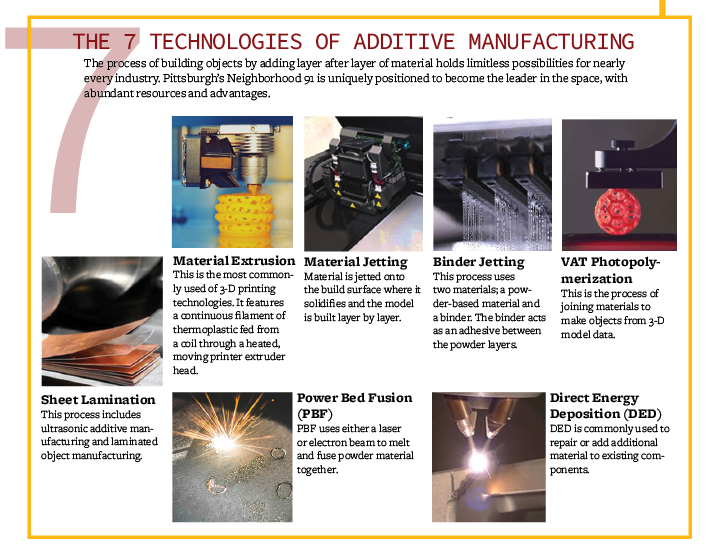 Lead consultant Barnes Group Advisors generated a study on the potential economic impact of Neighborhood 91. Founder John Barnes described the appeal of the project in this way, "Neighborhood 91 is distinct because of the focus of addressing the business, supply chain and economic factors for additive manufacturing with a cluster or focused, production campus. Combining the investment in physical infrastructure from the airport with the workforce infrastructure of Pittsburgh will create an innovation-driven cluster which is supported by agglomeration economics – fundamentally, we're solving a business problem by connecting and therefor improving the supply chain."
Highlights from the Barnes economic report and other sources include:
• A cluster concept like Neighborhood 91 can act as a catalyst for additive manufacturing industrialization and innovation with the creation of a cost-efficient ecosystem.
• Reduction in production costs of 25% for parts and 30% for powder.
• Simplified supply chain with 80% reduction in manufacturing lead-time and more than 80% reduction in transportation cost.
• Concentrated workforce development and research/development to boost productivity and innovation.
• Agglomeration economies and labor market pooling to yield reductions in learning curves and under-utilized equipment.
• 50% reduction in energy costs.
• 25% reduction in gas costs.
• 50% reduction in rental rates.
• 50% reduction in principal and interest on capital expenditures.
• Creation of 6,343 jobs and $2.2 billion in wages.
• Total business output impact of $6.9 billion.
• Total value-added impact of $3.0 billion.
• Direct city, state and federal tax contributions of $43 million.
• 80% reduction in manufacturing lead-time.
• Reduced logistics and supplier management costs.
• Faster communication, problem solving and operational efficiency.
• Reduced emissions due to: reductions in transportation for shipping and travel requirements; elimination of bulk powder storage facilities; less need for power backup infrastructure; and less energy lost through transmission networks due to an onsite energy supply.
Phase 1, now underway and representing less than 10% of the total investment, includes the argon recycling facility, development of 13 acres with seven buildings and the initial equipment investment to support Phase 1 tenants. The full Neighborhood 91 investment plan includes:
• $9.3 million land value at the campus.
• $123 million in land improvements and infrastructure.
• $135 million in buildings.
• $285 million in equipment.
• $5 million for an argon system.
• $10 million in the microgrid.
• Creation of 1,000 construction jobs.
An article in Forbes magazine quotes Pitt Chancellor Patrick Gallagher as stating, "Western Pennsylvania has a chance to become a center of gravity for additive manufacturing. The kind of a place where if you are in this industry, you can't afford to not be."
In the same feature, Cassotis said, "As strategic landlord, we were looking for any and all opportunities to increase our non-aeronautical revenue while also making sure we were looking at the best and highest use of the developable acres. It really became sort of a perfect storm. We thought, 'Wait a minute, there's a huge industry here that needs a place to land.'"
Neighborhood 91 continues to field interest from a variety of companies, with letters of intent arriving from potential tenants. It all contributes to the growing picture of innovation and investment – the first of its kind anywhere on earth – in our town's newest neighborhood.
John Barnes may have summed it up best, saying, "A cluster does two key things: It enables process owners to focus on developing and optimizing their core process, and it creates a skilled regional labor pool. Innovative companies locate near other innovative companies. This is an area where Pittsburgh, specifically, has been successful through the years."